Whenever I want to eat out or go to the mall, SM City North EDSA is the only mall that comes to mind. Why? 'cause it's the nearest SM Mall to me (Well, until December last year when SM Sangandaan opened). The thing is I practically grew up going to this mall to buy groceries, new clothes, toys, appliances — everything I can think of. I knew SM City North EDSA like I knew the back of my hand and I can say that you can find everything you need or want in this mall.
Well, I couldn't be more excited when I found out that the ground floor in SM The Block was renovated and turned into a Food Circuit! And last week, I got a happy tummy when I joined a food crawl to try some of the new restaurants there and one at the City Center.
Without further ado, let me give you 30 delicious reasons why SM City North EDSA should be your new dining destination!
Kumori
You're gonna love the Mozzu Chizu Pan (₱59) at Kumori because of its tomato and herb dough, white sauce and mozzarella cheese topping. If you prefer flaky dough, then the Apple Cheese Danish (₱59) is for you. It's the perfect mixture of sweet and savory because it has a sticky and creamy apple and cream cheese center.
I am crazy about the Crabstick Bun (₱58), it's like traditional Japanese crabstick sandwich but in a bun form. While the Cherry Brioche (₱51) mersmerized me with its rich custard filling, ruby red cherry topping, and Japanese Saboro crumble.
The Custard Butter Bun (₱45) may fool you with its plain jane looks but once you take  a bite of it, you'll surely be surprised with the rich egg custard and milky buttercream filling.
Meet my favorite new dessert: the Cottage Cheese (₱48) which tastes like super duper light cheesecake but oh so creamy!!!
We were also able to try the Kumori Signature Hanjuku Cheese (₱48) in original and chocolate flavors.
Since this is Cafe Kumori, they now offer milkshakes to pair with your favorite pastries! Above is the Chocolate Hazelnut Milkshake (₱165).
Sweet Corn Milkshake (₱165)

Matcha Milkshake (₱185)

Nadai Fujisoba
Let's give ramens a break by biting into Nadai Fujisoba's chewy Udon and Buckwheat noodles!
Yasai Kakiage Ten Tama Soba (₱300) a bowl you'll never forget if you're a fan of kakiage becaue it remains crispy despite being submerged into the soup for quite a while.
I love the Aka Fuji Udon (₱260) because of the tender, spicy beef, chewy fat udon noodles, and the super tasty broth!
What came as  a surprise to me is how much I loved the Ebi Ten Mori Soba (₱260). Not because it has two large Ebi Tempura which has a very light batter but because it is served cold. I never liked cold noodles …. until THIS. I swear I'll be back at Nadai Fujisoba and order this exact same thing.
If you like cold soba noodles but is never a fan of dipping it into sauce, then the Hiyashi Niko Fuji Soba (₱260) is the one for you. It's also cold soba noodles but the sauce is already incorporated with the noodles.
If you're into rice meals, then I recommend the Ebi Tendon (₱230), because! — their tempura is large, has a light batter, and very meaty! In short — WINNER!
Bistro Remedios
This Sinugba Platter will surely satisfy your craving for anything grilled for it has a generous spread of prawns, pork belly, and chicken grilled Cebuano style and accompanied with achara and spicy vinegar.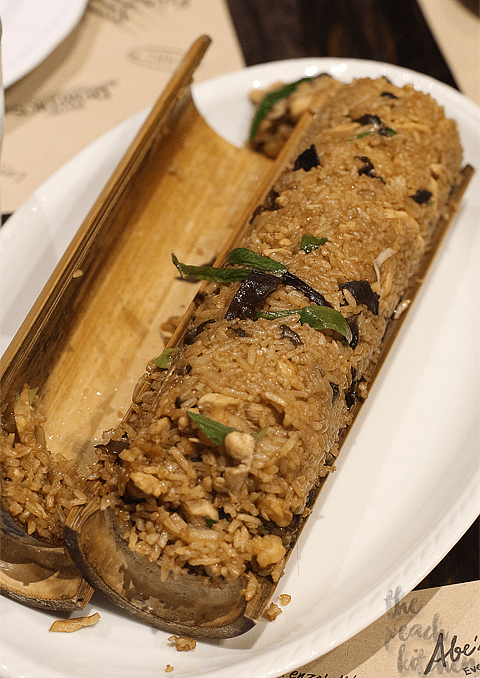 I've tried the Bamboo Rice before at Abe's Farm in Pampanga and I loved it!
The Bamboo Rice is composed of mountain rice cooked with shrimps, wood ear mushrooms, and bamboo shoots steamed in bamboo shell. This is a well-loved dish at Bistro Remedios where it was first introduced in 1986.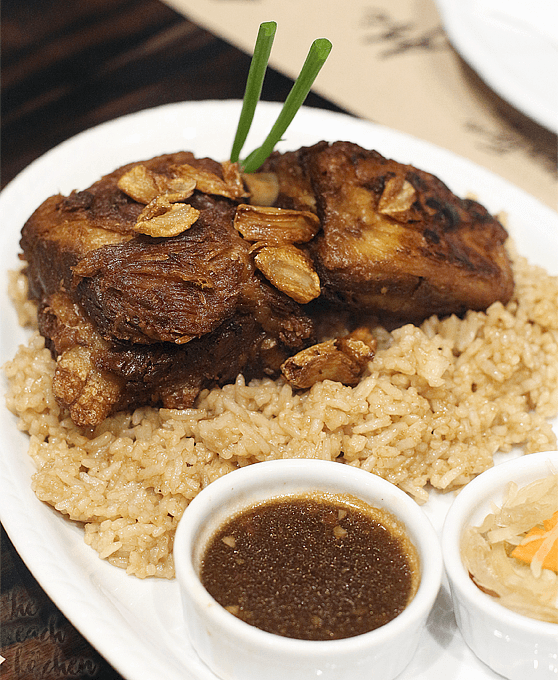 Lola Ising's Adobo comes with pork that has been cooked till dry and crispy and served with lots of slow-cooked garlic for maximum enjoyment. Many people talk about twice-cooked adobo; this is not far from that, except that the dry and crispy pork is still fork-tender. If you find yourself without a knife, you'll have no problem shredding the pork with just your fork. Lola Ising's Adobo is a must try. This is a well-loved dish from Café Adriatico Express.
Chicken a la Kiev is a classic breaded chicken stuffed with garlic and herb butter; deep fried and served with rice pilaf or mashed potatoes. Another well-loved dish from Café Adriatico Express.
Gising-Gising is perfect for vegetable lovers. It is made up of chopped stalk of kangkong spiced with shrimps and chili in coconut cream
Cafe Shibuya
Mentaiko (Single ₱265| Sharing ₱480) –  is a Japanese-Italian fusion that pairs cod roe with olive oil, topped with shredded seaweeds, and served with garlic bread on the side.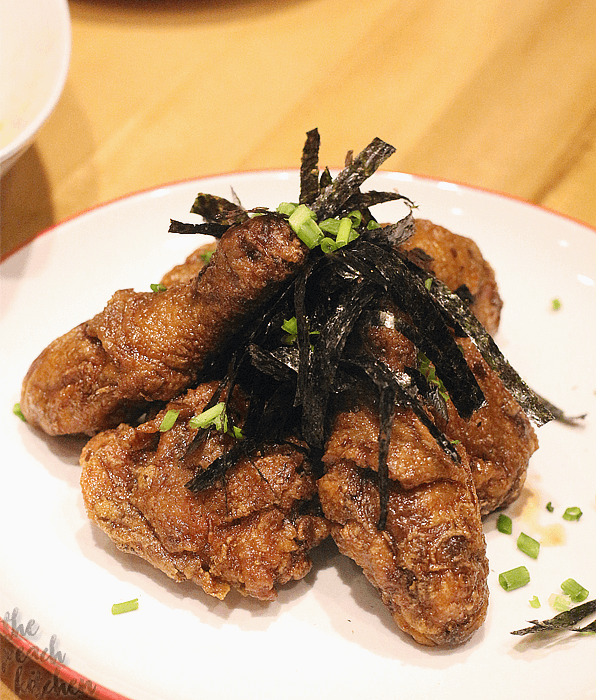 Tebasaki Fried Chicken (Family Size ₱485) are Nagoya-style fried chicken with a sweet and garlicky soy sauce glaze.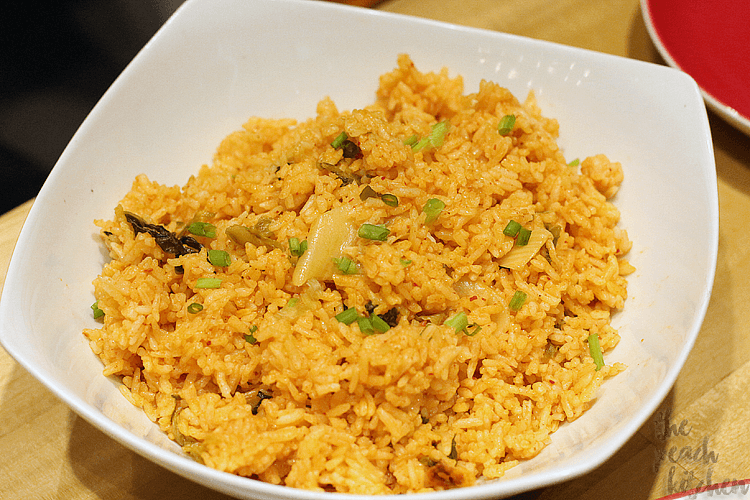 Pair it with a bowl of Kimchi Rice (₱275) for truly wonderful meal.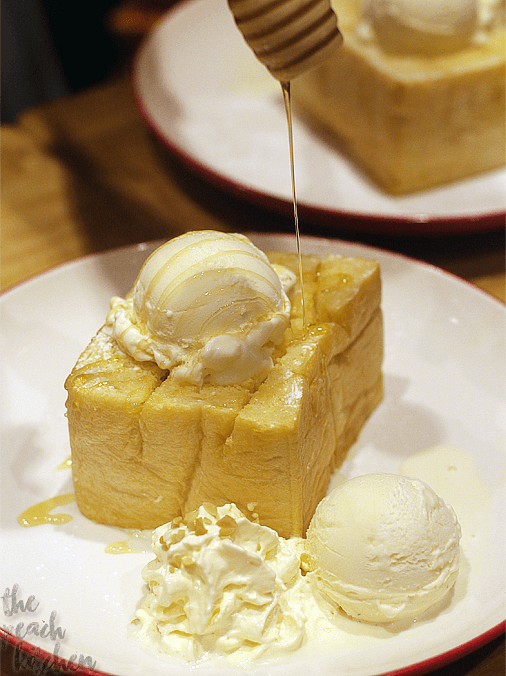 Original Shibuya Honey Toast (₱175) are thick-cut toasts served with vanilla ice cream and honey.
Casa Italia
I love the ambience at Casa Italia. It's like I've been instantly transported to Italy the moment I stepped inside the restaurant.
I love their Blue Cheese Pizza (₱150) !! It's really filled with Blue cheese pieces that has already melted, you'll taste it bite after bite.
Aside from the Blue Cheese they have other pizza flavors too like Pepperoni (above), Hawaiian, Mortadella and Ham, and Mozzarella.
If you're into roasted chicken the Italian way, then go for the Chicken Cazuela (₱350), tender, flavorful chicken roasted on top of potatoes. If you can imagine how flavorful the chicken is, then you can imagine how much more flavorful the potatoes are because they were roasted basking in the chicken's dripping.
They have so many gelato flavors. So many. I would have tried each one if I weren't already so full that day.
Spaghetti Bolognese (₱230) perfectly cooked pasta in meaty tomato sauce!
Do you know that they can turn any of their gelato flavors into a Gelato Frappe? Which I think is better because then you would be able to sip it through a straw..heehee! They also have Yogurt Smoothie and Gelattoccino.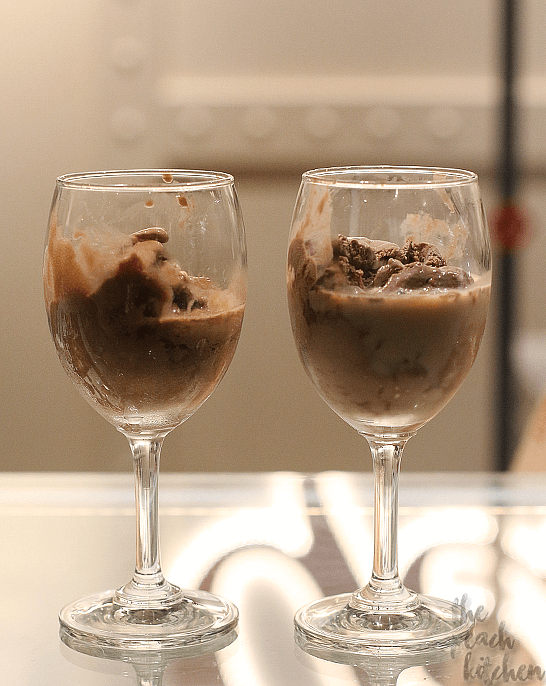 Aaand.. Liquorato (medio ₱195|grande ₱245) which is Gelato serve with liquor and on a wine glass.
For dessert, you should try the Cannolli, a traditional Italian dessert that's made with a crispy shell filled with a sweet creamy filling.
And finally, end your meal with a cup of coffee. Wondering about the number 8? It's the number that they live by when crafting the freshest taste of coffee with Coffee Otto.
Coffee Otto is Casa Italia's signature blend of 100% Arabica coffee, made from the finest Venetian-roasted beans that are never older than eight weeks from roasting. This commitment to precision and technique ensures that every sipdelivers the smoothness and lingering aroma of genuine Italian coffee that even the most discerning palate will enjoy.
Dohtonbori
Dohtonbori prides itself as the only Japanese restaurant in the country that serves the widest variety of Okonomiyaaki where you can cook it yourself.
Their Philosophy at Dohtonbori is "Teppan Communication" wherein they want the environment surrounding the Tepan to be enjoyable and fun while conversing and cooking together with your loved ones, hence, a big teppan in the middle of the table.
If you want to cook your orders yourself, there's an instruction available on the table which can guide how. Just follow the step by step instruction.
If you don't want to cook it yourself, then somebody from the staff will help you or they will cook it for you.
We were able to try the Four Cheese Teppan Pizza which brings the twist to your normal pizza. The crust is sweet and extra crispy.
The Mixed Okonomiyaki is a mixture of squid, pork, shrimp, octopus, tempura bits, red pickled ginger, spring onion, egg, cabbage, and Okonomiyaki Paste.
What I know about Okonomiyaki is that it's Japanese savory pancake. It has become the most popular staple food for the Japanese especially in Osaka where they consider this as their soul food.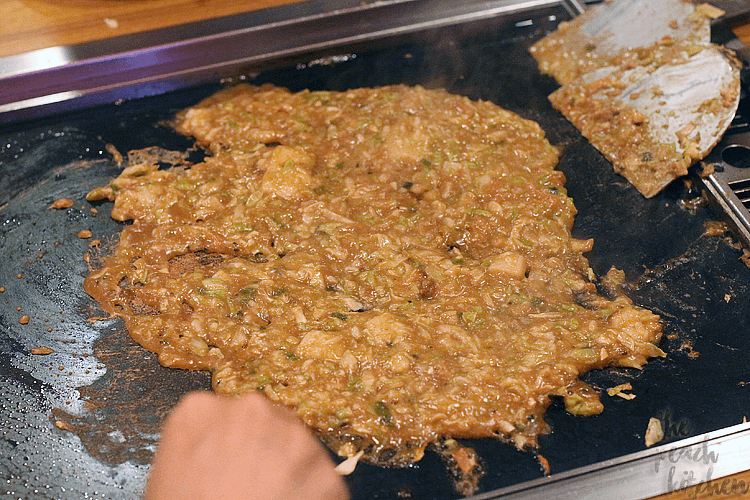 The Monjayaki is something new to me. It has a watery paste but it becomes really sticky when cooked.
You'll be given a small sized spatula which you will use to press the Monjayaki on the griddle until it forms a crust and is crispy enough to scrape. Then you eat. Interesting, right?
Whew! So there! That's actually more than 30 delicious reasons to entice you and I'm sure you're drooling now.Writing about this post even made me crave for Ebi Ten Mori Soba and Cottage Cheese!
Check out #TheFoodCircuitAtTheBlock then hop on over to the other buildings for more foodie adventures.
Let me give you a directory of 30 Restaurants to conquer…
Project Pie
Ramen Nagi
King Bee
Baskin Robbins
Amici
Gringo
Grind
Lugang Café
Café Mary Grace
Yabu
Vikings
Tamarind
Dohtonbori
Mr. Pizza
Maisen
St. Marc
Tim Ho Wan
Baker's Maison
Chickilicious
Teresita's
Nadai Fujisoba
Sweetea's
Bistro Remedios
Café Adriatico Express
Rock & Seoul
Osaka Ohsho
Kumori
Churerria La Lola
Café Shibuya
Casa Italia