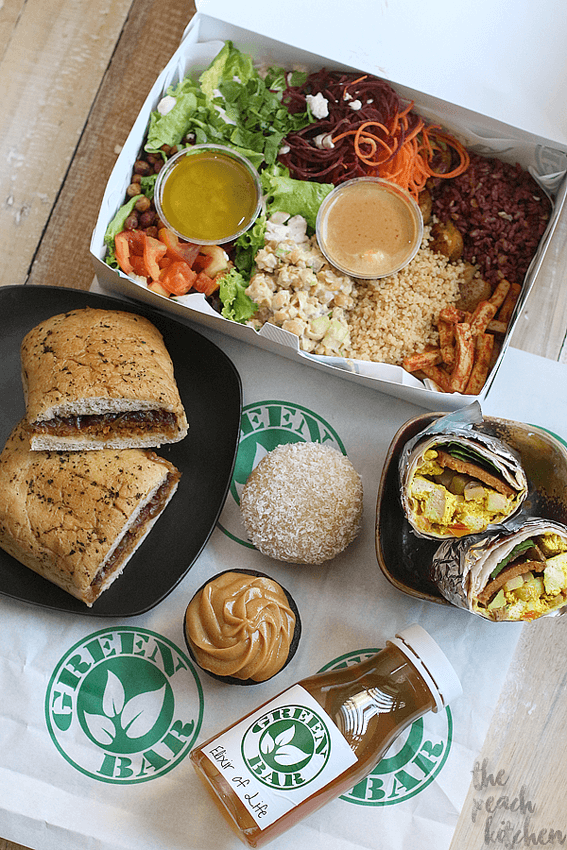 Last week was a very exciting week for our family. If you can remember, we were on a three day vacation. It was just in Batangas and Tagaytay but it was out first long out of town vacation with Twinkle. I'm not even done sharing with you what happened in those three days but let me tell you what happened after we got back.
Those three days were spent pigging out. So naturally when we got back I want to eat  healthier. Good thing friends from Green Bar sent over these healthy for us! Take note these beautiful meal are all plant-based and they're all delicious.!
I am a fan of bowls so let me just tell you that I am in love with this Build A Bowl.
Build-a-Bowl allows you to customize your order with unique ingredients to create a new experience every time!
It's composed of choices of greens (lettuce, cabbage), grains ( quinoa, garlicky red rice), protein (chickpea salad, scrambled tofu, kidney beans, black beans, seitan sausage, blackened tempeh, bbq tofu), garden patch (veggie spirals, smashed potatoes, sauteed greens, fried saba, cabbage slaw), dressings (chipotle ranch, caesar, balsamic vinaigrette,garlicky faux feta, spicy peanut), and toppings (chopped tomatoe, pasley, faux feta, chickpea croutons, parma)
It's ₱220 for one standard item per category, but if you want additional grain, protein or veggie, you can just add ₱30 for each item. OR  if you want  additional base, dressing, or topper, you can add ₱20.
Build A Bowl is like a salad only it's a complete meal and it has more texture and flavors!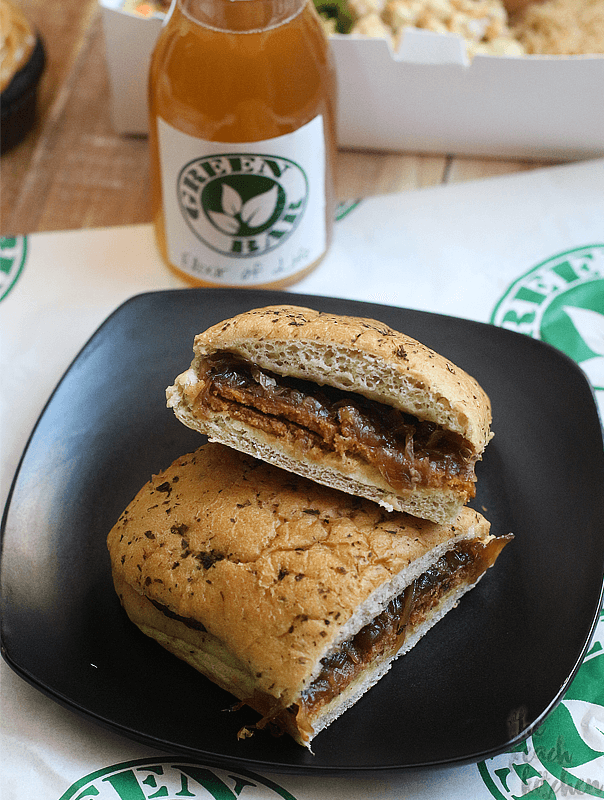 The Hail Seitan (₱350)  is so flavorful! If I didn't know it, I'd think this is really a roast beef sandwich. It's their signature NYC handheld 6″ focaccia filled with crisp roast beef style seitan, caramelized onions, cashew cream, and vegan mayo.
I love my meat but it's always nice to go meatless once in a while…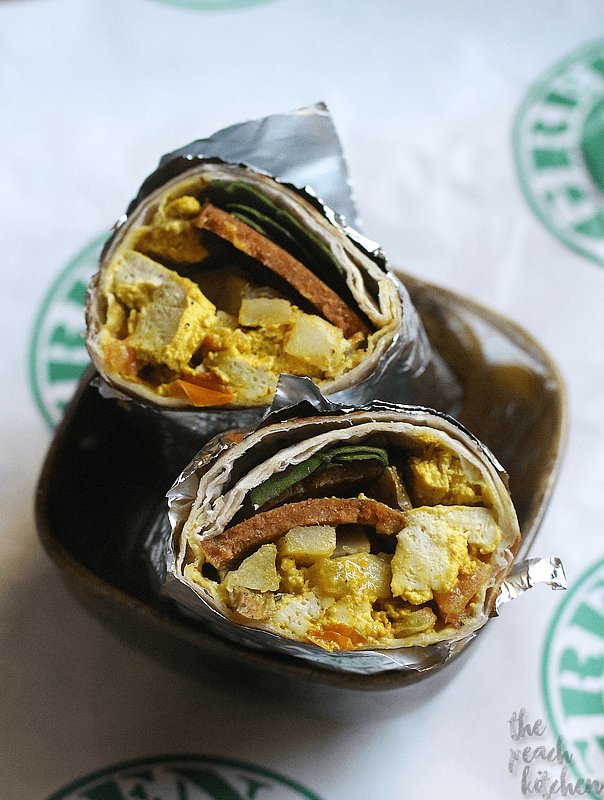 This I actually had for breakfast the next day because we were so full when we were finished with the Build A Bowl and Hail Seitan… the Breakfast Burrito (₱300). Again, you won't miss meat with this one because it's so flavorful. It's a combination of scrambled tofu, roasted potato, slightly sweet seitan sausage, baby spinach, and creamy vegan hollandaise sauce. I love the scrambled tofu (and it does resemble scrambled egg, doesn't it?).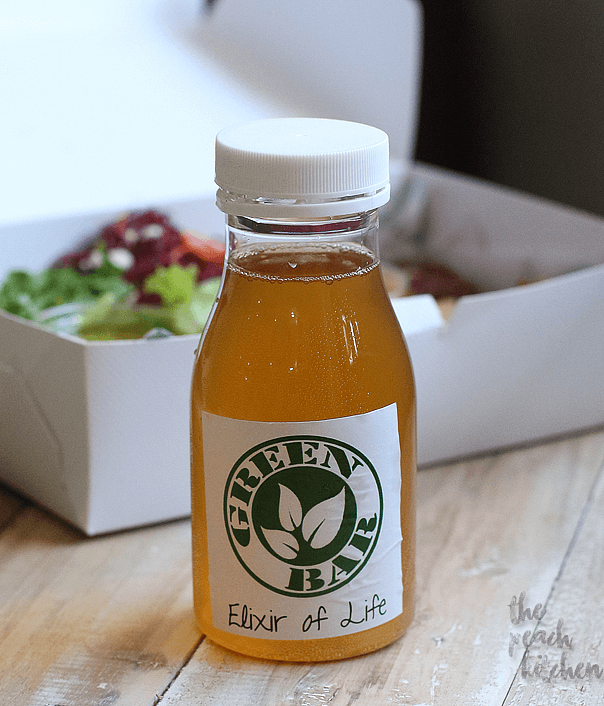 To tell you honestly, I'm not a fan of the Elixir of Life Iced Tea (₱90) at first. It's a blend of turmeric, lemongrass, and lemon. So nutritious and  full of anti-oxidants, anti-inflammatory and great boost for your immune system but it's not sweet.. *sob* I prefer my iced tea sweetened and with hints of fruits… What I did is I added a teaspoon of sugar, then lots of ice.
For dessert we had this amazing Chocolate Hill Cupcake (₱100) and Havana Cupcake (₱100).
The Chocolate Hill Cupcake is rich dark chocolate cupcake with salty sweet peanutbutter cream icing. You won't even think it's healthy..LOL! While the Havana Cupcake is moist vanilla cupcake with filled with whipped coconut cream topped with coconut sin leche icing and coconut bits.
About Green Bar
Green Bar is the creation of two vegan sisters, Sarada Santos and Jaderani Santos, who shared the dream of creating food with passion and compassion.
The Santos sisters were raised vegetarian and therefore always held a deep love and connection with the planet and animals. The multi-cultural duo spent years travelling the globe, searching for the best eateries, experiencing different cultures and collecting cuisine ideas as a hobby. The idea and opportunity to work together and open Green Bar materialized and the treasure trove of recipes came to life. Each recipe has been developed with every step around the world keeping every traditional family secret in mind.
Here's a shot of their menu to get you excited..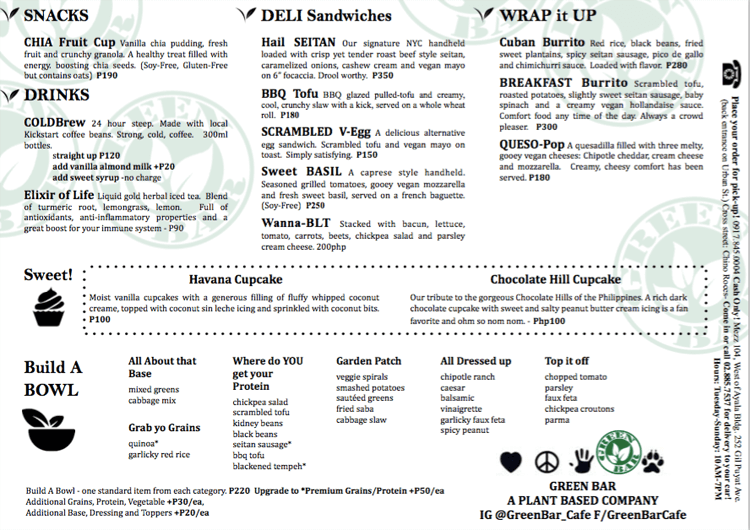 If you'd like to try their delicious creations, you can do so at:
South:
Inside the Beyond Building at Westgate Center (corner Filinvest and
Commerce Ave), Alabang
831-2211
Mon-Fri: 6:30am-9pm
Sat-Sun: 9:00am-4:30pm
Makati:
Mezz-104 West of Ayala Bldg. 252 Gil Puyat, Makati
885-7537
0917-8450004
Tues-Sun 10:00am-7:00pm (extending hours soon!)
*Makati Satellite Branch offers PICKUP and DELIVERY ONLY.