Homemade Shrimp Pad Thai is easier than you think, bring the essence of Thailand into your kitchen today!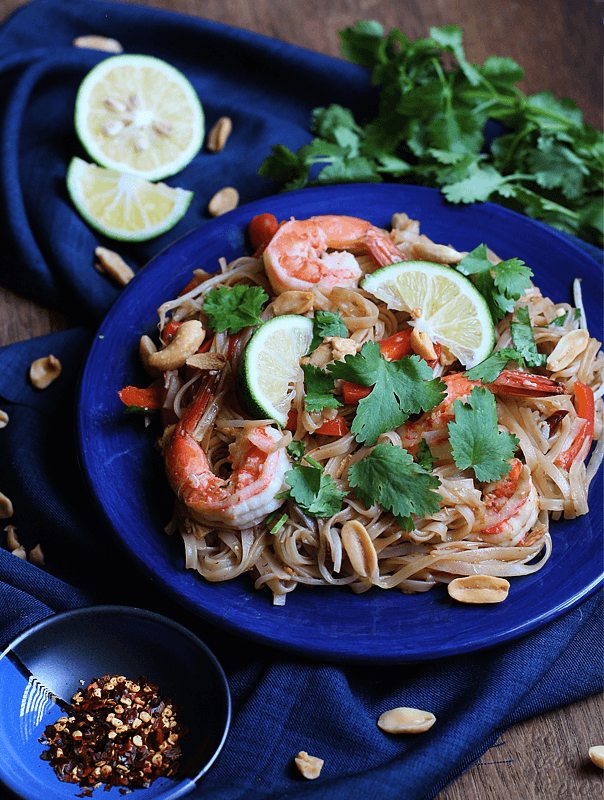 Finally, the elections has come and gone.
I hope you exercised your rights to vote. I did and all I could say is that whatever the final results maybe we must support our newly elected leaders and continue to be vigilant on how they're leading us. We must continue to be disciplined and law-abiding as the change and healing of our country starts in each of us.
And that's the first and last time I'm gonna post something politically related.
I am now moving on to noodles.. delicious and easy Shrimp Pad Thai.
I think a lot of people are intimidated when cooking Pad Thai — and that actually includes me. This is the first time I made Shrimp Pad Thai. Because it's my first time, I made use of a ready-made Pad Thai paste. I bought two brands, compared the taste and ended up loving Kanokwan Pad Thai Paste.
The result? Delicious and seemingly authentic Shrimp Pad Thai in my kitchen. peanutbutter♥ and Ykaie really enjoyed it. There were even leftovers which we ended up enjoying for breakfast the next day.
I do hope I get to cook more meals like this. These  past few days have just been quite busy. Next week, it'll be busier for sure. We're having a 6-day trip to Ilocos, it's gonna be Ykaie's enrollment, then we'll start getting ready for Twinkle's first birthday and christening.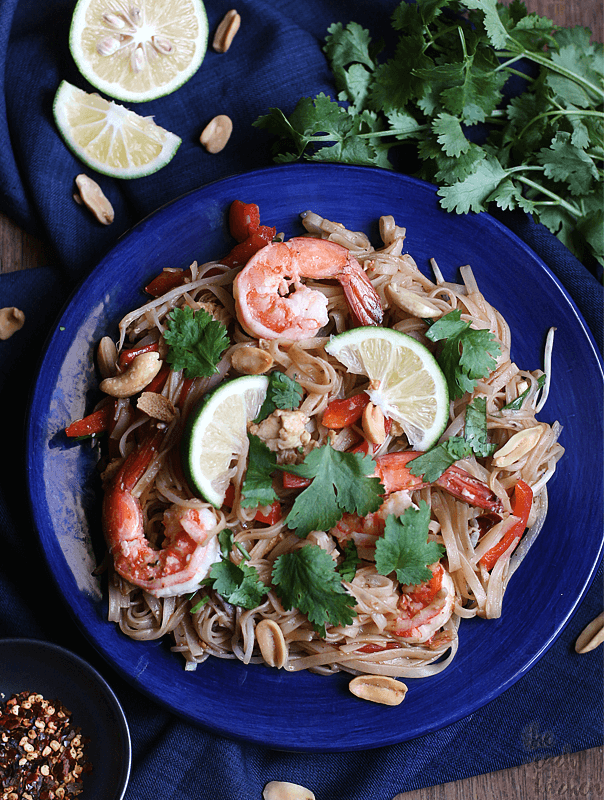 Have a great start of the week everyone! I'm feeling a monday vibe today…
Print
Shrimp Pad Thai
120g

dry rice noodles

500g

shrimp, cleaned, deveined, and shells removed

2

eggs, beaten

2 tbsp

oil

2 cups

bean sprouts

1

large bell pepper, julienned

1/4 cup

chives, cut into

1

-inch long pieces

1/4 cup

cilantro chopped

1/4 cup

peanuts, chopped
lime wedges
red pepper flakes
fish sauce (optional)
Instructions
Soak dry noodles for about 10 minutes, drain and set aside.
Heat oil in a wok and sauté shrimps until cooked.
Add egg into the wok and let cook without stirring.
Add the rice noodles and kanokwan pad Thai paste. Stir-fry until the ingredients are mixed well.
Add bell pepper, bean sprouts, chives, and stir fry for a minute.
Season with fish sauce if needed.
Garnish with chopped cilantro, lime wedges, chopped peanuts, and red pepper flakes before serving.