These Swedish Meatballs are seasoned with aromatic spices and simmered in a creamy gravy with a hint of mushroom…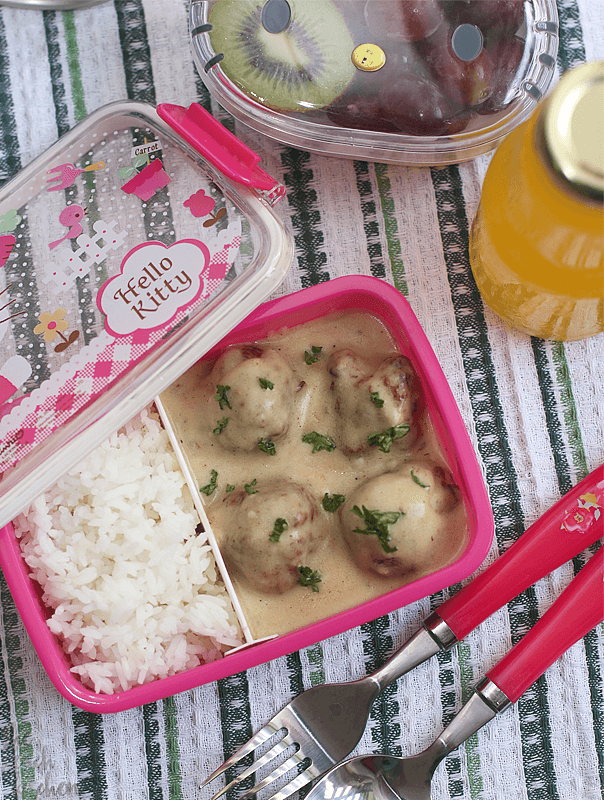 Happy Friday!
This year I am fully embracing my role as a baon-prepping mommy. Ykaie is in Grade 3 (what?! where did the time go?) and I realized that I've been prepping her lunch since she was in Grade 1. I've been prepping baon for two years now.
There are times when I really wanted to blog about her baon but waking up everyday at 4am and being a mombie (mommy zombie) most of the time makes me forget that I have to take a photo…LOL!
Hopefully this year, I'd be able to document some of her baons and hope that I'd be able to give other moms idea on what to prepare for their kids. Like other moms out there, when the going gets tough and life gets busy, I resort to ready made ulams like hotdog, chicken nuggets, and tocino for Ykaie to take to school. It's really not healthy.
This year, I hope to be able to prepare 100% homecooked meals for her baon.
Friends from Jolly sent over some yummy products late last month.(Thank you Jolly!!!) I thought it would be nice to create my first "The Peach Kitchen Baon Ideas" post using one of them.
And since it's friday, this is the perfect time to share with you my first evah baon idea… Swedish Meatballs!
Just a little reminder though, that if you're looking for authentic Swedish Meatballs, this is not it. This is a recipe that is tweaked to suit my family's taste. You know, just like how Pinoy spaghetti is sweet.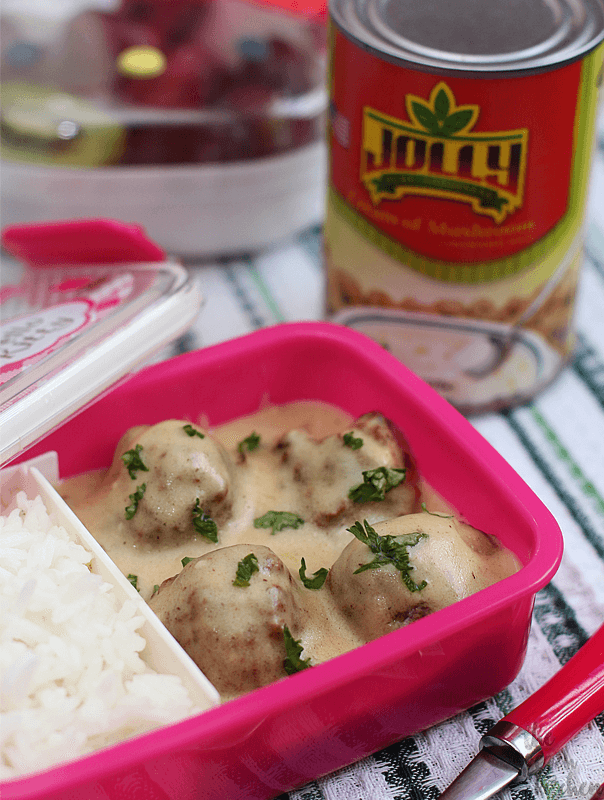 The recipe starts with a mixture of ground pork and ground beef. I like my meatballs or any of my recipe that uses ground meat to be a mixture of pork and beef because it becomes more flavorful that way. The ground meat mixture is combined with egg, bread crumbs, spices, and sautéed white onions for flavor then fried in olive oil until brown.
After that is when the fun starts when we make the gravy by melting some butter in the same skillet. We whisk in the flour, add the beef broth, Jolly Cream of Mushroom Soup, and finally the sour cream. After this has simmered a bit, that's when we add the cooked meatballs back and simmer until heated through. Season it with salt and pepper to taste and voila! Done.
You can do the meatballs the day before and freeze it so it won't take as much time as when you prepare it in the morning.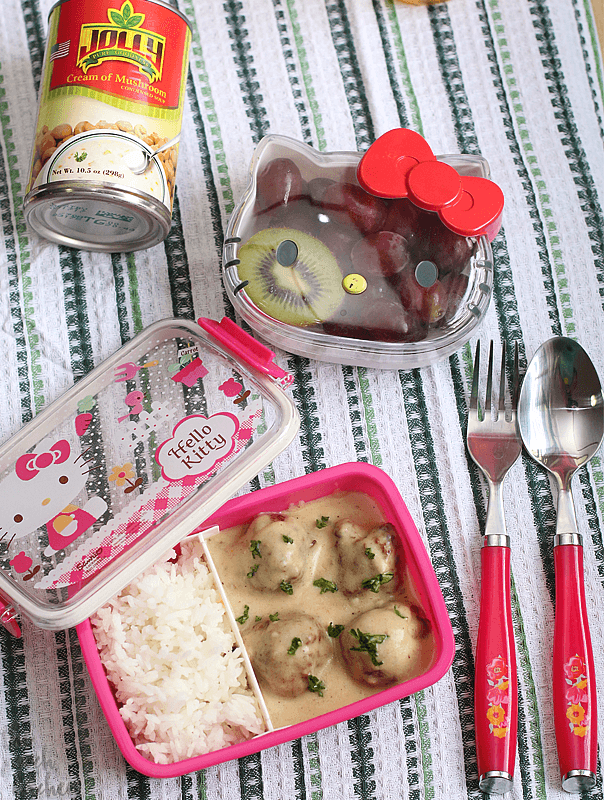 What's nice about Swedish Meatballs is you can top it off hot steaming rice, freshly cooked pasta, or creamy mashed potatoes and it would be amazing….
Have a great weekend!!
Print
Swedish Meatballs
4 tbsp

olive oil

1

large white onion, chopped finely

250g

ground beef

250g

ground pork

2 tbsp

bread crumbs or all purpose flour

1

egg

1/2 tsp

ground allspice

1/2 tsp

ground nutmeg
salt and pepper to taste

3 tbsp

butter

2 tbsp

all purpose flour

1

beef cube dissolved in

3 cups

water

half a

can of Jolly Cream of Mushroom Soup

1/2 cup

sour cream
salt and pepper to taste
chopped parsley for garnish
Instructions
Heat 1 tbsp olive oil in a non-stick skillet and sauté onions until it becomes translucent.
Combine ground beef, ground pork, sautéed onions, allspice, nutmeg, egg,bread crumbs, salt and pepper in a large bowl. Stir well until combined using a spoon or a your own clean hands.
Roll the mixture into 1 inch balls.
Add the remaining olive oil into the pan and fry meatballs in batches until cooked and brown.Set aside.
To make the gravy: melt butter in the same skillet, whisk the all purpose flour until brown. Gradually add your beef broth (beef cube in water) while whisking. Then add the Jolly Cream of mushroom.
Continue whisking until free of lumps.Stir in sour cream and season with salt and pepper to taste.
Add back the cooked meatballs into the pan and bring to a simmer while stirring constantly. Add a bit of water if you feel that the sauce is too thick. Simmer for 1-2 minutes until meatballs are heated through.
garnish with chopped parsley before serving.
These delicious swedish meatballs maybe served on top of hot steaming rice, pasta, or mashed potatoes.