Creamy truffle mushroom sauce tossed over cute teddy bear pasta for a wonderful kiddie treat!
It was such a busy weekend!
Finally! It was late but we still managed to celebrate Twinkle's 11th month with a Teddy Bear themed party. I know I haven't been updating you with Twinkle's monthly parties. Heck, I've been up to my neck in backlogs as I have many many things I wanna share but I just couldn't keep up these days….
I believe I've blogged about until the seventh month…hmmmnn.. but I'm planning to share with you the 8th until the 11th until the end of June because after that — it's gonna be her first birthday!! Yaaay! (Yeah, it's gonna be celebrated on the day of her dad's birthday).
Okay. More details on the monthly parties soon, for now let's move on to this Truffle Mushroom Teddy Bear Pasta.
You see, Twinkle's 11th month teddy bear party was planned a couple of months ago that's why I have this bear-shaped pasta on hand. I just think it's adorable and cute!
And since we are so crazy about truffle mushroom sauce these days, I think it's the perfect sauce to top it……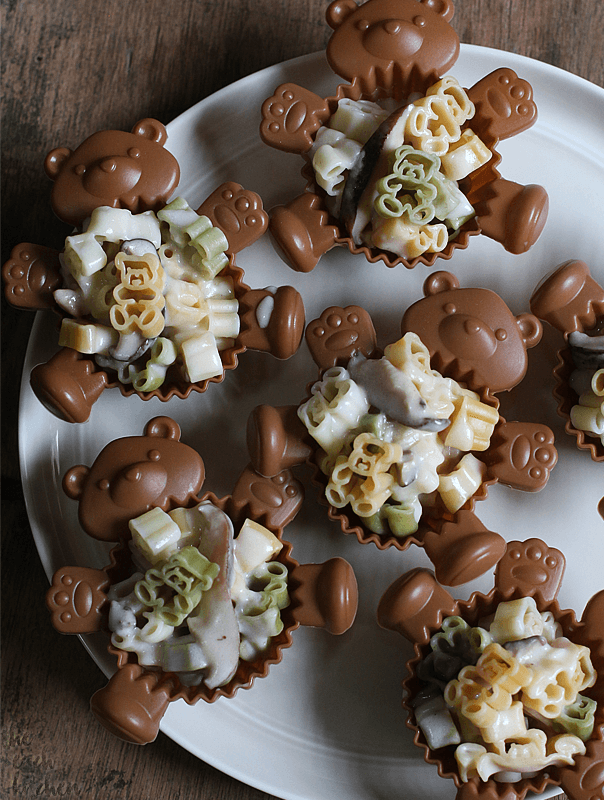 With this cute and delish pasta dish, it was a Bear-y Happy 11th Month celebration for Twinkle Bashwinkle…
Print
Truffle Mushroom Teddy Bear Pasta
250g

Teddy Bear Pasta , cooked according to package direction

1 tbsp

olive oil

3

cloves garlic, minced

100g

kibbled shiitake mushroom, soaked in water until rehydrated and then sliced

3 tbsp

butter

2 tbsp

all-purpose flour

1 cup

water

1

can condensed cream of mushroom soup

1 cup

heavy cream (or all-purpose cream)
grated parmesan cheese
salt and pepper to taste

2 tsp

Truffle oil
Instructions
Heat olive oil in a pot and sauté garlic until fragrant.
Add sliced shiitake mushrooms and cook for 2-3 minutes. Season with about ¼ tsp salt. remove from pan and set aside.
In the same pan, melt butter. Add flour and stir to form a roux. Add water and whisk until free of lumps.
Pour in condensed cream of mushroom soup and heavy cream. Add shiitake mushroom.
Whisk to combine and simmer for 3 minutes.
Season with salt and pepper. Turn off heat, add truffle oil and give it a quick stir.
Scoop over pasta on a plate and sprinkle with grated parmesan cheese on top.