Arroz Ala Cubana Quinoa Bowl is simply a healthier version of the popular Arroz Ala Cubana — tastes just as awesome! You won't miss the rice.
The weekend passed  by so quickly. All I knew was that it was thursday and then poof! — weekend was over. So let me just hypnotize myself and recall what happened last friday, saturday, and sunday.
FRIDAY – I got myself a new phone — the Huawei P9. This phone was co-develeoped by Leica camera and it takes such crisp, clear photos and I love it! I'm still tinkering it but I am loving all the features so far. We ate again at New Bombay and we weren't able to finish our food so we had it wrapped to take home.
SATURDAY – Just a quick update on my blog and we were out of the house to celebrate FIL's birthday. We ate at Dad's in Megamall for lunch (Goodbye, diet!). It felt like the 2 lbs I lost last week crept its way back in….LOL! Oh well. It was dark when we got home. We haven't had dinner yet and we were too tired to cook, so we ate whatever we had at home.
SUNDAY – I think I food poisoned myself with the combination of food that I ate for dinner saturday night. I was sick the whole day Sunday and was still recovering yesterday.
I think that pretty much summarizes my weekend. Today, regular programming resumes. Can I just say that I love love love quinoa right now? It is so much like rice only with a gazillion health benefits. Only half cup of it leaves me full!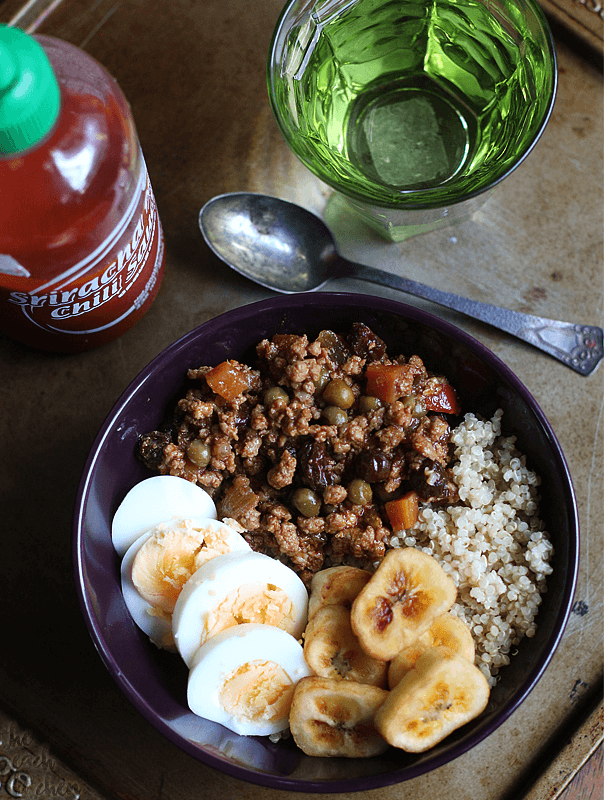 I tried it with Arroz Ala Cubana but instead of rice, I turned it into an Arroz Ala Cubana Quinoa Bowl. I used lean ground pork and ground beef, hardboiled egg instead of fried, but I still fried the saba because it just tastes so good cooked that way. Then I squeezed some sriracha for some heat! It was awesome.
I would very much like to hit the gym today but I don't think I can because we have to take sis and her friends to the airport for their Palawan vacay. AND peanutbutter♥ and I have a meeting at SM MOA.
♥ If you make this recipe, be sure to snap a photo and tag @thepeachkitchen on Instagram (OR hashtag it #thepeachkitchen). I'd love to see what you cook!
Print
Arroz Ala Cubana Quinoa Bowl
250g

lean ground pork

250g

lean ground beef

4

cloves garlic, minced

1

onion,chopped

¼ cup

Canola Oil

1 cup

frozen peas and carrots

1

red bell pepper, cut into small squares

¼ cup

raisins

⅓ cup

tomato sauce

3 tbsp

soy sauce

2

pieces Bay leaf
salt and pepper

8

pieces of cardava (saba) sliced and fried

4

hardboiled egg

4 cups

cooked quinoa
Instructions
Heat oil in a skillet. Sauté onions and garlic until onion becomes translucent.
Add ground pork and ground beef. Stir-fry until pork and beef are golden brown.
Lightly season with soy sauce and pour in tomato sauce.
Add the bell pepper, peas, carrots and raisins and bay leaves when veggies start to soften.
Stir-well and let it simmer for 1 minute to absorb sauce.
Season with salt and pepper to taste
In a bowl, scoop 1/2 – 3/4 cup quinoa and top with half cup of the arroz ala cubana, fried sliced saba, and sliced hardboiled egg.
Serve warm