These Carrot Cake Cupcakes are moist and filled with crunchy roasted walnuts then topped with cream cheese frosting and more crunchy walnuts — such a happy start of the week…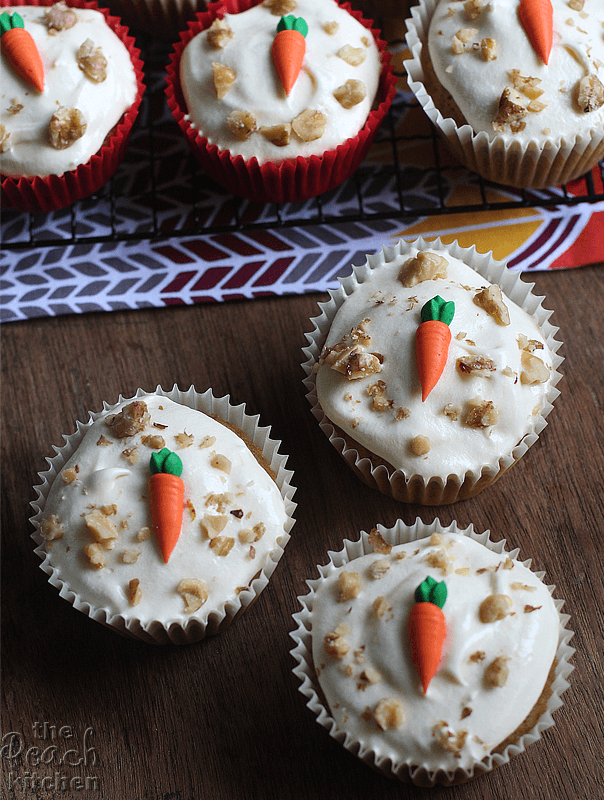 After this really delicious Apple Pie Cheesecake, I'm hopping off to the next sweet thing — Carrot Cake Cupcakes.
With two consecutive sweet recipes here at The Peach Kitchen, Are you thinking I'm a bit stressed out? With Lani being here and the house looking clean and pretty, I'd say I was able to take a breather. I can actually feel my stress melting away…
I was even able to put up our Christmas Tree last monday! Yay! Finally!
The weekend was kinda busy too! Saturday was Ykaie's 9th Birthday at Jollibee. And on Sunday, we went to SM MOA to attend the Alaska Ultimate Mission Camp. Kwento all about it on my next posts…
This Carrot Cake Cupcake was actually requested by the husband. He wanted a big cake. Pero dahil siksik, liglig, at umaapaw ang ref namin (thank you Lord!), I told him I can only make a small batch of cupcakes. Wala naman syang magagawa, so he agreed.
I am so glad I made this. It's moist and filled with crunchy walnuts in each bite plus the cream cheese frosting is to die for — it has Anchor butter and just enough powdered sugar to make it smooth and sweet.
It's still a  busy week 'cause it's exam week but we'll survive. How's your start of the week coming along?
♥ If you make this recipe, be sure to snap a photo and tag @thepeachkitchen on Instagram (OR hashtag it #thepeachkitchen). I'd love to see what you cook!

Carrot Cake Cupcake
Ingredients
Carrot Cake Cupcake
1¼ cups all-purpose flour
½ tsp baking soda
½ tsp baking powder
¼ tsp salt
1 tsp ground cinnamon
¼ tsp ground nutmeg
1½ cups finely shredded/grated carrots
⅔ cup white sugar
⅓ cup brown sugar
2 large eggs
1 tsp vanilla extract
¾ cup canola oil
½ cup chopped walnuts + more for topping
Cream Cheese Frosting
½ cup butter, softened
8 oz cream cheese, softened
2 cups powdered sugar
1 tsp vanilla extract
candy carrots for garnish
Directions
Line a muffin tin with cupcake liners and preheat oven to 350ºF.
I used a fine grater to grate the carrots manually. Set aside grated carrots.
In a mixing bowl, whisk together flour, baking soda, baking powder, salt, cinnamon, and nutmeg, set aside.
In another mixing bowl, combine white sugar, brown sugar, and eggs. Mix on low speed with an electric mixer for about 30 seconds, then add oil and vanilla extract.
Gradually add dry ingredients and half of the grated carrots. Mix on low speed for about 15 seconds.
Turn off mixer and add the rest of the grated carrots and the chopped walnuts. Mix until carrots and walnuts are just incorporated with the batter.
Pour batter into paper-lined muffin cups, filling each cup about ¾ full and bake for 19 minutes OR until toothpick inserted into center of cupcake comes out clean.
Cool in the muffin tin for a few minutes before transferring to a cooling rack to cool completely.
Make the Cream Cheese Frosting: Using an electric mixer whip together butter and cream cheese until smooth and fluffy. Add vanilla extract and powdered sugar and continue mixing until smooth and fluffy.
Frost each cupcake with the frosting and top with candy carrots, and more chopped walnuts.
Notes
Makes 12 - 14 cupcakes
Cream Cheese Frosting is good for 24 - 28 cupcakes