Buttery and garlicky, marinated chicken pieces that is just so so good with rice, Oh you'll love this Chicken Salpicao!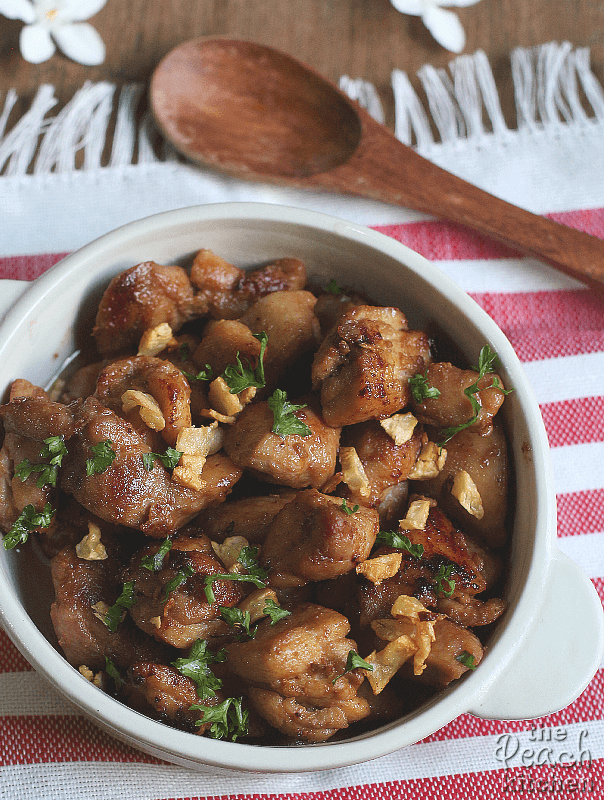 Just when I thought I am no longer "The Mommy Who Never Sleeps" and that sleep and I would be BFFs … I turn yet again into a mombie. It's Thursday, and being back to this regular programming after a long weekend is super exhausting! Add to it the preparation for the upcoming holidays. Eeeek! Our Christmas tree is not even up yet! (How's yours, by the way?)
I'd like to think that I could function well even with 4 hours sleep but, you know, the moment I stop being busy, my mind automatically goes on a sleep mode and it knocks me out. Most of the time, I get knocked out during a commute. It doesn't matter whether I'm in the car, in a jeep, in a bus, in the train… nakakaloka!
I just found out I fell asleep when I opened my eyes and I was in Oz…LOL!
Yesterday, falling asleep in the jeep cost me a loooooong walk under the heat of the sun. I promised myself I'm never gonna fall asleep during commute again. Good luck to me not breaking that promise.
Anyway, I attended an event with my Kumares yesterday and I really learned a lot about the Digital Natives, us being the Digital Managers, and our responsibility to balance out our kids' digital diet. Diba? May ganun pala? I'm gonna tell you all about it in my next post. After the event, we had coffee, courtesy of Kumareng Levy and cakes, courtesy of Mareng Badet. Somehow, it's more delicious when it's free, LOL!
Now that I got everything off my chest, let's talk about this Chicken Salpicao. It's my first time to cook Chicken Salpicao. When it comes to salpicao, it was always beef 'cause I love beef and Beef Salpicao is just my favorite. But the things is, I'm trying to look for healthier alternative to red meat, hence, this.
Well, it's actually as good as the beef version and my family loved it. I used chicken thigh fillets instead of breast fillets because it's tastier and it yields juicier meat.
♥ If you make this recipe, be sure to snap a photo and tag @thepeachkitchen on Instagram (OR hashtag it #thepeachkitchen). I'd love to see what you cook!
Print
Chicken Salpicao
500g

chicken thigh fillets, cut into bite size pieces

3 tbsp

liquid seasoning

3

cloves garlic, minced

1 tbsp

oil

2 tbsp

butter

1 tbsp

worcestershire sauce

6

cloves of garlic, chopped finely
chopped parsley for garnish
Instructions
Marinate chicken in 3 tbsp liquid seasoning and 3 cloves minced garlic for 1 hour.
Heat oil in a pan and fry the finely chopped 6 cloves garlic until brown, remove and transfer to a small plate..set aside for later.
Add the marinated chicken (with the marinade) to the pan and saute until cooked halfway through.
Add worcestershire sauce and continue to saute until done cooking.
Turn off heat and add butter. Mix thoroughly until butter is melted.
Transfer to a serving plate and sprinkle with fried garlic and chopped parsley before serving.