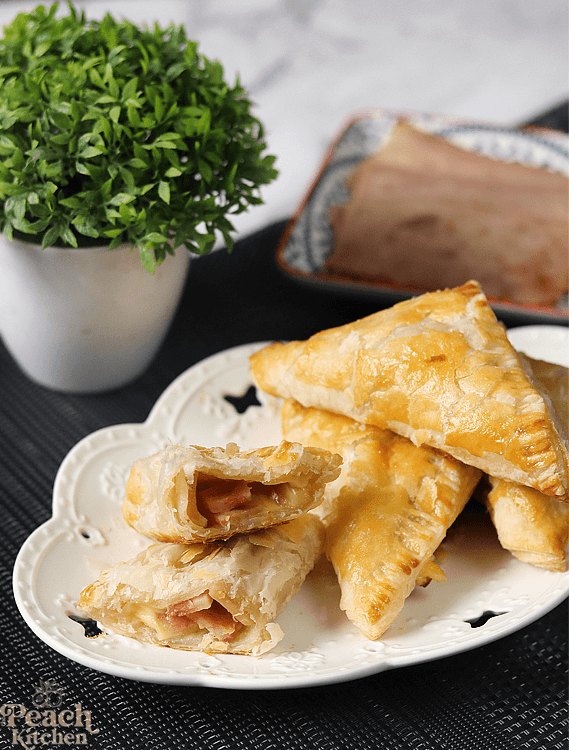 It has been a rough two weeks for the family! Twinkle and Daddydoodledoo has been sick and our household has been upside down, topsy turvy, and hard to manage. Good thing it finally ended today — Twinkle is already well and the hubs is half recovered… And I'm back in the kitchen.
So, dahil medyo hilo pa ang Mommy Peach nyo, gawa muna tayo ng Ham and Cheese Turnovers. These great Ham and Cheese Turnovers are made from puff pastry. It's great for a quick snack or school baon for your kids. I know your kids love anything with ham — mine does.
If you'd like to try out more ham related recipes, this food blog has a ham and potato soup recipe that I do recommend!
WATCH THE HAM & CHEESE TURNOVER VIDEO RECIPE HERE:
But let's get back to these pastries…
What is a turnover pastry?
A turnover pastry is an individual piece of pastry, folded in half, and filled with either sweet or savory filling.
What can turnovers be filled with?
Turnovers can be filled with both sweet and savory fillings. You can fill it with strawberry, cherry, apple, ham and cheese, and bacon and cheese, and tuna.
What are turnover pastries made from?
Turnover pastries are typically made from puff pastry or a standard pie crust.
I made these Ham and Cheese Turnovers using this frozen Kawan Puff Pastry Sheet.
Should you want to make this recipe or if you have a recipe that calls for puff pastry, you can buy this Kawan Puff pastry Sheets here: https://tinyurl.com/KawanPuffPastry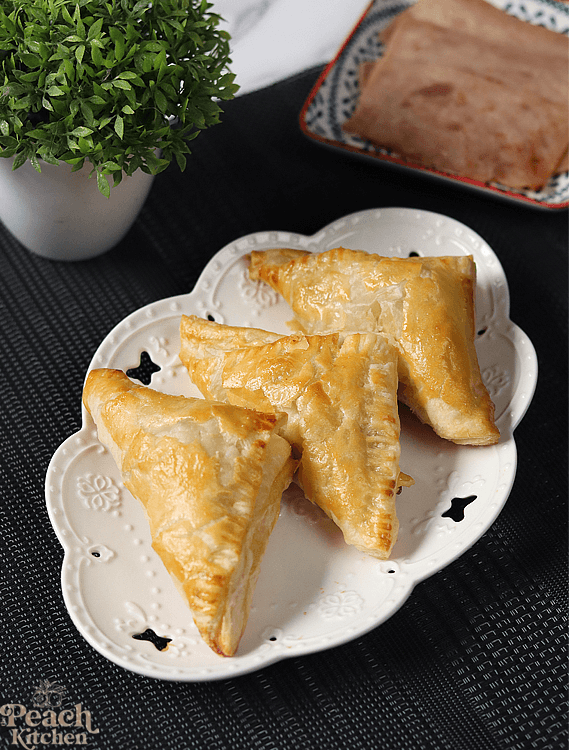 NOTES:
You should make small slits into the pastry to allow steam to escape. I forgot to do this but it turned out okay since what I made is already for consumption.
Store the baked turnovers at room temperature for half a day or you can store in the fridge for two days.
Reheat the turnovers in a 400℉ for 5-7 minutes until hot and flaky para mas ma-enjoy mo sya.
What's not to love? These are flaky, cheesy, and buttery! I think I'm gonna make more of these in the coming weeks because they really loved it. I'm gonna experiment with different fillings as well.
Sharing you the video in a bit
Print
Puff Pastry Ham and Cheese Turnovers
2

sheets frozen puff pastry

4

ham slices, cut into small pieces

4

pieces cheese slices

1

egg +

1 tsp

water for egg wash
Instructions
Thaw the puff pastry according to package instructions 
Cut each pastry into four.
Fill each square with ham slices and cheese.
Fold and seal the edges with a fork.
Beat the egg and add the water. Brush each pastry with egg wash.
Using the tip of a knife cut 3-4 small slits into the pastry to allow steam to escape
Bake in the oven at 400°F for 15-20 mins or until golden.