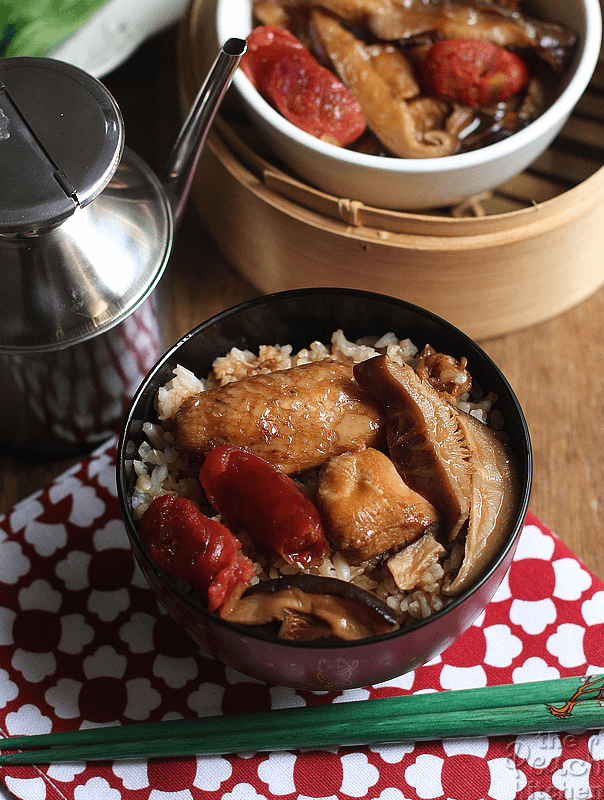 Steamed Chicken with Chinese Sausage & Mushroom is one of the most common dishes you'll find in a Chinese restaurant. It's usually a rice topping and is served with a special sauce which the waiter pours on top right after putting it on the table. This is one of those menu items that we don't miss whenever we eat out chinese — no matter what the restaurant is.
I tried to re-create this dish at home the other day just to satisfy everyone's craving. I know my family were craving for something like this but we just don't have the time to go out because of our crazy schedule. Hey. don't be fooled by the long name because it is surprisingly easy to make!
All you have to do is marinate the chicken, top it with the mushroom and chinese sausage afterwards and then off to the steamer it goes. I didn't even have to make the special sauce anymore because it actually produced some sauce. That's the sauce that I poured over the brown rice. It was so tasty! The chicken was very tender and the marinade actually seeped in the meat since it was cut in bite-sized pieces.
Success! Woohoo!I think this is going to be a staple here at home because of how good it taste and how easy it is to make. Perfect for busy working weekdays or jam-packed weekends.
On other news, I'm back in the gym since last week with Rome, my cousin, being my gym buddy. We were in there for a good two days last week and decided on an MWF morning schedule starting this week. I think having a gym buddy would motivate me to work out on a regular basis. Hmmm.. we'll see.
The week's off to a great start I believe. How's your day?
♥ If you make this recipe, be sure to snap a photo and tag @thepeachkitchen on Instagram (OR hashtag it #thepeachkitchen). I'd love to see what you cook!
Print
Steamed Chicken with Chinese Sausage & Mushroom
750g

grams chicken, cut into bite size pieces (I used wings and breast)

4

pieces chinese sausage sliced

1/2 cup

dried sliced shiitake mushroom, soaked in water
Steamed Rice for serving
Seasoning
1 tbsp

sesame oil

2 tbsp

cornstarch

1 tsp

cooking wine

1 tbsp

dark soy sauce

2 tbsp

light soy sauce

2 tbsp

oyster sauce

1

-inch know of ginger sliced

1 tbsp

sugar or honey
Instructions
In a small bowl, combine all the seasoning ingredients and mix well.
In your steaming bowl, combine the chicken and the seasoning and marinate for about 1 hour or more.
After 1 hours, top with the sliced chinese sausage and shiitake mushroom
Steam for 30-45 minutes or until chicken is cooked through.
Serve with steamed rice.
Notes
You can buy cooking wine in any big supermarkets like SM, Landmark, Robinsons.
As for the soy sauce, you can also use the regular variant, if you don't have dark and light soy sauce. The dark soy sauce makes it more flavorful, though.