Cottage Cheese, Mango, and Honey Toast ~ a healthy way to start your day…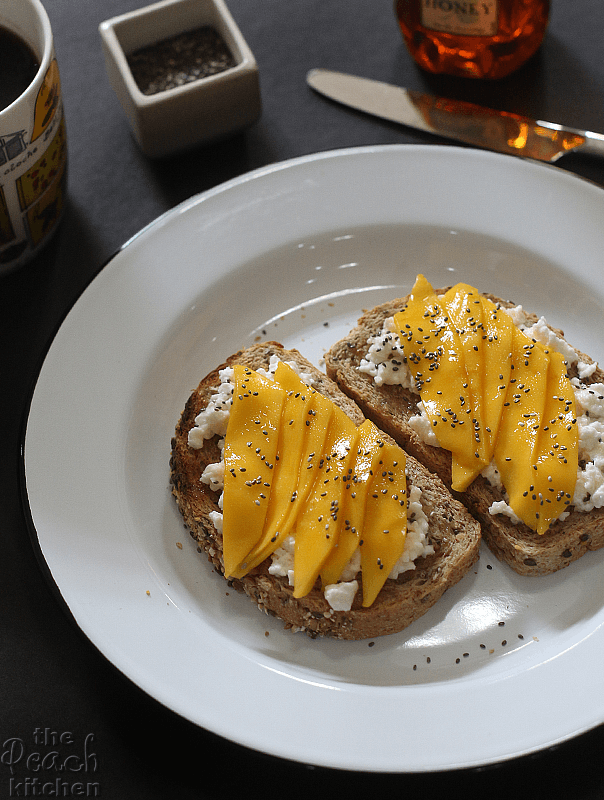 There are days when I long for peaceful mornings where I sit by the dining table, sip coffee on a leisurely manner, and eat a lovely breakfast without interruption. Morning situation at home is lunch packing for Ykaie, Twinkle crying because of disturbed sleep as her sister scrambles to get out of bed, then breakfast for the gang. Twinkle is not going back to sleep so I turn the tv on Phineas and Ferb as I hand out her milk. Then Ykaie leaves for school and I get a goodbye hug and kiss. Twinkle finishes her milk, walks towards me on the dining table. She gives me a kiss because she wants to sit on my lap and tinker on the laptop…
Yeah, that pretty much sums up my mornings these days. It's hectic and it's routine but I would never ever trade those two loving kisses I get each morning….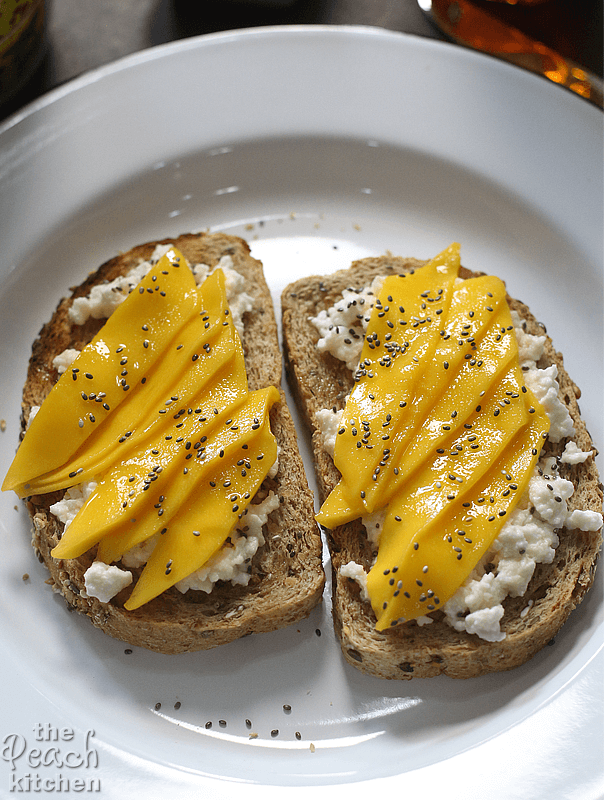 Especially if I still can enjoy brunch when Twinkle gets "borrowed" by her tita and lolas by mid-morning.
Brunch is whatever's in the fridge… in this case, it's Cottage Cheese, Mango, and Honey Toast with a sprinkling of chia seeds.
Ykaie asked me to buy her cottage cheese because she wants to try it — she ended up not liking it because it didn't have any of that "cheese" taste. I told her it's because it's fresh cheese. She wholeheartedly gave it to me and I've been putting it on toast until the last serving today. It went on top of two slices of bread with mango slices, drizzle of honey, and chia seeds.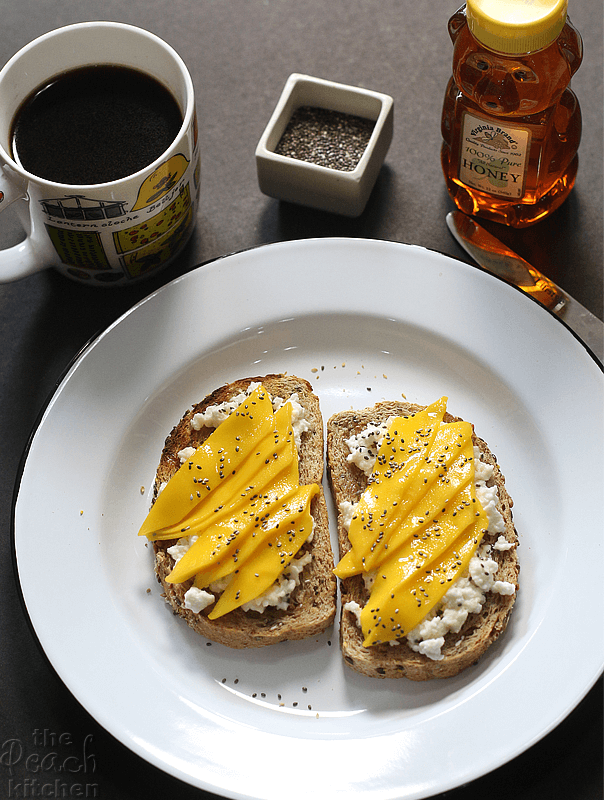 I enjoyed it with my second cup of joe. One of the best times of the day…
It's already Thursday, guys. Hold on, just one more day and it's gonna be the weekend.
♥ If you make this recipe, be sure to snap a photo and tag @thepeachkitchen on Instagram (OR hashtag it #thepeachkitchen). I'd love to see what you cook!
Print
Cottage Cheese, Mango, and Honey Toast
2

pieces multigrain bread, toasted

4 tbsp

cottage cheese

1/2

mango cheek, sliced thinly

1 tsp

chia seeds

1 tbsp

honey
Instructions
Spread cottage cheese on toast.
Top with mango slices, chia seeds, and drizzle with honey.
Serve immediately and enjoy!