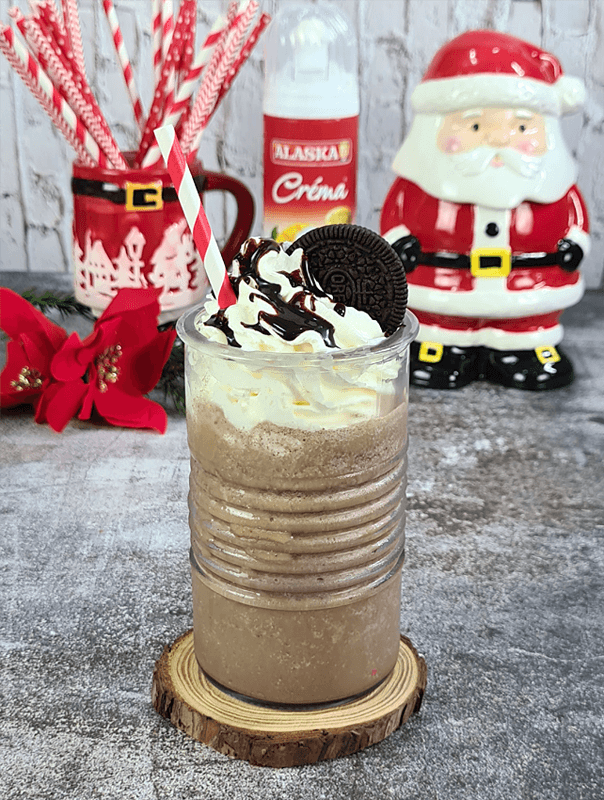 Looking for an indulgent drink you can easily make at home for the holidays? Let me share with you an easy but oh-so-delicious one! This Oreo Mocha Frappé. It's like your coffee shop favorite…. but it's extra kasi it has crushed oreos .. AND on top of that you can easily make it at home.
WATCH THE VIDEO HERE:
All you need to do is to combine the crushed oreos ,chocolate syrup, instant or brewed coffee, and ice in a blender. Add some whipped cream — yes whipped cream to make it creamier! — before blending it until smooth. Then top with more whipped cream and an oreo cookie!
Guaranteed to be loved by both kids and adults! Omit the coffee for kids though…
Print
Oreo Mocha Frappé
2 tbsp

crushed oreo

1/4 cup

instant coffee/brewed coffee

1 tbsp

chocolate syrup

1/2 cup

milk
Alaska Whipped cream to blend in and make it creamier

1 cup

ice
for toppings:
alaska whipped cream
chocolate syrup
oreo cookie
Instructions
Put crushed oreo, instant coffee/brewed coffee, chocolate syrup, milk, Alaska Whipped cream, and ice in a blender and blend until creamy.
Transfer to a glass and top with Alaska Whipped Cream, chocolate syrup and an Oreo cookie.