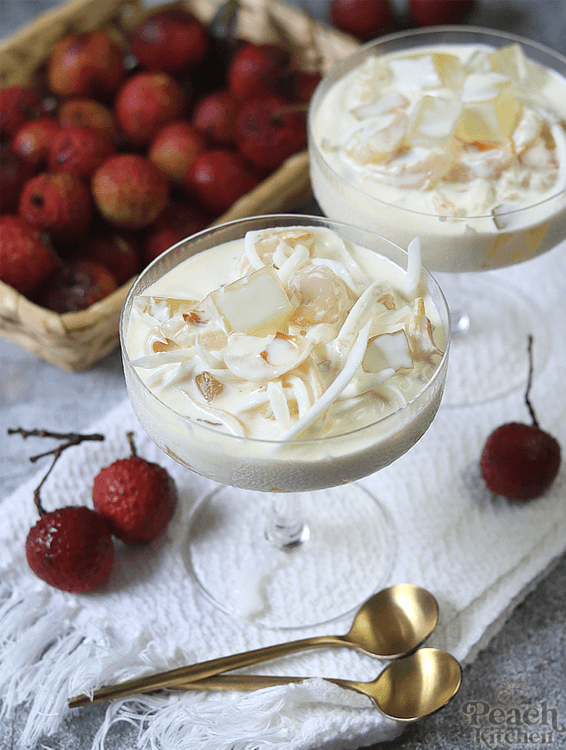 Most of us loves dessert salads — including me. I love Buko Pandan Salad, Fruit Salad, and Mango Bango. And our usual dessert salads always have buko or coconut. Para maiba naman, I made Buko Lychee Salad for our dessert this weekend. This salad actually reminds me of this Buko Lychee Jelly that my nanay used to make. She uses coconut that's cut into squares and canned lychee and then turns it into a large tub of jelly. It's really good and this version is like a deconstructed version of that dessert that she used to make.
Watch: Buko Lychee Recipe Video

I love Lychee and I have been eating fresh Lychee for dessert the past few days. The thing is Ykaie doesn't. And that's one of the reasons I made this also — it's because I'm trying to make Ykaie appreciate the taste of Lychee. I'm thinking that maybe when the lychee is mixed with other ingredients, she'd learn to like it. Haaay, hindi pa rin… hihihi. I will try again with a different recipe.
Print
Buko Lychee Salad
1/2

pack lychee jelly powder

2 tbsp

sugar

2 cups

water

2

cans canned lychee, drained and cut each piece into quarters

2

buko (coconut), shredded into strips

2 cups

all-purpose cream

3/4

to

1

cup sweetened condensed milk
Instructions
Make the lychee jelly: Combine the lychee jelly powder, sugar, and water in a pot. Mix well and bring to a boil. Transfer to a container and chill until firm. Cut into cubes.
In a large bowl, combine canned lychee, shredded buko, lychee jelly, all-purpose cream, and sweetened condensed milk.
Mix well. You can adjust the sweetness by adding more condensed milk.
Chill for at least two hours before serving.