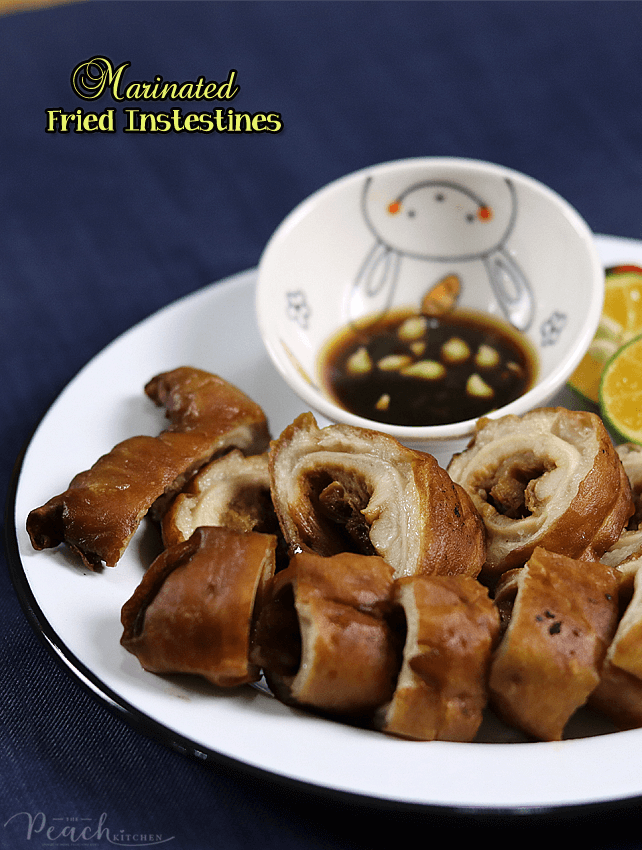 This Marinated Fried Pork Intestine was a regular on the menu when I was a kid. We were meat vendors back then and we had access to anything beef and pork. So, yes, we had easy access to pork innards. Pork Intestines (tumbong ng baboy) might sound yucky or scary but it's actually pretty tasty. I guess it depends on what you're accustomed to.
Sometimes we'd have many of these left, so what my nanay does it marinate it on barbecue marinade and skewer it on a wooden stick. Then my aunt would charcoal grill it and I would sell it around the neighborhood. Jeskelerd, hiyang-hiya kaya ako nung bata ako habang sumisigaw ng "BARBECUE! Barbecue-ng Tumbong!"
Now, it's a popular streetfood!
Pork Intestine Marinade: soy sauce and calamansi juice
WATCH THE VIDEO HERE:
Some of the reasons why not many people cook it into their own home is because pork intestine isn't easy to come by. Not everyone in the market sells it. Sometimes you have to order and it so the vendor can source it out and then just come back the next day. Another is because, it is very tedious to clean! Malamang abutin ka ng maghapon sa paglilinis lang nito.
But there are times that we miss it — so tyaga-tyaga na lang sa paglilinis.
Kayo mga mamsh, na-try nyo na ba magluto nito?
Print
Marinated Fried Pork Instestine
1

kilo pork intestine (tumbong ng baboy)
water for boiling
salt
ginger
Tawas (optional)
cooking oil for frying
pork intestine marinade
1/2 cup

soy sauce
juice of

10

calamansi
Instructions
To clean the pork intestine, put the intestines in a large pot of water. You may put a big know of sliced ginger to help wit the smell. Boil the intestine for 5 minutes. Do this 2-3 times.
If the smell persists, you may wash it on water with tawas or alum. Rinse and drain.
Let it cool to room temperature and turn it inside out to make sure the insides are clean as well.
You may scrape it with a knife to make sure it's really clean and wash it with water.
Turn it back inside out and boil it for 1 hour to tenderize it. You may boil it in plain water or water with 1 knob of sliced ginger.
After boiling, drain and let cool.
Combine soy sauce and calamansi juice in a large bowl. Marinate the tender pork intestine in the soy-calamansi mixture for 1 hour or overnight.
Heat cooking oil in a pan and fry the pork intestine until brown and crisp on the outside. The inside will remain juicy and tender.
Slice and transfer to you serving plate. Serve with soy-calamansi dipping sauce.
♥ If you make this recipe, be sure to snap a photo and tag @thepeachkitchen on Instagram (OR hashtag it #thepeachkitchen). I'd love to see what you cook!