This Dalgona Coffee has taken social media by storm and I can't help but be captured by its sweet nutty flavor and fluffy caramel whipped top. It's a tasty alternative to your morning coffee and can be made at home easily.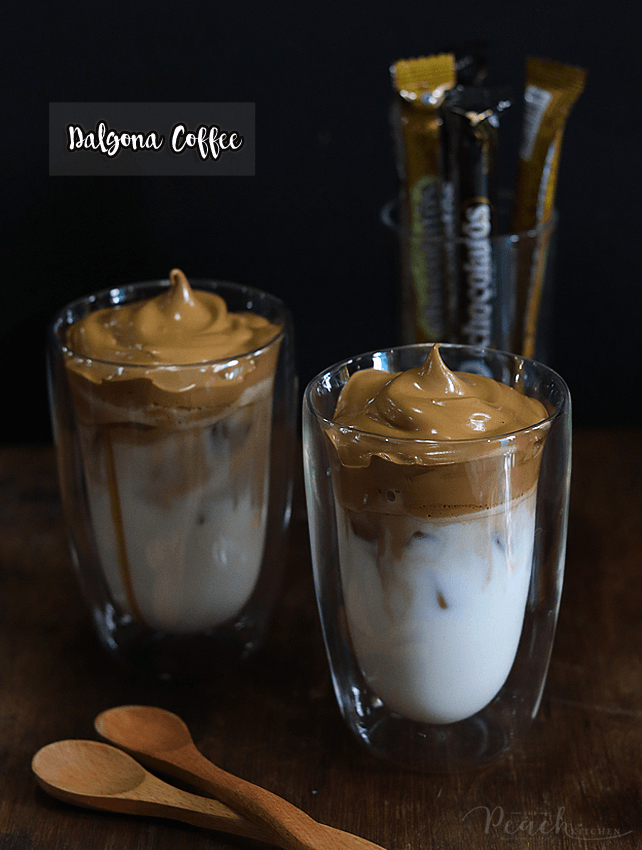 #PHLockdown Day 20.
Hindi na nakatiis and I finally tried this Dalgona Coffee. It's been all over social media and it seems like everyone is doing it because, well, everyone is at home and we are looking for things to do and things to try.
Coffee has been a part of my morning routine ever since I was seven! Yes, seven. My nanay and tatay were meat vendors and we used to pork and beef in the local wet market (palengke). My nanay brings me with her to the wet market to help when I don't have school. It's at 4am everyday so she brings a thermos of black coffee with her. I got curious as to how it tastes and she let me try it one time. Since then, I always ask for a small cup and I enjoyed it every single time.
Then fresh out of college, I applied at Starbucks. That's when I learned the art of coffee and developed more appreciation for it. That's also where I met peanutbutter♥, btw.
And then, in the midst of ECQ (Enhanced Community Quarantine), I saw this Dalgona Coffee. I figured it looked good and is pretty easy to make so why not try it.
What you need:
Instant coffee (do not use 3-in-1 coffee!)
Sugar
Hot Water
Milk
Ice
Whisk/ Electric hand mixer (you can do it by hand with a whisk or two forks too, but we don't recommend that. Ngawit ang kili-kili mo, sigurado)
The coffee powder, sugar, hot water should be in a 1:1:1 ratio. You'll be whisking instant coffee powder, sugar, and water together and you'll end up with a frothy and delicious whipped mixture. The coffee mixture is then poured over your milk creating a reverse latte. You make this either hot or iced depending on your mood.
CAN I USE A MILK ALTERNATIVE?
Yes. Dalgona Coffee is somewhat of a reversed latte. Any milk, whether it's dairy or non-dairy, oat, or coconut will work for this drink.
CAN DALGONA COFFEE BE MADE CAFFEINE-FREE?
Yes. You can use a decaf instant coffee or even hot chocolate powder for a creamy chocolate version. You can also use Milo but it won't be as stiff, you have to add whipping cream or all purpose cream.
CAN DALGONA COFFEE BE MADE KETO FRIENDLY OT SUGAR FREE?
Yes! Just use alternative sweeteners in granules form. Just make sure to keep the measurements the same. Then use Almond Milk.
Have you tried Dalgona Coffee? Did you like it?
OTHER COFFEE RECIPES YOU MIGHT LOVE…
Print
Dalgona Coffee
2 tbsp

instant coffee powder

2 tbsp

sugar

2 tbsp

hot water
milk
ice
Instructions
Mix the whipped coffee: Place 2 tbsp of instant coffee powder, 2 tbsp of sugar, and 2 tbsp of hot water into a large bowl.
Using an electric mixer set to a low setting whip the mixture continuously for 3 to 5 minutes. The mixture will begin to turn a lighter color and thicken as you keep whipping it.
Pour 1 cup of milk into a tall glass over ice (or a cup of warm/hot milk n a mug). Using a spatula gently scoop the whipped topping of coffee on top of the milk.
♥ If you make this recipe, be sure to snap a photo and tag @thepeachkitchen on Instagram (OR hashtag it #thepeachkitchen). I'd love to see what you cook!