This Crispy Bangus is perfect for lent and comes with a delicious Calamansi Butter Sauce that's so irresistible, you'll surely drizzle it over rice….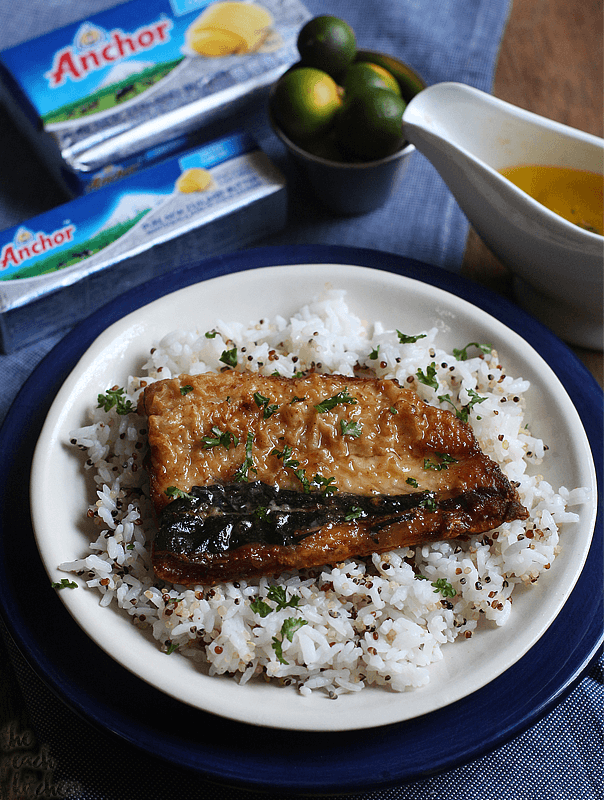 The Lenten season has already started and as Christians, most of us practice fasting or abstinence. Some of us will give up eating some kind of food, others will give up their vices. I know that the rules regarding fasting and abstinence has already evolved and some people choose to follow these rules only on Holy Week, especially Maundy Thursday, Good Friday, and Black Saturday.
Well,  whatever rule you follow, I'm sure this recipe I'm gonna share with you today will help you have a pleasant experience this Lent.
I grew up in a traditional Christian family that gives up eating meat during all Fridays of Lent as a sacrifice. If you have a family like ours who loves eating meaty dishes, then you might be worried about what to cook during Lent. You might think that cooking something without meat wouldn't be as satisfying.
Well, let me share with you this Crispy Bangus with Calamansi Butter Sauce which I'm sure your family will love.
We all love boneless Bangus (Milkfish) here at home. So I thought of combining fried bangus and this Calamansi-Butter sauce (sometimes lemon-butter) that's also favorite, to make this Crispy Bangus with Calamansi Butter Sauce.
The Calamansi- Butter Sauce is rich, tangy, and simply makes any dish you add it to more delicious. It has this milk sarap creamy taste that lets you know it's made from REAL butter. And it is, because I used Anchor butter to make this sauce.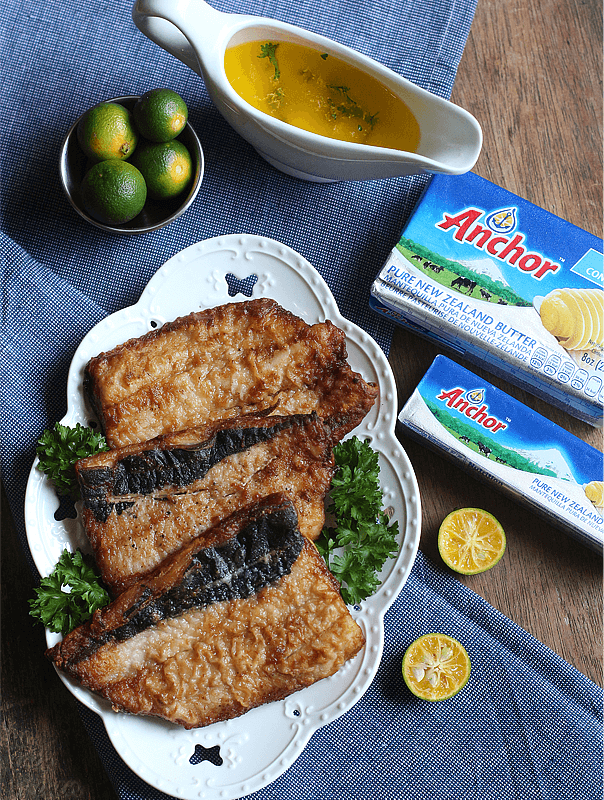 It is so easy to do and so tasty that it will easily become part of your every day menu.
Give this Crispy Bangus with Calamansi Butter Sauce a try and I'm sure your family will love it too.
Watch the video of the recipe here:
To know more about Whole Milk Sarap, and get delicious everyday recipes,visit
AnchorPhilippines.com
.
♥ If you make this recipe, be sure to snap a photo and tag @thepeachkitchen and @anchorphilippines on Instagram (OR hashtag it #thepeachkitchen). I'd love to see what you cook!
Print
Crispy Bangus with Calamansi Butter Sauce
1

large boneless bangus cut into

six

, head removed
OR frozen boneless bangus belly from the grocery

1/2 cup

flour

3 tbsp

liquid seasoning
Pepper
oil for frying

1

stick Anchor Salted Butter

4 tbsp

calamansi

3

cloves garlic, minced

1 tbsp

fresh parsley, chopped (optional)
Instructions
Make the Calamansi Butter Sauce: In a saucepan, Melt the Anchor Butter on med heat. Once melted, add the garlic, calamansi, and chopped parsley. Simmer on very low heat for 5 minutes or until fragrant.
Make sure the bangus pieces are clean and dry. Marinate in liquid seasoning for 30 minutes.
Season with pepper and dredge with flour.
Fry on hot oil until golden brown and crispy on the outside.
Transfer to your serving dish.
Drizzle with Calamansi Butter sauce before serving or serve Calamansi Butter Sauce on the side
Serve with steamed rice. (or Quinoa Rice like what I have here)