Meatless Tuesday dinner with this Tuyo Pesto Bowtie Pasta with Sundried Tomato…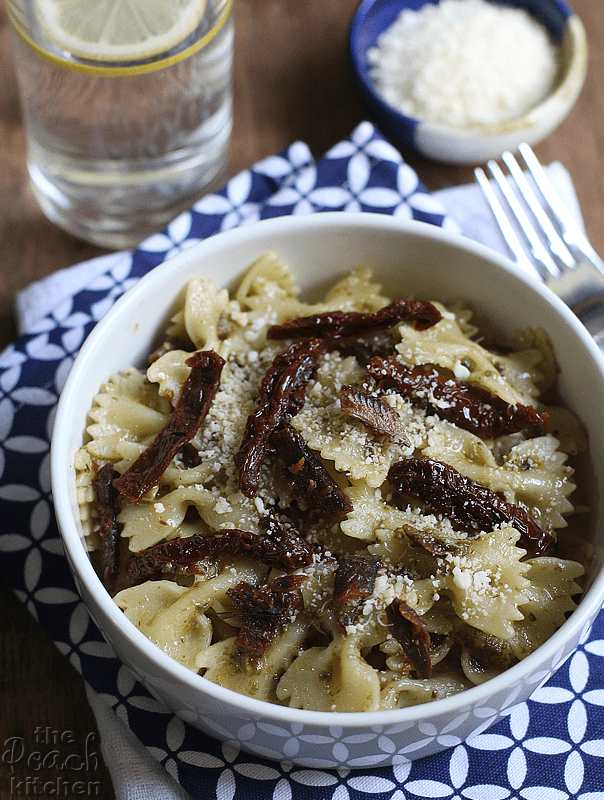 Have I told you that Ykaie and I started having early dinners last week? Since we sleep around 8pm, I figured it's just right that dinner should be around 5pm- 6pm (versus having it at 7pm – 7:30pm) allowing time for it to be digested properly.
And we are quite successful at it….. except today when sis treated us for dessert. So I'm up at this ungodly hour. I think it's my body's way of letting me know that she is still digesting that dessert and I should be up while she's doing it.
So I decided to tell you about what we had for dinner today. It's this Tuyo Pesto Bowtie Pasta with Sundried Tomato… we are trying to go meatless as much as we can these days. And THIS is such a wonderful way of going meatless that I was wondering why I didn't think of making this sooner.
I used Super Tuyo Flakes Original to make this pasta.You may use whole tuyo as well, just fry it in oil and flake it to remove the skin and fishbones.
I love Super Tuyo  and I think it is one of the most delicious brand of bottled tuyo out there. They have it in fillets and flakes and they have it in many variants such as: Original, Famous Spicy, and Sweet and Spicy.We love this with garlic rice too!
You may check them out here: http://www.supertuyo.ph/
It's a bit on the salty side because of tuyo flakes but that's where the sundried tomato slices come in. It breaks saltiness and all you get in each bite is one GIANT ball of flavor. We have the freshness from the pesto, saltiness from the tuyo, and that sweet and tart taste from the sundried tomato.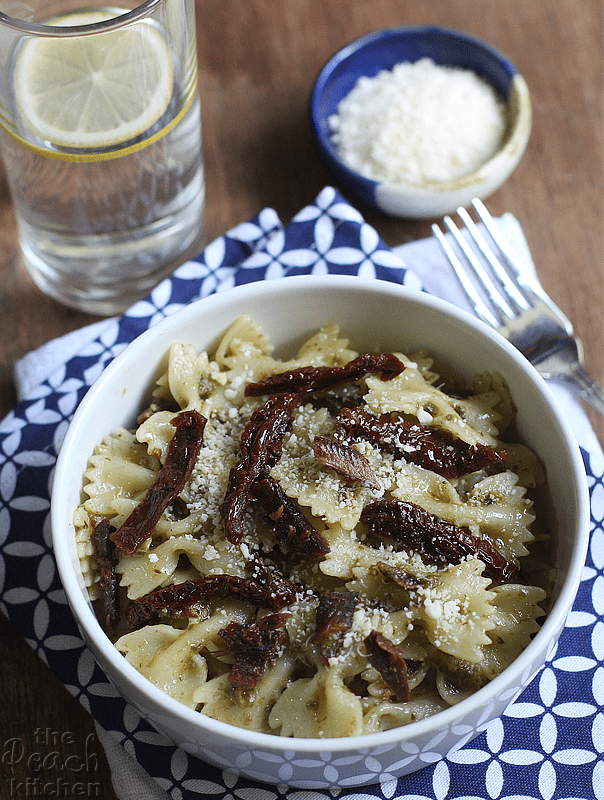 Both the kids loved this so it's a winner AND what's nice about it is you can make this in under 30 minutes. Yummm!
♥ If you make this recipe, be sure to snap a photo and tag @thepeachkitchen on Instagram (OR hashtag it #thepeachkitchen). I'd love to see what you cook!
Print
Tuyo Pesto Bowtie Pasta with Sundried-Tomato
300g

Bowtie Pasta, cooked according to package directions

6

cloves garlic, minced

3 tbsp

extra virgin olive oil

4 tbsp

pesto store-bought or homemade

3 tbsp

tuyo flakes, I used Super Tuyo Original

3

pcs sundried tomato, sliced thinly
salt and pepper to taste
parmesan cheese for garnish
Instructions
Heat extra virgin olive oil in a pan. Sauté garlic until oil is fragrant and garlic is cooked through and a little brown.
Add tuyo flakes and pesto and sauté for a minute.
Add the bow tie pasta and season with salt and pepper to taste.
Mix well and make sure pasta is coated with sauce.
Add the sundried tomato slices and give it a quick stir.
Sprinkle with grated parmesan cheese before serving.