Creamy, crabby, flaky and has eyes only for you — all you want in a Crabby Crab Salad Sandwich…
I am feeling a bit crabby today.
No don't laugh, seriously. Thank God it's already Friday. It's Ykaie's first week of school and I am adjusting to the new schedule here at home. You see, I always wake up early because I like working out (and blogging and doing some chores) when the kids are asleep and the house is quiet.
But now, Ykaie has to wake up early too because of school. So, I try to wake up earlier than usual to get my all those things done before the little one wakes up. I'd like to get some shut-eye in the middle of the day to catch up on missed sleep but no matter how much I try, I just can't. Today, I even woke up at 2:30am.
That's the reason why I'm feelin' a bit crabby.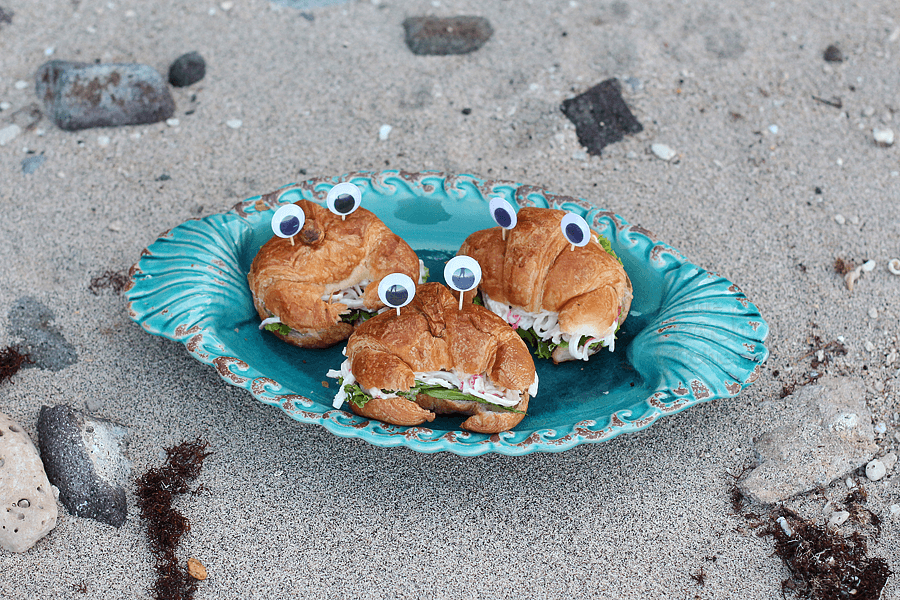 And if only I could sink my teeth into these Crabby Crab Salad Sandwiches and then get a little more Zzzz's today, then I'll be okay.
I made these Crab Salad Sandwiches for Twinkle's mermaid-themed 2nd birthday celebration at Tali Beach. We celebrated in advance the first week of June to avoid the rainy season. I'll tell you more about it at www.mommypeach.com soon.
Here's a bit of a sneak peak… Yep, I have two mermaids.
.. and we have a big shell floater with a pearl inside!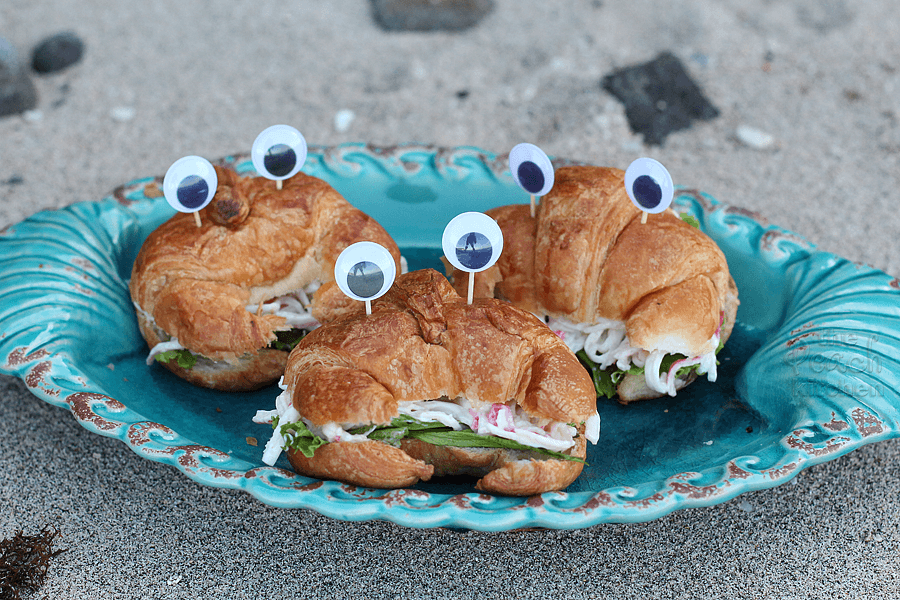 Hey, it's Father's Day on Sunday. There's also a PTA Meeting tomorrow at Ykaie's school. I'm kinda excited to meet her teachers and her classmates' parents. What are you up to this weekend?
Don't be crabby and Happy Weekend!
Print
Crabby Crab Salad Sandwich
6

pieces croissants

10

pieces crab sticks (imitation crab)

1/2

–

3/4

cup japanese mayo
lettuce
Crab's Eyes
googly eyes
toothpick
scotch tape
Instructions
Make the Crab's Eyes: by sticking the back of each googly eye onto a toothpick. Set aside for later.
If crab sticks are frozen, Place in a bowl with ¼ cup water and heat in the microwave for 1 minute. Let cool and peel them into thin strips.
Combine the peeled crabsticks with the japanese mayo and mix well. Season with salt, pepper, and sugar to taste. All I added on mine was a bit of pepper.
Slice each croissant in the middle and put lettuce and 2 tbsp of crabstick salad on the bottom half. Top with the other half and stick two of your googly eyes on it to make it look like a crab.
Serve and Enjoy!
♥ If you make this recipe, be sure to snap a photo and tag @thepeachkitchen on Instagram (OR hashtag it #thepeachkitchen). I'd love to see what you cook!