Salads are yummy, filling, healthy, and relatively easy to make. As long as you have the right ingredients, which you can source from Hello Fresh, Sun Basket and/or Home Chef, you should be able to make the 5 quick and easy salad recipes below, at home, successfully:
1. Easy Crunchy Asian Slaw Salad
The easy crunchy Asian slaw salad is a delicious, Asian-inspired delicacy that comprises a range of vegetables including broccoli slaw, snow peas, Brussel sprouts, carrots, cabbage, and bell pepper. Apart from vegetables, this vegans and omnivores perfect salad consists of a well thought out dressing that contains a variety of ingredients such as rice wine vinegar, garlic clove, and ginger. Other dressing ingredients include sesame oil, olive oil, honey/agave/brown rice syrup, soy sauce, and chili paste. Plus, you can make some topping for it, which is optional, using roasted, crushed peanuts/ cashews or toasted sesame seeds. This salad goes well with a range of foods such as chicken, tofu, or fish stuffed into tacos, added to buddha bowls, or topped onto burgers. That said, here is a 20-minute easy crunchy Asian slaw salad recipe that yields six servings:
Ingredients:
7 cups of shredded veggies consisting of Brussels sprouts, broccoli slaw, cabbage, snow peas, carrots, and bell pepper.
3 sliced scallions.
1 cup of chopped cilantro, mint, or Italian parsley.
For Your Dressing
1. 1 tablespoon of soy sauce.
3 tablespoons of olive oil.
1 tablespoon of finely chopped ginger.
1 tablespoon of sesame oil.
1 finely minced garlic clove.
¼ cup of rice wine vinegar.
½ teaspoon of chili paste or chili flakes( optional).
3 tablespoons of honey, agave, or brown rice syrup.
½ teaspoon of salt.
Optional toppings
Crushed or roasted cashews or peanuts.
Toasted sesame seeds.
Directions:
First, combine your slaw ingredients together in a bowl of the appropriate size, adding scallions and cilantro.
Second, whisk the dressing ingredients together in a medium-size bowl.
Third, pour the dressing into the slaw, tossing well.
Fourth, garnish with nuts and/or sesame seeds.
2. Shredded Brussels Sprout Salad
Eating Brussels sprouts regularly is a great way to enjoy a number of health benefits, including but not limited to protection against cancer, improved digestion, and reduced risk of diabetes as well as heart problems. Plus, this delicious salad that pairs well with a variety of foods including bacon, smoked paprika, fish sauce, and mustard is so easy to make that a recipe, which yields 4 servings requires just 30 minutes to make. Here is the recipe:
Ingredients:
4 cups of Brussels sprouts.
½ a cup of pine nuts(toasted).
¼ cup of extra-virgin olive oil, plus extra for drizzling.
⅓ a cup of grated pecorino cheese (optional).
¼ cup of fresh lemon juice.
⅓ cup of chives(chopped).
⅓ cup of cranberries(dried).
Salt and freshly ground black pepper(to taste).
Directions:
Slice the Brussels sprouts thinly, placing them into a large bowl thereafter.
Next, toss with the remaining ingredients before adding salt and pepper to taste.
Now, let the salad sit at room temperature for 20 minutes, before tasting and adjusting the seasonings as need be.
After that, finalize the process with an additional drizzle of olive oil(optional).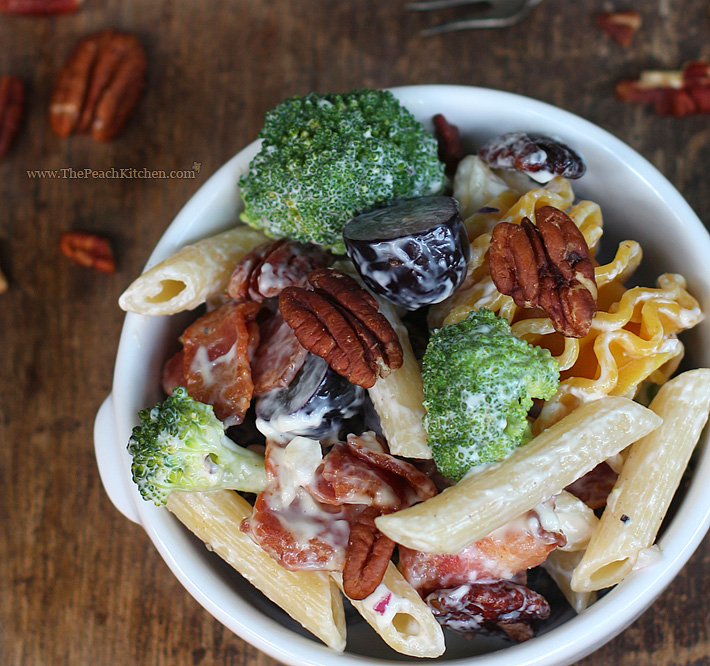 3. Broccoli Pasta Salad
Broccoli pasta salad, which goes well with wine, milk, or fresh fruit juice, can make for a great lunch or dinner option. What's more, this melt-in-your-mouth delicacy takes a very little amount of time to cook, making it a perfect recipe for busy moms who don't have much time to cook. For example, a meal that serves six takes approximately just 25 minutes to ready and it's as follows;
Ingredients:
8 oz of short pasta.
4 cups of broccoli( cut into tiny pieces).
1/4 cup of sunflower seeds.
1/3 cup of diced red onions.
8 slices of cooked and crumbled bacon.
1/2 a cup of feta cheese(optional).
1/2 a cup of dried cranberries.
For Your Dressing
1. 3/4 of a cup of mayonnaise.
2 teaspoons of sugar.
1/4 of a cup of sour cream.
3 tablespoons of white wine vinegar.
salt and pepper to taste.
Directions:
First, whisk well all the ingredients for your dressing in a medium-size bowl and set aside.
Next, cook pasta according to instructions given on the package before draining and running the pasta under cold water.
Then, add the remaining ingredients to a separate, larger bowl.
Now, pour the dressing over the ingredients bowl and mix well.
Finally, let cool off in the refrigerator for an hour prior to serving.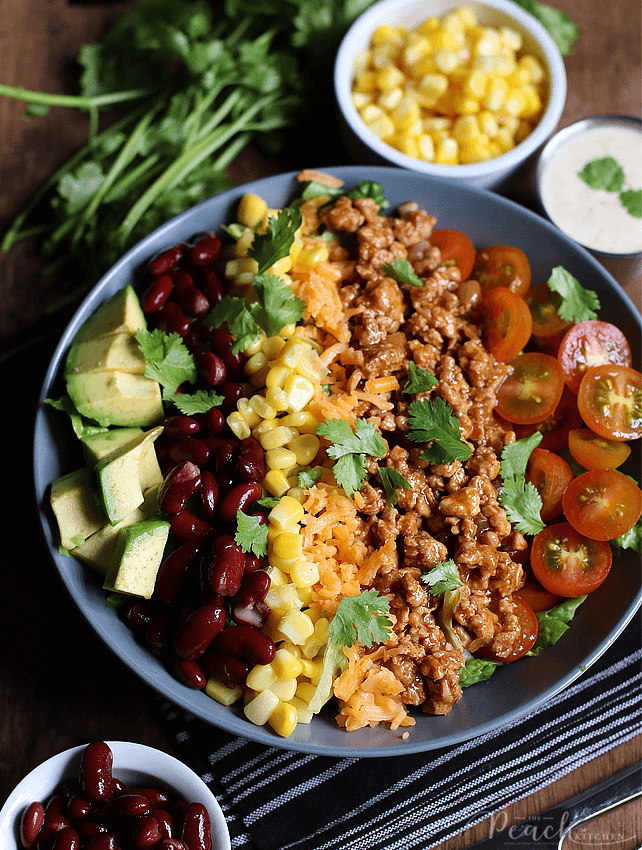 4. Easy Healthy Taco Salad
The easy healthy taco salad is a Mexican-inspired salad that can be very delicious, filling, and healthy, especially if paired with ground beef. This quick and easy-to-make salad is low in calories and a source of protein and fat, nutrients each of which has its own set of health benefits. For example, fats help protect the body from trauma, keep the body warm, facilitate vitamins, and store energy. On the other hand, proteins help with weight control and reduce the risk of sarcopenia(a condition characterized by the progressive loss of physical function and muscle mass that's commonly associated with older adults). Apart from these essential nutrients are key for the structure, function, as well as regulation of all the tissues and organs found in the body.
Ingredients:
2 tbsp of taco seasoning.
3/4 cup of shredded Cheddar cheese.
1 lb of ground beef.
1/3 cup of salsa(a nice sauce made from onions, tomatoes, chili peppers, and a range of spices, served with Spanish or Mexican food).
1 tsp of avocado oil.
1 medium, cubed avocado.
1/3 cup of sour cream.
8 oz of chopped romaine lettuce.
1/2 a cup of chopped green onions.
1-1/3 cup of halved grape tomatoes.
Directions:
In a medium-size skillet, heat oil over medium to high heat until the oil is hot enough.
Next, add ground beef and stir fry, breaking up the pieces with a spatula, for approximately 10 minutes, or until the beef is browned and the moisture is gone.
After that, stir the taco seasoning into the ground beef until perfectly combined.
Meanwhile, combine together all the other remaining ingredients in a bowl of the appropriate size.
Thereafter, add the ground beef, combining everything together.
Finally, serve warm with the appropriate pairing or drink
5. Vegan Cobb Salad
The vegan cob salad is one of the quickest and easy salad recipes you can make at home as it does not entail any cooking. Pairing quite well with coconut bacon, this salad is equally yummy, filling, and healthy with approximately 590 calories per serving. Here is a 10-minute vegan cob salad recipe that yields six servings;
Ingredients:
3 cups of sweet corn.
3 cups of cherry tomatoes, sliced in half.
9 heads of romaine( a type of lettuce with long narrow firm leaves).
3 cups of crispy roasted or canned chickpeas.
3/4 of diced red onion.
2 cups of vegan ranch dressing.
1-1/2 cups of coconut bacon.
1-1/2 cups of quartered radishes.
Fresh chopped parsley, to garnish
Salt and pepper, to taste.
Directions:
Put the romaine heads in a bowl of the appropriate size and arrange the other ingredients over the top.
Next, drizzle with the vegan ranch dressing and sprinkle with pepper alongside salt to taste.
Serve raw with a glass of milk or wine.
Final Thoughts
Easy crunchy Asian slaw salad, shredded Brussels sprout salad, broccoli pasta salad, easy healthy taco salad, and vegan cob salad are delicious yet very easy to make salads. Check out these insightful reviews for your ingredient sourcing needs. As long as you have the required ingredients, each salad should be unchallenging to make. Sun Basket is probably your best choice, so be sure to check more about the ingredients you need for the meals mentioned above. Bon appetit!