This Dried Fig and Walnut Granola is filled with chewy figs and crunchy walnuts, perfect for munching as is, with milk, or topped on yogurts…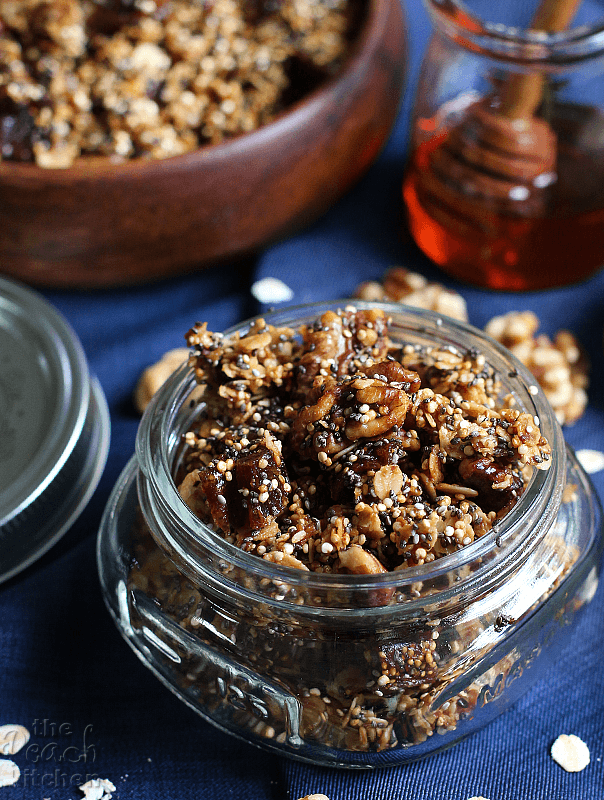 Is it thursday? More adjustments? OMG.
I started out pretty good last monday. I woke up in a fast because I was supposed to have my blood chem test to get ready for my doctor's check-up. I woke up early and I couldn't sleep so I decided to just do my usual chores and prepare Ykaie's snacks and lunch. By 7:30am, I was at the hospital… only to be informed that their machine for the test is broken and that I had to go back. Oh well. I was supposed to go back today.. the machine is still broken.
So my check-up is re-scheduled and the time I allotted in going to and from the hospital is now spent writing this. Hurrah! I think I will also have time to catch up on some work today.
It's the second week of school and we are still on adjustment period…because of some of the school requirements and homework. I believe I'm catching on, though. See, I was even able to make this yummy Dried Fig and Walnut Granola for the fam's healthy snacking.
You might be wondering what's the difference of this granola from this Cookie Butter Granola and this Dates and Almond Granola. Well, this time I added a couple of superfoods: Chia Seeds and Quinoa to make it super duper healthy. The taste is fantastic but I think I've added too much of it. Or I should make adjustments on the measurements… maybe add more oats and put less chia and quinoa. I'm sharing it with you because it's already super yummy as it is and only minor adjustments are needed. (the recipe below is already adjusted)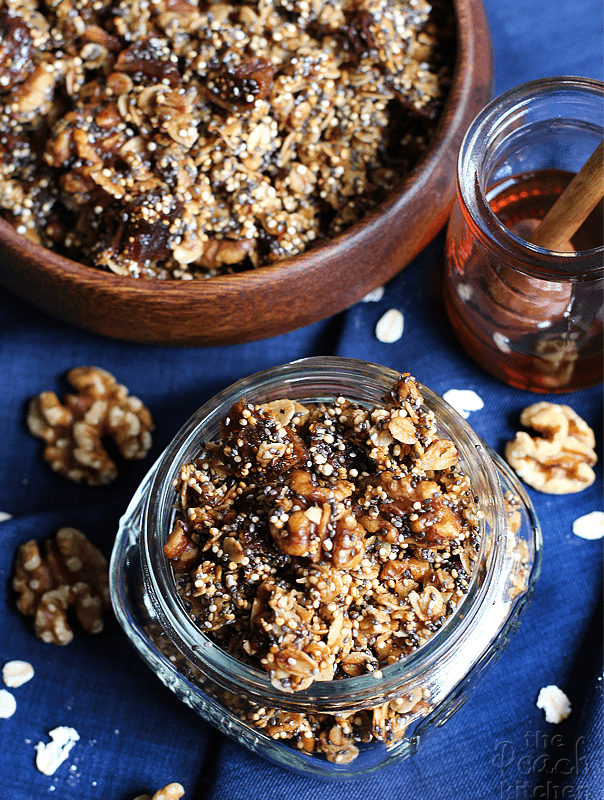 I'm gearing up for a busy weekend (as usual) and hopefully with a lot more cooking when I'm adjusted to Ykaie's school schedule. For the mean time, I'll think about what else I could do with my Dried Figs and Walnut Granola so my family can enjoy them a lot more.
Print
Dried Fig and Walnut Granola
4 cups

rolled oats

1/2 cup

quinoa

1/2 cup

chia seeds

11/2 cup

walnuts, chopped

1 1/2 cup

dried figs, chopped

1/2 cup

honey

3/4 cup

coconut oil
Instructions
Preheat the oven to 350ºF (175ºC) and line a baking tray with greaseproof paper.
Combine rolled oats, quinoa, chia seeds, chopped dried figs, and chopped walnuts in a large bowl.
In another bowl, combine honey and coconut oil.
Pour the honey-oil mixture into the oats mixture and stir well until combined. Make sure all the oatmeals and walnuts have syrups in them.
Spread the mixture evenly on a baking tray and bake for 40 minutes. Stir every 10 minutes.
After 40 minutes remove from the oven and let cool completely.
Once the granola is cool, break it into chunks.
This will keep in an airtight container for 7-10 days and longer if put on the fridge.
You may eat it as is, with milk, or topped on yogurts.
♥ If you make this recipe, be sure to snap a photo and tag @thepeachkitchen on Instagram (OR hashtag it #thepeachkitchen). I'd love to see what you cook!