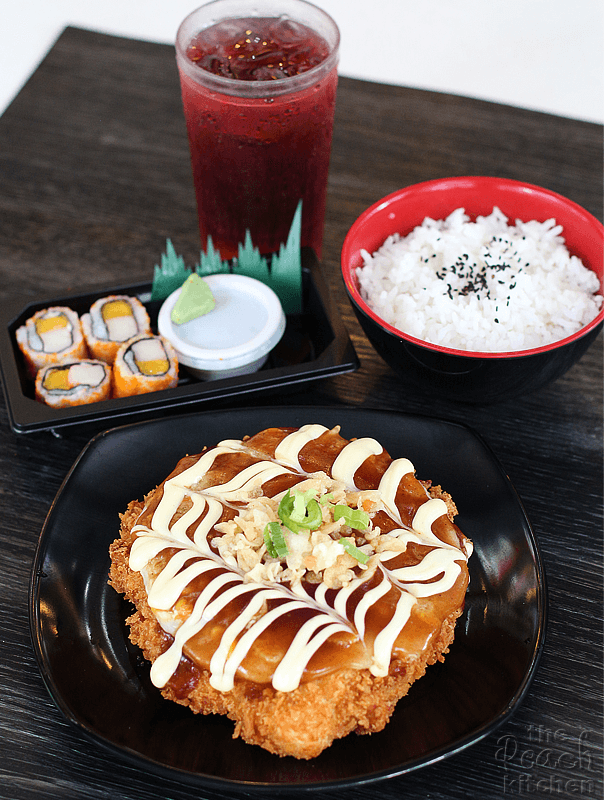 It's already July but the adjustments here at home  — on Ykaie's new school schedule, on the rainy day, my now terrible two, Twinkle (she's getting smarter and more makulit)– just can't seem to end. There are times when I feel a bit run down and it's during times like these that I crave comfort of some of my favorite food. Most of the time for Takoyaki and Okonomiyaki.
So I was happy that I could now get okonomiyaki from Tokyo Tokyo… AND not just your ordinary okonomiyaki. Tokyo Tokyo combined their very own version of savory Okonomiyaki Japanese pancake with their generously sized, juicy, and crunchy Big Chicken Katsu. It's topped with tonkatsu sauce, japanese mayo, tempura crumbs, and onion leeks too to satisfy all our cravings!
Hello there, Chicken-nomiyaki!
If you're gonna eat this alone (which I doubt you will, because of the hefty good-for-two-as-big-as-my-face serving), you may get it Ala Carte – that's Chicken-nomiyaki + unli rice for ₱200.
Or if you're a California Maki lover like me, you may want to get the California Maki Bento (₱260) which includes Chicken-nomiyaki + unli rice + 4pcs California Maki + red iced tea
If it's raining and you feel like having soup with your meal, then may I suggest you try the Classic Bento (₱260) which includes Chicken-nomiyaki + unli rice + miso soup + jelly dessert + red iced tea.
If you're out with family or barkada, then you should get the Sumo Meal (₱385) which includes Chicken-nomiyaki + two unli rice + 4pcs Prawn Tempura + 2 Cucumber Lemonade. I believe this meal can be good for 3-4 persons because of the Big Chicken Katsu serving. You just have to order extra rice or California Maki.
Just leave it to Tokyo Tokyo to combine two delicious dishes to create one flavor-packed meal.

Writing about this just made me crave for Chicken-nomiyaki. Yum!
To know more about Tokyo Tokyo, log on to www.tokyotokyo.ph or follow TokyoTokyoPhilippines on Facebook and Instagram.