All photos here were taken by Ykaie. Yep, you guessed it, I was carrying Twinkle because she fell asleep while we were looking for a place to eat. It was dinner time, two weeks ago, and we were checked in at Kasa Luntian.
The kids were tired because they went swimming the whole afternoon. Kasa Luntian doesn't have a restaurant but Taza Mia provides room service. Still, we decided to have dinner out. Our appetites took us to Charito by Bag of Beans. We love Bag of Beans and I can't count the number of times we ate there because we love the food. We wondered what's different about Charito By Bag of Beans.
I noticed upon entrance that Charito's design is a bit different than the rest. Yes, it is rustic but it's more elegant — exuding a semi-fine dining ambience and looking at the menu confirms it.
I wanted something light so I ordered the Cream of Cannellini Beans with Truffle Soup (₱210) and I loved it. It wasn't too creamy but the taste of truffle gives it extra oomph. The soup was served with a small pieces if buttered toast. peanutbutter♥ wanted soup as well and he tried the Soup of the Day (₱195) which was Mushroom Soup.
To go with my soup, I also ordered the Garden Fresh Salad (₱280) thinking the serving would be just right for one. It turned out to be a lot bigger, so peanutbutter♥ and I shared it. It was composed of mixed greens, tomato, carrots, bell pepper, cucumber, corn kernels, turnips, black olives, and served with balsamic vinaigrette.
Ykaie ordered the Roast Beef (₱550) which turned out to be good for three! The beef was super tender and tasty and it was served on a bed of its flavorful sauce with buttered veggies and mashed potato on the side.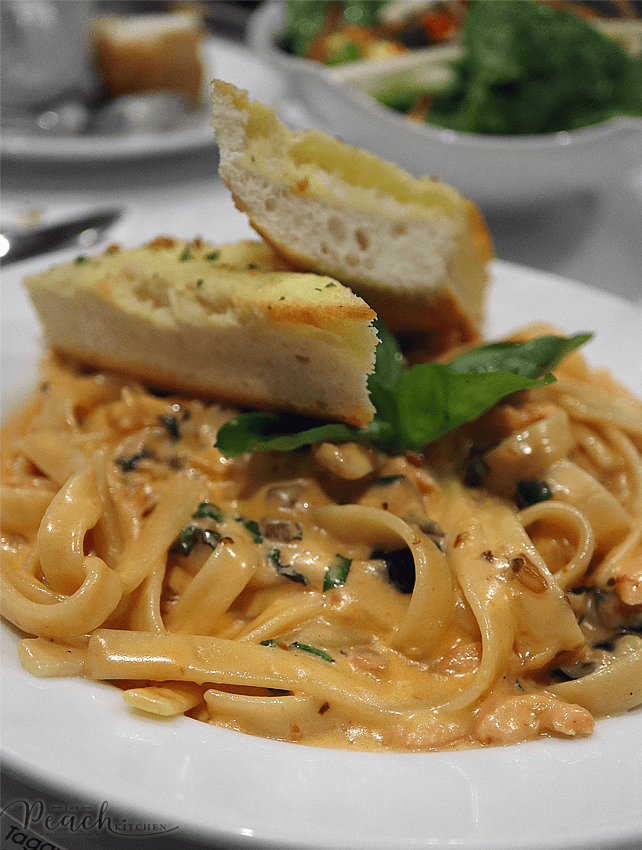 peanutbutter♥'s order was this Smoked Salmon and Mushroom Pasta (₱450) It's a mixture of creamy and tangy, probably because it has crushed tomatoes in it. We loved it dahil hindi sya nakakasawa and it has lots of salmon pieces.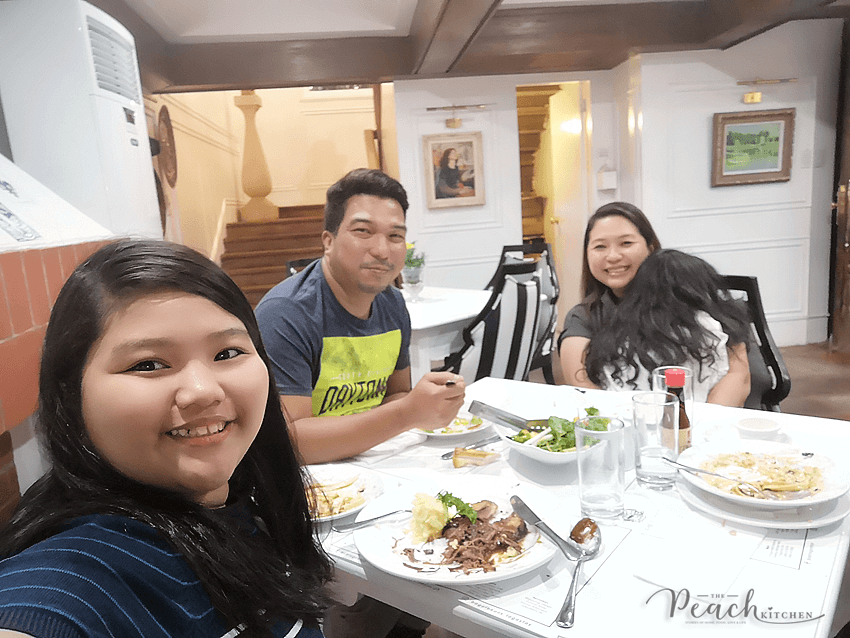 Imagine-in nyo kung paano ako kumain?? I think yan ang isa sa superpower ng mommies no? Kaya naming gumawa ng kahit na ano kahit na isang kamay lang ang gumagana at hindi kami makagalaw… LOL!
So what did we think of Charito? We loved it because the food might be a bit pricey but it's justified by the taste and the serving size. My suggestion? Order 2-3 dishes for 4-5 people and you're good.
Charito By Bag of Beans is located at 150 E. Aguinaldo Highway, Maharlika East, Tagaytay City.