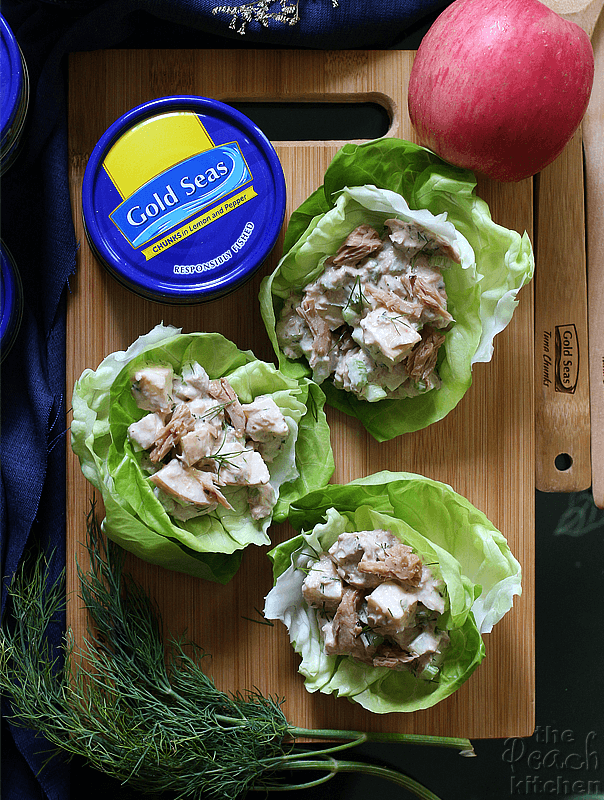 It has been such a stressful two weeks with my nanay and Twinkle getting hospitalized and sick one after another. peanutbutter♥ and I had been on sleepless nights taking turns on taking care of Twinkle. I had been lax on work-outs and I've been stress eating… ON SWEETS!
Now that everybody's back to health, it's time to also get back on track. This time though, I am not cooking separately for the family anymore. They're going to join me on my health journey as I try to revamp the family's eating habits. peanutbutter♥ experienced high blood pressure last weekend and I'm taking it as a sign he should give up eating fatty food and join me in choosing healthier meals.
A week ago, friends from Gold Seas Tuna Chunks sent over this cute personalized wooden box containing different variants of Gold Seas Tuna, wooden spatulas, wooden chopping board, and two monogramed placemats. I loved that the box has my name on it and the placemants have my initial but what I'm more excited about is trying out the unique flavors of Gold Seas Tuna. Gold Seas Tuna has these gourmet flavors: Herb and Garlic, Lemon and Pepper, and Mild Indian Curry. This premium tuna uses healthy olive oil too!
Tried the Lemon and Pepper variant yesterday and made Tuna Apple Salad Lettuce Cups. I love that I didn't need to add salt, pepper, and lemon anymore because it's already seasoned!
Just combine everything in a bowl : tuna chunks, apple, celery, dill, and mayo. Mix it well and scoop them out of butterhead lettuce leaves — and voila! Low-carb, easy, healthy, delicious light dinner.
I love that Gold Seas Tuna doesn't have that fishy taste. I swear you'll never get enough of this!
Now I'm thinking what to make with the other tuna variants?
Well, it's the end of August and start of the BER months tomorrow, I'll think of something. (Uh, Merry Christmas??)
I'll be out and about today and tomorrow even if it's raining. We have a long weekend coming up, I hope I can do some baking session with Ykaie.
What are you up to this long weekend?
Print
Tuna Apple Salad Lettuce Cups
1

(185g) can Gold Seas Tuna Chunk Lemon and Pepper

4 tbsp

chopped celery

1

medium fuji apple, chopped

3

–

4

tbsp mayonnaise
butterhead lettuce leaves

1 tsp

chopped dill
Instructions
In a large bowl, combine tuna, celery, apple, dill, and mayo. Mix well. No need to season with salt and pepper because the tuna already has lemon, salt, and pepper.
Chill in the fridge for at least two hours.After two hours, remove from fridge.
Make cups out of the butterhead lettuce leaves. Scoop around a tablespoon of the tuna apple salad mix into each lettuce cup.
Serve immediately.
♥ If you make this recipe, kindly snap a photo and tag @thepeachkitchen on Instagram (OR hashtag it #thepeachkitchen). I'd love to see what you cook!