Easy and yummy tomato soup you can whip up in minutes to warm up your rainy days…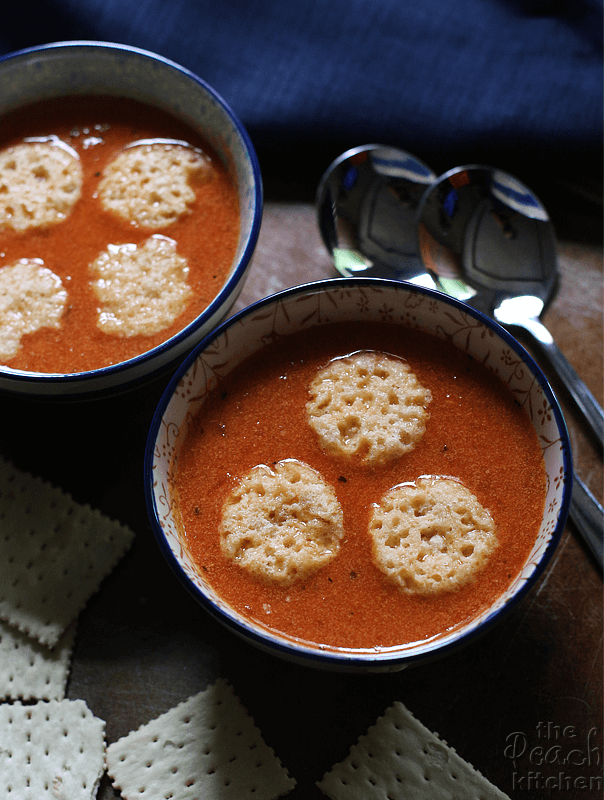 Hi guys!
I hope you had a great long weekend. I know it's not over yet for some. Our September is off to a great start, huh? I am pretty much excited for this latter part of the year because for me this is just the best, you know, when the months ending in BER starts?… and we feel Christmas (and Halloween and Fall) creeping up on our shoulders…
We had so much rainy days this week and because of that there were pots of tomato soup here at home. Good thing we chanced upon a sale of canned whole tomatoes during last weekend's grocery shopping. That's what I turned into these bowls of warm delicousness.
We just love tomato soup here at home and we usually pair this with a sandwich. This week, it was leftover roasted chicken sandwich — and everyone loved it.
Today, I'm whipping up another batch of this soup and I'm adding shrimp, as per peanutbutter♥'s request. He wants to bring this to work for lunch.
Let's all have an awesome September.

Easy Tomato Soup
Ingredients
2 (28 oz) can of whole tomato
3 cloves garlic minced
1 white onion, chopped
1 tbsp olive oil
1 tsp dried basil
1 tsp dried oregano
salt and pepper to taste
1 cup evaporated milk (or heavy cream)
2 chicken cubes or 2 cups chicken sock
Directions
Heat olive oil in a pot and sauté the onions and garlic until they become translucent.
Pour in the canned tomatoes, basil, and oregano. Add your chicken stock or your chicken cubes.Stir to mix well.
Bring to a boil and simmer for 15 minutes.
Take off the lid off your pot and use an immersion blender (or hand blender) o blend the soup unil creamy.
Stir in the evaporated milk (or heavy cream) and heat the soup for 5 more minutes.
Season with salt and pepper to taste. Serve hot with crackers or sandwich on the side and topped with cheese crisps or croutons.
Notes
Leftovers will keep for 1 week in an airtight container.
♥
 If you make this recipe, kindly snap a photo and tag @thepeachkitchen on Instagram (OR hashtag it #thepeachkitchen). I'd love to see what you cook!