Wherever you go, left or right from the grocery to restaurants, you can always find great treats that are sinfully irresistible. That is why it seems too difficult to get back in shape immediately or have a healthy lifestyle. Discipline is always the key to achieving that healthier and fitter body. For us moms, the challenge is real especially if we are a good cook or surrounded by stomachs you want to please. Choosing the right food to feed your family is a bit challenging. You can find food that are rich in nutrients, but doesn't play well when it comes to taste. Actually, there are things you can do to sugar coat the tastes of foods that aren't too delicious. Omelet is one of the best technique to keep the vegetables hidden, but smoothies are my favorite.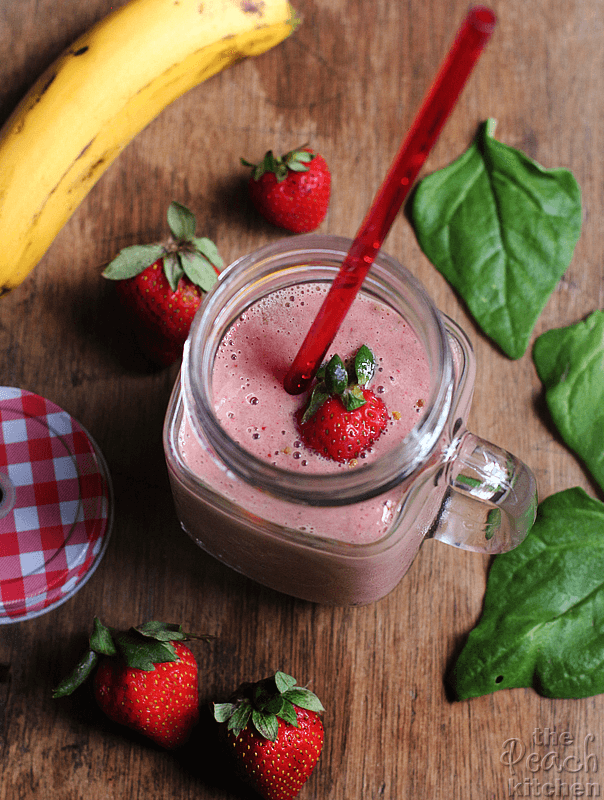 Smoothies are like sweet treats, but with natural sugar that comes from the fruits and loaded with rich nutrients our body needs. You can serve a smoothie any time of the day, especially on not so cold seasons. A smoothie recipe is very rich in nutrients and ideal for moms who are on a diet or kids who aren't fond of eating fruits and vegetables.
A smoothie is very easy to make, you just need two or more ingredients to make one. One of the common fruits included in smoothie recipes is a banana. It has a nice texture which is great for smoothies plus it is also rich in valuable nutrients. A banana is a great source of vitamin B6, vitamin C, potassium, fiber, and copper. It is also free from fats, sodium, and cholesterol. That is why a banana is an ideal ingredient for smoothies.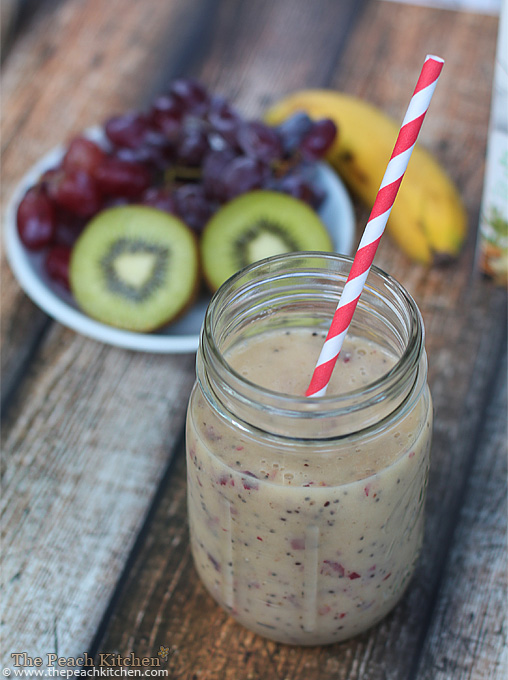 What we have here are 5 healthy smoothie recipes from The Peach Kitchen that includes banana on each. You can easily try making at your home and surely, you will love every smoothie recipe listed below. Make sure to have a nice blender which will help you achieve that perfect smoothie-texture you want. Luckily, we found the best blender of each type and it is very helpful and easy to use. You can also let your kids help you in the kitchen as these smoothie recipes are very easy to make.
5 Mouth-Watering and Healthy Banana Smoothie Recipes
Strawberry Spinach Banana Smoothie is a fruity smoothie that has no artificial sugar added. Aside from its fruity taste, it has spinach on it which is sugar-coated with the natural sweetness of strawberry and banana. Even if the kids know that there is spinach in this smoothie recipe, they will still gonna drink it. Try the recipe now and you will see its magic!
Grape, Kiwi, and Banana Smoothie is naturally sweet and it is even healthier as chia seeds are added to this delightful smoothie recipe. This recipe is perfect for breakfast, it is ideal to start your day in indulging on healthy smoothies to keep you going throughout the day. Smoothies are an excellent alternative to traditional breakfast we have from the past years.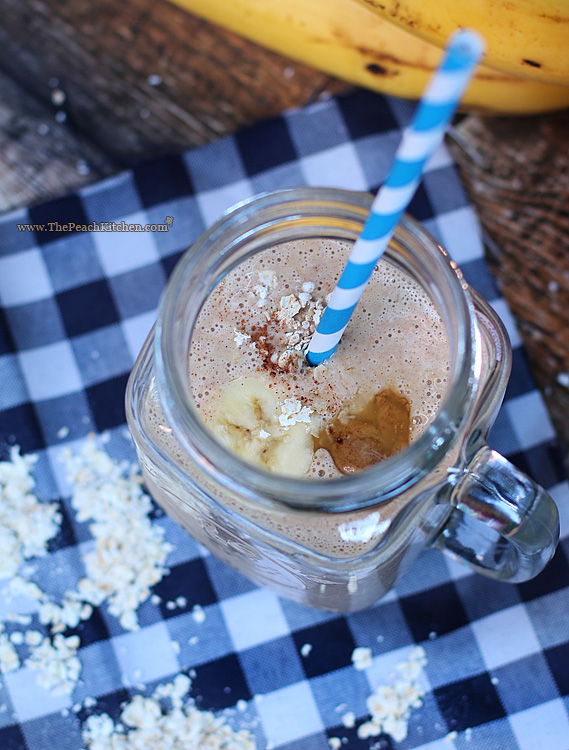 Banana Almond Smoothie is a complete smoothie recipe great to fill up your tummy until lunch! It is like a meal which includes oatmeal on it and has a porridge-like texture. You will not feel the hunger once you have it on breakfast. It is also ideal for moms who want to trim down and keep a fitter shape. It loads up with dietary fibers which makes it even lovable by moms.
Pineapple Banana Smoothie is a delicious treat that keeps the cold away! Pineapple is naturally sweet, fruity, and rich in vitamins. The smoothie is a mixture of pineapple, banana, almond milk, and chia seed which unbelievably results in a refreshing drink. This is one of a kind drink that will surely get in your top list.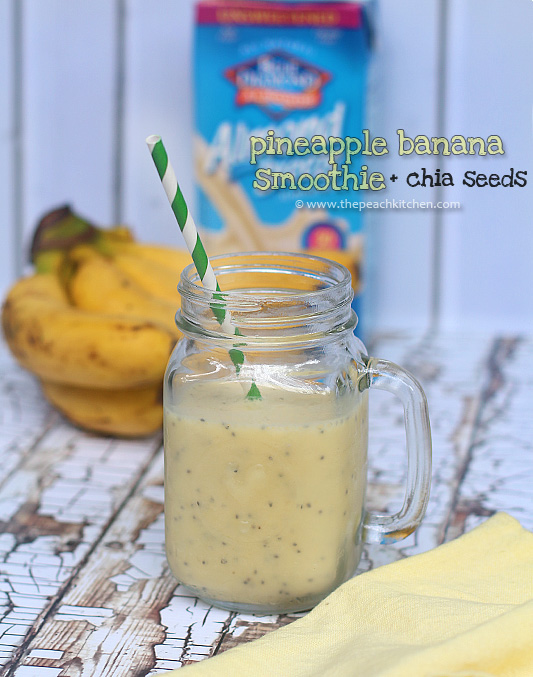 Mango Banana Smoothie is definitely top of the line. It is naturally sweet, tangy, and perfectly blend together. This smoothie is very rich in vitamin C which is a great nutrient to keep our immune system protected from invaders. This recipe is one of the kids' favorite and it is also suited as an afternoon snack for them.
There are definitely 100+ ways to stay healthy and keep away from diseases. Sometimes it is impossible to eat all the nutritious fruits and vegetables. Fortunately, you can easily blend them in the best blender so you will not get difficulty in munching on each fruit and vegetable. What is more interesting is you can eat the fruits and vegetable that you don't like by just adding them to your smoothie.