You're not gonna miss its regular counterpart once you try this KETO MILK TEA with Coffee Jelly and Salted Cream Cheese Foam. It's rich, indulgent, and satisfying… ang sarap, promise!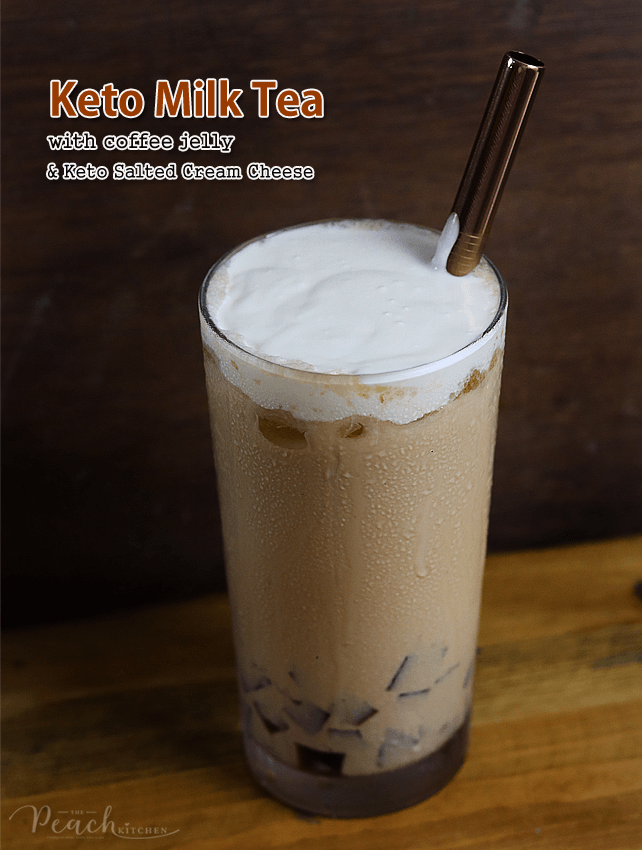 Happy September everyone!!!
It's the start of the BER months and when the months starts ending in BER, you know it's the start of the Christmas season…. pero waiiiit! Wait laaang! Di pa ako ready mag-Christmas… I feel that I've adjusted to 2019 just last month. Time flies really fast, no?
So what kept me busy the past week that I wasn't able to share with you this Keto Milk Tea recipe is that I got a helper here at home. Her name is Jessa and she was recommended by my previous helper Lani. She doesn't speak much tagalog… Aksheli, she doesn't speak much — Nakakaloka! Ang hirap makipag-communicate!
Anyway, I am starting to orient her on what to do around the house. Mainly, what I need done are cleaning, ironing clothes, and general helping lang — washing the thousands of dishes, post, pans, and tray that I use everyday. Mga ganern ba. Hopefully, we can have a smooth sailing relationship just like Lani.
HOW TO MAKE KETO MILK TEA WITH COFFEE JELLY AND SALTED CREAM CHEESE VIDEO

Another thing that kept me busy? My mind is busy ketofying things! I've come to love and enjoy thinking of new dishes to cook that are low carb, sugar-free, and keto friendly. I've been thinking of mostly dessert recipes because that's what peanutbutter♥ is asking for. But of course I also think of savory dishes for our everyday breakky, lunch, and dinner.
This is something I am very excited about everyday.
Today, I'm sharing with you the recipe for the Keto Milk Tea with Coffee Jelly. Last time, I shared the recipe for the KETO CREAM CHEESE TOPPING lang. Today, it's for the whole drink. Check out the video above.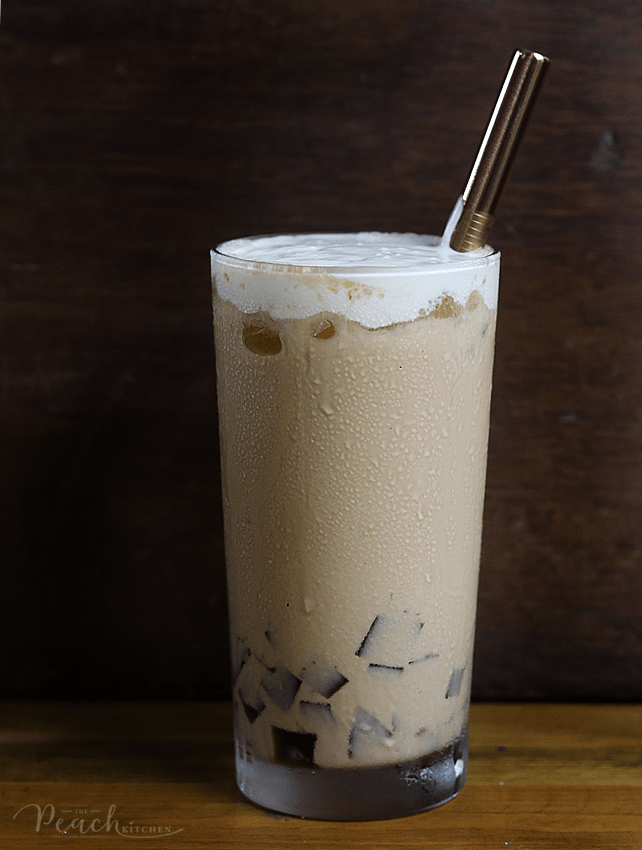 Since black pearls are high carb, I opted to make Coffee Jelly for the sinkers. I used one sachet of Ferna Gelatine and 1 sachet of nescafe instant coffee. You can use any brand you want naman. Just make it according to package direction and put 1 tsp of vanilla extract. When it's set, cut it into small cubes.
As for the milk tea, I used Lipton yellow label because I wanted black tea. If you are a green tea fanatic, go ahead and use your favorite green tea. I'm sure you'll find it more enjoyable to drink. Just steep 3-4 bags in a cup of hot water, then remove the tea bag after 4-5 minutes.
I find it much more enjoyable to drink if I chill the tea first pero kung hindi ka na makahintay, you can use a shaker filled with ice to chill it. What I do is mix the sweetener before putting it in the fridge para later coffee jelly, heavy cream and ice na lang AND Keto Salted Cream Cheese Topping.
I hope you enjoy this drink as I did making it.
Happy Start of the week!
Print
Keto Milk Tea with Coffee Jelly and Salted Cream Cheese
Coffee Jelly Sinkers
1

(10g) pack of ferna gelatine

1

sachet (or

2 tsp

) instant coffee, I used nescafe

1 tsp

vanilla extract

1 1/2 cup

hot water
Milk Tea
3

–

4

tea bags steeped in 1 cup hot water (I used Lipton yellow label)

2

shots (3 oz) heavy cream

1

–

2

tsp sweetener of choice, stevia or equal gold or erythritol
Instructions
Get your Keto Salted Cream Cheese Topping ready. Click here for the recipe
Make the Coffee Jelly: In a small bowl, dissolve the gelatine and instant coffee in 1 cup of water. Mix well.
Add the vanilla extract and pour in the 1/2 cup of hot water left. Keep on stirring until all gelatine is dissolved.
Refrigerate to set. It's better if you can refrigerate overnight.
Cut into small cubes to set aside.
Make the Milk Tea: Steep your tea bags in hot water for 5 minutes.
You can chill your tea or you can use shaker with lots of ice to chill it.
Fill your shaker with ice. Add the sweetener and the tea. Shake well until chilled and sweetener is dissolved.
Pour in the heavy cream and stir well.
Put around 2 tbsp (or more) of coffee jelly in a tall glass. Pour in your milk tea and some ice. Don't fill it up to the brim, though and leave room for your cream cheese topping.
Put around 2-4 tbsp of salted cream cheese topping on top of your milk tea.
Serve and Enjoy!
Notes
The nutrition information provided are only estimates based on an online nutritional calculator. I am not a certified nutritionist. Please consult a professional nutritionist or doctor for accurate information and any dietary restrictions and concerns you may have.
[foodie-nl id="29584″]
♥ If you make this recipe, kindly snap a photo and tag @thepeachkitchen on Instagram (OR hashtag it #thepeachkitchen). I'd love to see what you cook!