I had a super busy middle of the week. Can you believe that? In between buying shoes and dresses for a wedding to attend on Thursday, I was squeezing in trying out restaurants…. ha! Schedule was crazy. Then finally Thursday! The wedding was four hours (or three?) away from Manila. It was fun though, because we checked in at a nearby place which has a swimming pool and the kids got to swim the next day. (Will tell you all about it over at www.mommypeach.com).
Anyway, this is where instant drip coffees come in. You know how much I love my coffee and when I say I love my coffee I mean I love a really good coffee the moment I wake up. I only drink one cup these days so it has to be really good. Good thing instant drip coffees are now a thing — so I bring them on trips.
Let me share with you three instant drip coffees (well, one is a pour over,but I'm sure you get the picture) we've tried in the past four months.
Seattle's Best Instant Drip Coffee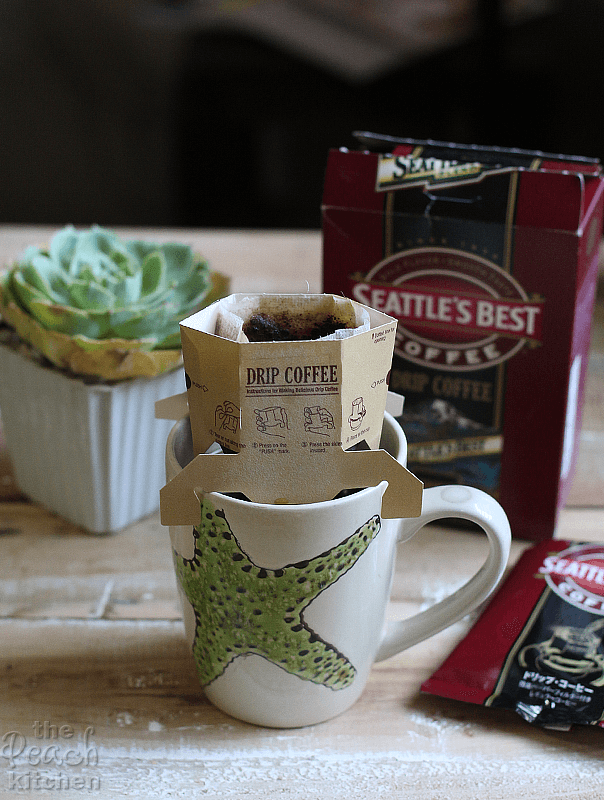 I like Seattle's Best Coffee Drip Coffee because it comes in different varieties and it tastes really good. You can smell the aroma of coffee brewing and it instantly wakes you up. What I don't like about it is that the cardboard that is suppose to hold the coffee grounds opens really wide when you pour hot water in it. Tendency is for the filter to narrow down and close. You have to watch out when pouring out the hot water or better yet don't fill it up to the brim.
You can get this at ₱300 per box which has 5 packets. So that's around ₱60 per cup.
Go Brewed Instant Drip Coffee
I love the filter of Go Brewed because it doesn't close even if you pour hot water up to the brim.I got this from Marketa.ph for ₱250 a box. It contains 7 packs of coffee which takes you to about ₱37 per cup. Not bad, huh?
Trader Joe's Pour Over Coffee Brewer in the Bag
This is not instant drip but it's something like it. I love this because it's good enough for two people. You just open the bag. Fill it with hot water, steep for a few minutes and you have brewed coffee for two.
But unlike Go Brewed and Seattle's Best, it might be a little expensive for ₱180.
What Do I love About These Instant Drip Coffees?
the convenience of having brewed coffee on-the-go
easy to prepare as 3 in 1 coffee
you can have brewed coffee even if you don't have a coffee maker
it's affordable
Have you tried other brands of instant drip coffees? Drop them on the comments below so I can also give it a try.