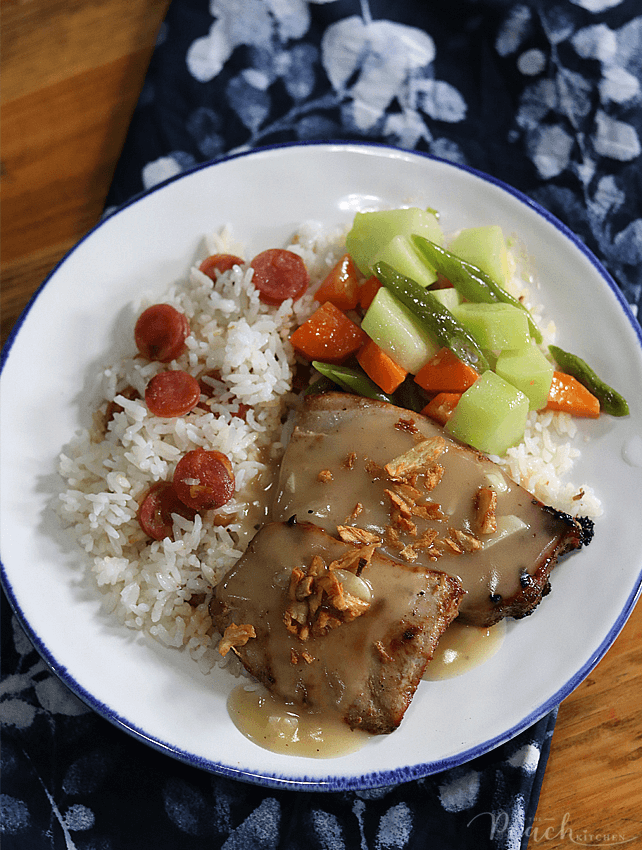 This Tuna Steak Ala Pobre, Buttered Veggies, and Chinese Sausage Fried Rice is a complete meal to make use of excess ingredients from other dishes I cooked over the week.
Let's start with the Chinese Sausage Fried Rice – I cooked Pancit Canton/Bihon to make use of the excess noodles and in turn, I had extra chinese sausage. What's the best way to make use of extra chinese sausage? Turn it into a super tasty fried rice of course! And this pairs best with everything! You can even add scrambled egg into your fried rice and you can eat it just like that — a complete meal by itself.
Then the Buttered Veggies – these are the vegetables I have in the crisper which I have to make use of or else they're going to waste soon. Since we are going for a no food waste goal, I just cooked it in butter and salt and tadah! we have a yummy side dish.
The Tuna Steak Ala Pobre? Well, peantubutter♥ bought fresh tuna from the market because he was craving for sashimi which he forgot. Since he wasn't craving anymore, he told me to just cook it. I thought it would be best to cook it this way because it has very minimal ingredients — ang sarap pa.
This is the story of how this meal came together.
I'm feeling a bit under the weather. Maybe because I'm stressed or just plain tired.
I hope you're feeling so much better than me and that everything is going well on your side of the internet.
Happy start of a new week.
OTHER RECIPES YOU MIGHT LOVE…
Print
Chinese Sausage Fried Rice
2 tbsp

oil

1

pc chinese sausage, sliced

10

cloves garlic, chopped finely

4 cups

rice

1 tsp

patis
Instructions
Heat oil in a pan and fry the chinese sausage for about 2 minutes. Remove and set aside.
In the same oil and pan, fry the garlic until brown. Remove half of it and set aside on a plate. This will be our topping is going to taste wonderful on top of our tuna steak later.
Add the chinese sausage back in the pan and add the rice.
Drizzle with patis (fish sauce) and mix well. Continue stirring as the rice fries and marries the flavor of garlic and chinese sausage. Do this for 5 minutes.
Turn of heat.
Print
Buttered Veggies
2 tbsp

butter

1/2 tsp

salt

1

sayote, cut into cubes

100g

baguio beans, cut into

1

-inch pieces

1

carrot, cut into cubes
Instructions
Put the butter and the vegetables in a non-stick skillet.
Mix well and sauté for about 5 minutes. Sprinkle with salt. Mix, turn off heat, and cover.
It's now ready for serving.
Print
Tuna Steak Ala Pobre
600g

fresh tuna, cut into steaks

2 tbsp

liquid seasoning
butter for frying
gravy
2 tbsp

butter

2 tbsp

flour

4

cloves garlic, minced

1

chicken cube +

3 cups

water
salt and pepper
Instructions
Marinate the tuna steaks in liquid seasoning for about 15 minutes.
While tuna steaks are marinating, make the gravy: Heat butter and garlic in a pan. Let garlic infuse butter with flavor.Add the flour and continue stirring until it turns brown in color. Add chicken cubes and pour in water. Stir until free of lumps and bring into a boil. Add water if it becomes too thick. Season with salt and pepper to taste.
In a pan, heat around 2 tbsp of butter and fry each tuna steak for 2 minutes on each side.
To serve, put tuna steak on a plate and drizzle with gravy. Sprinkle with fried garlic before serving. Serve with the buttered veggies and chinese sausage fried rice
♥ If you make this recipe, kindly snap a photo and tag @thepeachkitchen on Instagram (OR hashtag it #thepeachkitchen). I'd love to see what you cook!