We seem to be liking Tagaytay and their garden restaurants a lot these days when celebrating birthdays. Last year, sis treated us for lunch at Marcia Adams Resaturant… then I celebrated mine at Sonya's Garden. Last week, we celebrated Mama Lucy's birthday at Chateau Hestia Garden Restaurant.
It was our first time there and it was just when we arrived when I found out that it's also a bed and breakfast place. I think this bridge leads to the rooms and cottages which I imagine brings anyone who will stay closer to nature.
The restaurant opens up into a deli from which they sell their sausages, liqueurs, german beers, cheese, breads, and wines.
I love the rustic feel of Chateau Hestia — it's elegant and yet it has that cozy feel that makes you feel right at home.
There was a set menu available for around ₱900+. It already has appetizer, main course, dessert, and a glass of wine but we opted to choose from their menu because we wanted to try their bestsellers.
As soon as we gave our orders, they gave us their complimentary bread and dip (left). We ordered the Mushroom Fritters (₱195) for our appetizer. It's oyster mushroom fried to crisp served with tomato salsa and mango sauce. Because our family is composed of "healthy" and "unhealthy eaters", we kidded that what we ordered was chicharong bulaklak…heee. Twinkle loved every crunchy bit of this mushroom fritters.
We also had the Hestia Garden Salad (₱360) which is an assortment of fresh lettuce, edible flowers, nuts and seeds, philippine mangoes, yogurt and palawan honey vinaigrette. I love how colorful this salad is!
To Ykaie's delight, we had the Austrian and German Sausage Plate (₱640) composed of slices of weisswurst, currywurst, wiener, and  buckwurst, served with dijon, roasted potatoes, and sauerkraut. I had one slice of each one — their sausages are really good.
And here we are… hala, hindi ready sa photo opp si peanutbutter♥.
Anyway, we had two kinds of pasta. First is the Pasta Di Mare (₱175), a medley of seafood simmered in pomodoro sauce.
And the Tre Funghi Papardelle (₱475) made of handmade noodles tossed in creamy sauce of porcini, shiitake, and button mushrooms. This is a winner in your book if you love mushrooms!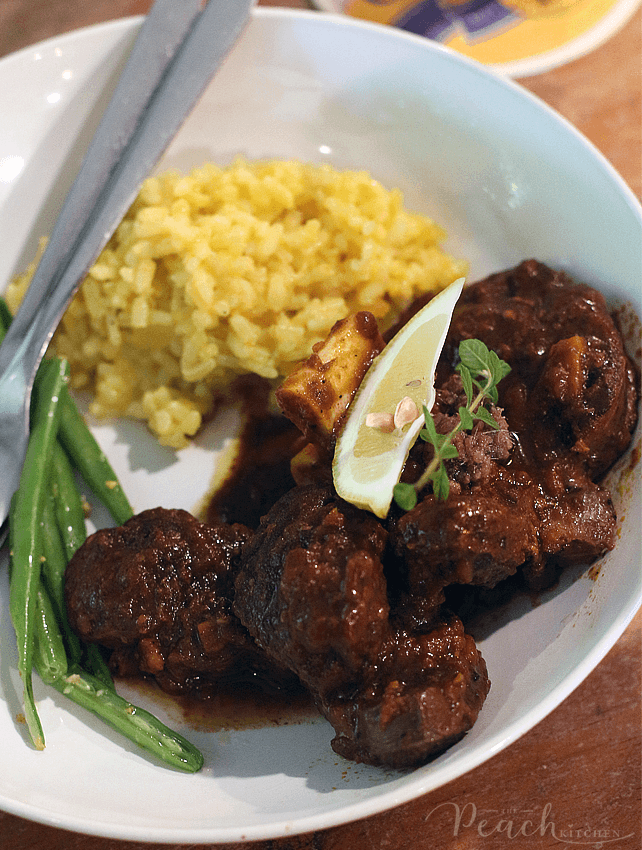 Aside from the pasta we also had their Osso Bucco Milanese (₱680) – the beef shank was very tender evident that it was slowly braised in its rich tomato sauce. This was served with risotto milanese and green beans
I love this Baked Salmon and Sauteed Shrimps (₱750)  because the lemon pepper crusted fillet of salmon was perfectly cooked. It was served on a bed of potato gnocchi, shrimps, and fresh veggies. Such a healthy dish too!
I won't be able to forget how good their Gorgonzola Cheesecake (₱210) is! We had that for dessert as well as the free refrigerator cake they gave for Mama Lucy's birthday.
What makes our trip more fun these days are these two kulilits — Twinkle and Bradzen. I like them to be the subject of most of my photos but they wont' sit still!
I'd like to go back to Chateau Hestia and try their set menu next time.
Chateau Hestia Garden Restaurant is located at J. Hernandez St., Purok 5, Brgy. Bukal, Silang, Cavite.