This simple Strawberry Walnut Salad can be an obsession with the perfect combination of sweet, savory, crunchy, and colorful…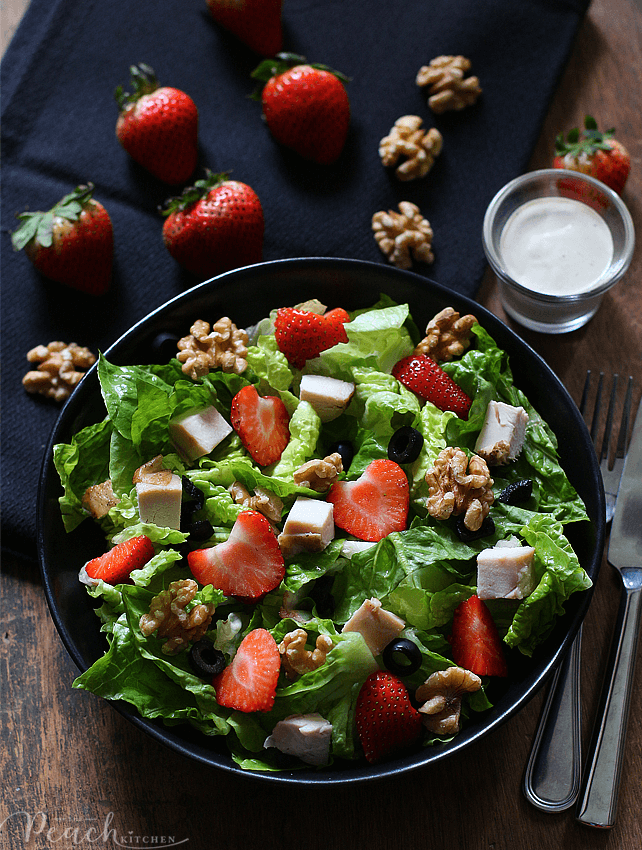 And I am obsessed with this salad. I've been eating it since New Year's Eve. If you can remember, this was part of our New Year's Eve spread except that that one has arugula. My everyday Strawberry Walnut Salad doesn't because it's a bit harder to buy in this part of the metro but strawberries? It is time to advantage of my one favorite fruits now that its season has arrived. You can buy strawberries almost anywhere for ₱50 -₱60 for a small container.
I added roasted chicken pieces for protein and for it to become more filling, after all I'm having it for lunch or dinner. I also prepare it for peanutbutter♥ now that he needed to shift into a healthier diet. Just this month, he was also diagnosed with hypertension and high blood sugar. So more veggies and salads are now part of his baon to work.
In other news, I am now done clearing the Christmas decors around the house — finally! Since I'm having a problem sleeping lately, I found myself getting my hands on the Christmas Tree at 1am the other day. I worked through it until 2:40am and the house is almost clear. I still have old clothes and toys to sort out and donate somewhere and Ykaie's room to clean. I'm planning to do all that before January ends…. so… wish me luck?
Healthwise, everything's going well. I'm getting regular work-outs and I'm eating lots of veggies — generally keeping a healthy diet. All I need now is to get enough sleep. I found some yoga thing for sleeping well which I'm gonna try real soon. Crossing my fingers it would work on me.
Hey, try this salad, it's really amazing.
Print
Strawberry Walnut Salad
For The Salad
Bunch of romaine lettuce, cut into pieces

¼ cup

black olives, sliced

¼ cup

cherry tomatoes

1/4 cup

walnut

1/4 cup

strawberries, sliced

1/2 cup

grilled or (store-bought) roasted chicken, diced
You can use store-bought Garlic Dressing or
This Garlic Cream Dressing:
½ cup

sour cream (or yogurt)

3

cloves garlic chopped finely

1 tbsp

parmesan cheese (optional)

2 tbsp

lemon juice or calamansi juice
salt and pepper to taste
Instructions
Make the Garlic Cream Dressing: Combine sour cream, lemon juice, garlic, parmesan cheese,salt and pepper. Mix well and set aside in the fridge until later use.
Assemble the Salad Bowl: Fill your bowls with cut up romaine lettuce. Top with chicken pieces, halved cherry tomatoes, black olives, walnut, and strawberries.
Drizzle with Garlic Cream Dressing and enjoy
♥ If you make this recipe, kindly snap a photo and tag @thepeachkitchen on Instagram (OR hashtag it #thepeachkitchen). I'd love to see what you cook!