In January, the Business Standard broke the news of the fully caffeinated merger between Dr. Pepper, Snapple, and one-cup wonder Keurig coffee in a $21 billion deal. Keurig's K-Cup is the top-selling single-serving coffee maker in the world.
This, just a few short years after Coca-Cola kicked in $1.25 billion to help Green Mountain launch a new cold drink brewing machine.
Despite environmental concerns, the single cup coffee brewing machine is still making the numbers. Sales remain high for companies offering the convenience of a quick cuppa before they hit the road.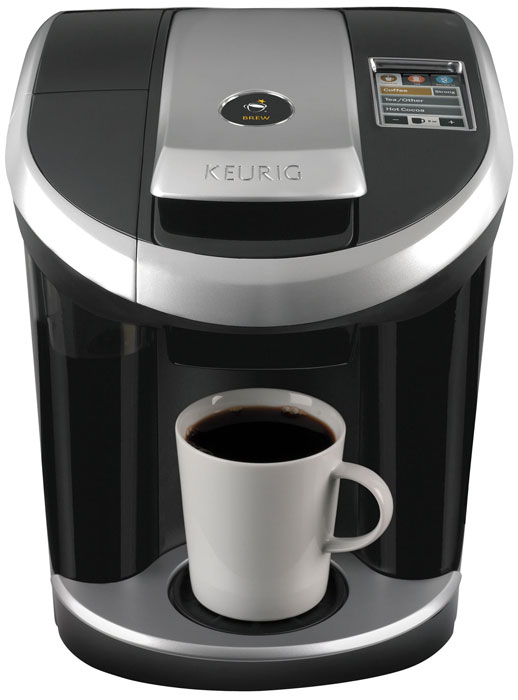 Single-portion coffee comes in cups, discs, or pods, which Reuters says makes up around 8% of all total coffee sales in the world. Some of the biggest names in the single-cup revolution include Nestle SA, Sara Lee, Kraft Foods, and Green Mountain.
Keurig coffee makers work with K-Cups, little containers of pre-packaged coffee the create perfect coffee without any fuss at all. Just pop in a pod and hit the start button. Water moves from the stored reservoir in the Keurig machine and is filtered through the pod and into a cup.
Green Mountain makes the ever-popular Keurig line, which has come under fire in recent years for not being very "green" at all; even the company founder and inventor of the original K-Cup says he regrets his invention. That's more than nine billion of those little leftover pods going straight to the landfill each year. In their defense, Keurig says they're working on a more environmentally friendly coffee maker for the year 2020.
By 2017, the company's website had started offering a couple versions of their popular K-Cup coffee in recyclable containers. (Thanks, Keurig!)
None of this has slowed down sales to those caffeinated individuals – let's call them the pod people – that need their morning jolt.
Recently one of the legacy Keurig units were discontinued. Since the machines start at $90, frugal shopper audibly groaned; would they be forced to buy a new machine? Not yet; it seems Keurig's using the older Vue pods are still being supported by the manufacturer. Despite the Keurig Vue being discontinued in 2014 to be replaced by Keurig 2.0, consumers can still buy the Keurig Vue at Amazon for around $150 (Amazon promo codes here, here).
However, all of the Keurig VUE features are now fully supported on the older models. According to Coffee Gear at Home, here are some basic differences between the Vue and the newer models:
A Vue Keurig uses Vue coffee pods, which are different from K-Cups.
There is a new updated LCD display on the newer Keurig models.
The Vue has eight size, strength, and temperature options.
The majority of K-Cup models have five size options with no temperature controls.
The Vue can handle a travel mug of up to 18 ounces of life-giving caffeine.
K-Cups can only handle a regular 12-ounce mug.
Vue pods are actually recyclable.
So there are some reasons to hang on to the Vue series Keurig, it seems. But where can a consumer find those Vue pods?
Wake Up and Smell The Keurig
Good news: Keurig Vue pods are still available where appliances are sold.
It makes sense that the first place to search for Vue cups would be by circling back to the manufacturer. It turns out Keurig (currently offering a 15% off promo code here) is still selling Vue cups. A search of their site yields all kinds of flavors, too, including French Roast, Donut Shop, and Caribou.
Bed Bath and Beyond (promo codes here, here) sells Keurig units as well as the accessories to support them. Right now there are several flavors on the site, including a nice variety pack that has nearly five stars. But they also offer single Vue pods in flavors like Hawaiian, Starbucks French Roast Dark, and even a decaf Italian — but why would anyone bother with that?
Amazon (codes here and here) is like Leonardo DiCaprio in Titanic — they are the King of the World. So, of course, they have Vue pods. Why even worry that they wouldn't? But they also have a little gadget call a "Simple Cups" reusable coffee cups that fit on the Keurig. What? While it's a great idea for the budget conscious, the reviews are not particularly — flavorful. But don't worry, Amazon has a variety of Vue cups for sale on their site. Go here and stock up on Donut Shop, Starbucks Breakfast Blend, Green Mountain Breakfast Blend, or several variety packs that offer a good value for the money. Save more by signing up for Prime, too.
Having trouble finding the Vue cup? Those clever people at Walmart (codes here & here) decided to sell the K2V-Cup Single Serve Coffee Adaptor, which evidently allows consumers to use the K-Cup pods in the Vue machines. Magic, right? For $12 it might be worth having one of these around in case the source of Vue pods suddenly dries up. With that said, Walmart has a reliable Vue pod collection — for now.
Mega-retailers aside, are there smaller vendors out there still offering the Vue pods?
Turns out Coffee For Less (promo codes here, here) is totally pimping out the Vue pods.
They have two web pages full of flavors which will make the Keurig Vue pod people think it's Christmas and New Year's all-in-one.
The current choices on the site include:
Green Mountain Dark Magic
Green Mountain Breakfast Blend
Donut Shop Decaf
Tully's Coffee Hawaiian
Green Mountain Fair Trade Organic Sumatran Reserve
Green Mountain Caramel Vanilla Cream
Barista Prima Italian Roast
Tully's Coffee House Blend
Cafe Escapes Cafe Caramel
Newman's Own Organics Decaf
But there's one problem; many of these brands appear to be sold out currently. This is concerning. But what about eBay? EBay (codes here and here) holds the secret to so many hard-to-find items; could it be the answer for a Vue pod scavenger hunt?
A search of eBay shows that it may still be the Mecca for Vue pods; there are single flavor and variety packs listed by sellers. This includes – gasp! – pumpkin spice. Since Vue pods and K-Cups never really seem to go bad thanks to their state-of-the-art packaging, the savvy consumer of all things Keurig may decide to stock up now before the fall. There's even a mixed set of flavors with 95 pods which is sure to last at least a month, right?
Stocking up on the Vue
So, there it is; the scavenger hunt for Vue pods is over. Since Keurig units are designed to run cup after cup, it's likely that many people are still out there using their old reliable machines. It's good to know there are still options so that consumers that are hooked can still get their fix. But buyer beware — our advice is to start saving for a newer Keurig model because coffee hipsters with the Vue may be living on borrowed time.