Easy and oh-so-tasty Cauliflower Fried Rice — eating healthy again and making sure everything's delicious.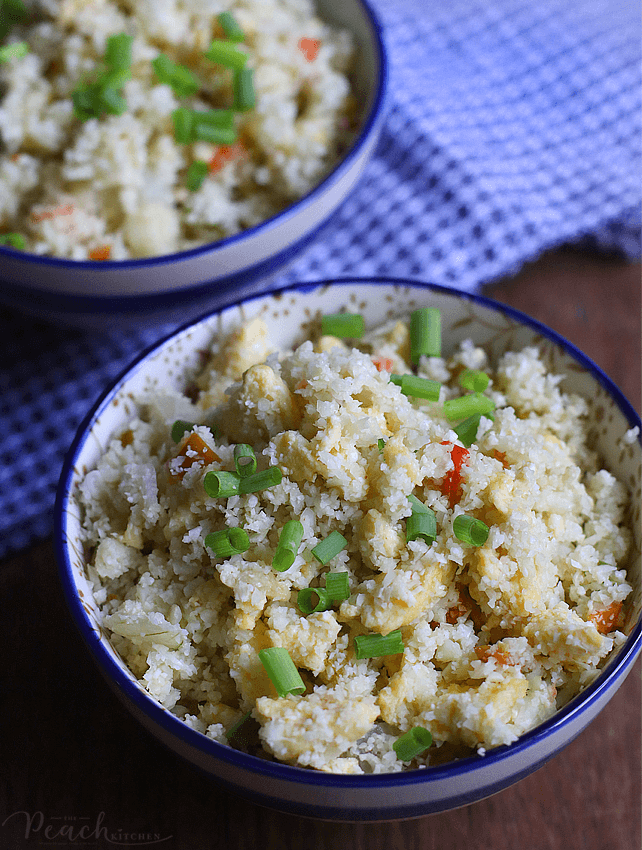 I didn't think it would come from him but it did. peanutbutter♥ suggested we should try the now popular Keto Diet. I guess he thought this is THE diet that would give him what he wants — which is all the things I'm trying to limit like pork and beef. Since I'm hearing a lot of good things about it and I'm all for weight loss, low cholesterol, low triglycerides and controlled blood pressure then, sure, why the hell not.
We started last week but three days into Keto and we kinda broke the rules. We went on a staycation with my in laws in Tagaytay and ate all the carbs that we wanted. It was Day 1 again last Friday. Keto is a Low Carb High Fat diet and since I think we are already "Hi Fat", siguro "Low Carb" muna kami. Well, at least I am — peanutbutter♥ is having the time of his life enjoying some of his favorite food like chicharong bulaklak (fried ruffle fat) and grilled pork belly.
But a couple of days into Keto and he was craving carbs and sweets. He's used to having cakes, cookies, and donuts with his morning and afternoon coffee that he's missing it a lot. He also loves his bread and rice… and he wants ice cream!
So I baked some sweets the other day….and today, I made Cauliflower Fried Rice. I don't think we'll be strict on  Keto just yet because we are adjusting. We'll probably be on lazy keto and dirty Keto but we'll try to stick to this diet for three months and see where this will take us and if we'll like the results.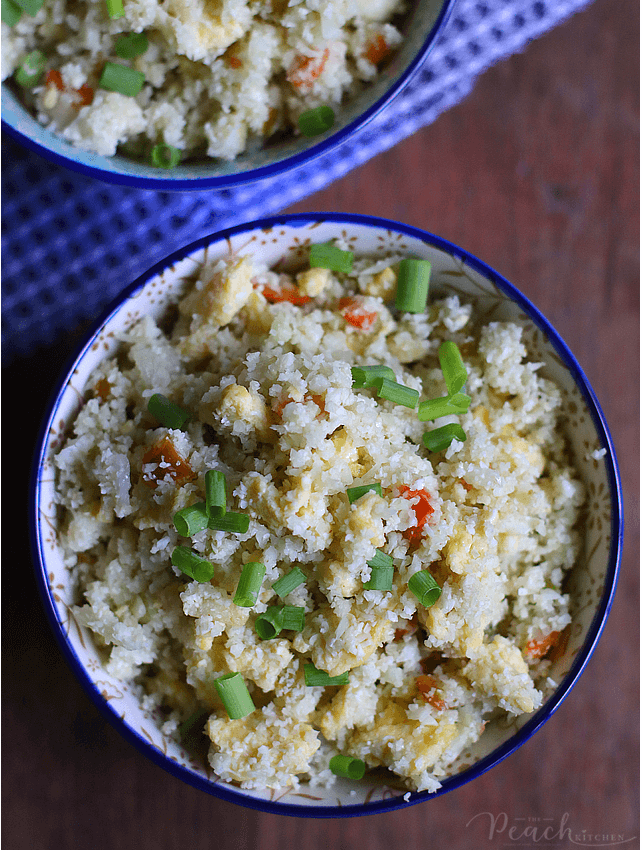 I remember when I started on my diet last year was when I decided to try Cauli Rice because I was getting OP (out of place) on the dining table. I got down to 145lbs. Now, weight is up again at 160lbs, I think? (I haven't weighed myself, yet… LELz) and the husband is joining me on my health-slash-weight journey.
To kick off this new journey on the blog, is this delicious Cauliflower Fried Rice. It's just the same Cauli Rice, only it's sautéed in butter and it contains garlic, onions, bell peppers, scrambled eggs, spring onions. It's also well seasoned with liquid aminos and sesame oil. So it's actually a meal on its own. You can eat this as is or you can eat it with a viand. We actually had it with Chicken Franks (please don't judge…) because that's what we had in the fridge.
I'd say the husband is starting to enjoy Keto as of today…
Print
Cauliflower Fried Rice – Low Carb
2

large cauliflower heads

2

large eggs, beaten and sprinkled with a pinch of salt

1 tbsp

+

2 tbsp

butter

4

cloves garlic, minced

1

large white onion, chopped

2

small bell pepper, diced

3 tbsp

liquid aminos or skinny seasoning (use coconut aminos to make it paleo)

1 tbsp

sesame oil
chopped spring onion for garnish
Instructions
Rice cauliflower using a food processor. Or grate by hand on box grater until it resembles grains of rice. Set aside.
Heat 1 tbsp butter in a non-stick skillet or a frying pan. Cook the eggs ala scrambled eggs, making sure it's chopped into small pieces as it cooks. Remove from Frying pan and transfer into a small bowl.
In the same pan, heat the remaining 2 tbsp of butter. Sauté onions and garlic until onion becomes fragrant. Add the chopped bell pepper and continue cooking for 30 more seconds.
Add the riced cauliflower and cook for 5 more minutes, stirring constantly.
Season with liquid aminos and sesame oil. Mix well.
Turn off heat and transfer to a serving plate. Sprinkle with chopped spring onion before serving.
♥ If you make this recipe, be sure to snap a photo and tag @thepeachkitchen on Instagram (OR hashtag it #thepeachkitchen). I'd love to see what you cook!