My daughters — especially Ykaie — love pizza. She loves pizza so much, she decided to wear her favorite pizza shirt when  we attended Captain Shakey's Birthday Party at Shakey's Roosevelt last week. It's not our first time to attend a Shakey's birthday party and we love attending them because they host one of the best kiddie parties in the metro.
As a matter of fact, Ykaie's 1st Birthday was held at Shakey's in SM North. (Can you imagine 10 years ago na yon?)
The theme of the party is Captain Shakey's and the WOW Squad. The Wow Squad includes Zappy, Heny, and Suzy.
The party favors and the cake is aligned with the party theme. They have knapsacks for lootbags and tiaras, eyemasks, and capes as super hero "party hats".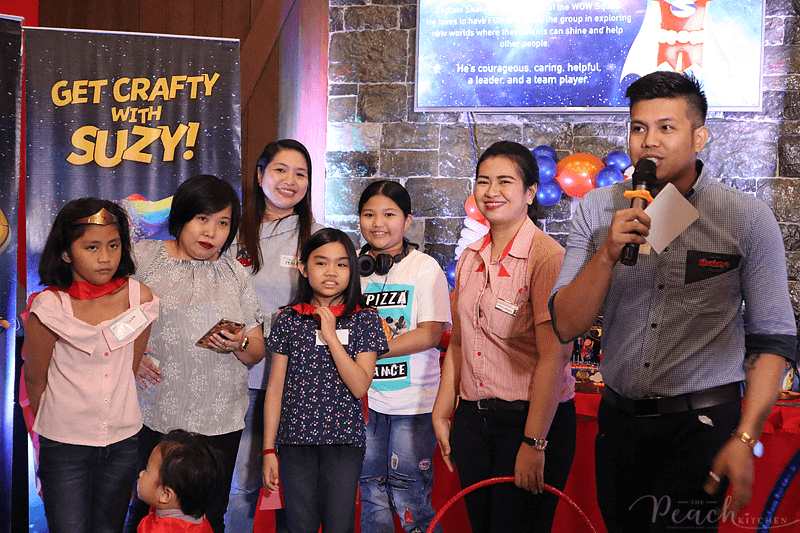 The party started with party games. Ykaie and I joined the first game which is kinda like Ring around the Planets. peanutbutter♥ and Ykaie joined the last game, Pin the Pepperoni on the Pizza.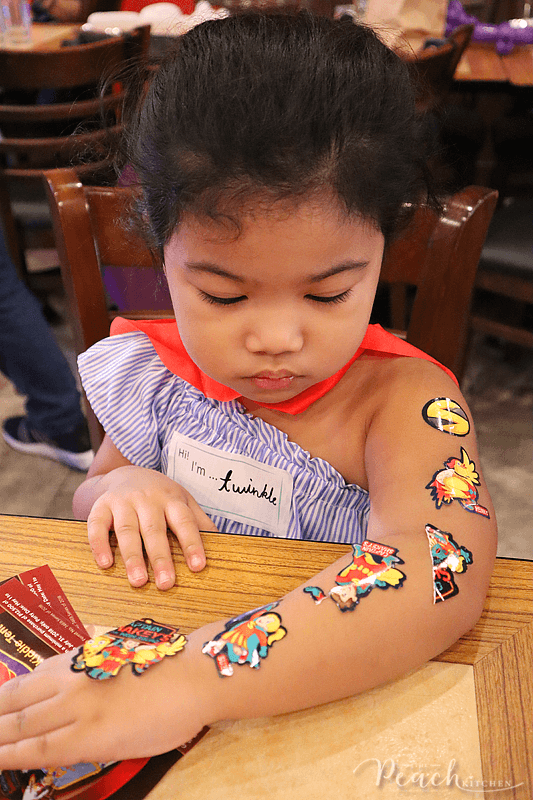 Twinkle enjoyed the prizes we won. I think she thought the stickers were tattoos! Gasp!
With Shakey's Birthday Party packages, you can choose to have  plated meals or for meals to be served buffet style. Buffet Packages are inclusive of Shakey's favorites: Large manager's Choice Thin Crust Pizza, Chicken N' Mojos, Classic Spaghetti, Carbonara Supreme, Garlic Bread, 32″ Giant Pizza, House Blend Iced Tea and  sets of amenities. Package A is already good for 30 persons and costs ₱17,000. It already includes a mascot appearance.  Additional mascot costs ₱999.
There was a Popcorn and Dessert Buffet station at the party as well.
Party Boosts are available for starting price of ₱4,000. Aside from the Popcorn Station and Dessert Buffet, they also have magician, bubble show, face painting, balloon arrangements, kiddie salon, and photo and video coverage in your party.
The party ended with the children singing the Happy Birthday song to Captain Shakey's as he blows the candle on his cake.
We had a blast at the party!
If you're looking for a place to celebrate your children's birthday, why nott give SHakey's a try. If you book at the Roosevelt branch, you'll get a free cake and a tent for your child.
To Book a Party at Shakey's, drop by the Shakey's website.