Our Summer escapades had to take a back seat this year when Nanay got sick.  After going to La Union (Sunset Bay and Thunderbird Resort) on the first week of April 2018,  we had to cancel and rebook our scheduled trips save for one — at The Oriental Luxury Suites in Tagaytay which we took to bond and get quality Summer time with my ILs.
It was just an overnight stay and before going home the next day, we dropped by the newly opened Fora Mall in the rotunda for lunch. We were in the mood for Italian, something that was in anticipation of eating at Trifoglio Ristorante.
Trifoglio Ristorante prides itself in serving authentic Italian cuisines. They promote cook-from-scratch culinary process and guarantees that every dish served is fresh.
After getting a table, we were given a complimentary bread basket filled with warm homemade breads and a dipping sauce of pesto and chopped tomatoes marinated in olive oil. There were two kinds of bread in the basket, one was long and crisp and the other soft and warm. I preferred the soft and warm bread and it was perfect with a teaspoon of the marinated chopped tomatoes.
To start off our meal, we had the Caprese Salad (₱290) made of sliced mozzarella, sliced tomatoes, and fresh basil drizzled with olive oil. You can tell everything was fresh and I also paired this with the warm bread — so so good!
A large Pizza Bianca (₱600) followed. It's white thin crusted pizza with cream sauce, parmesan, and provolone topped with olive slices and basil. I love it because it was very flavorful.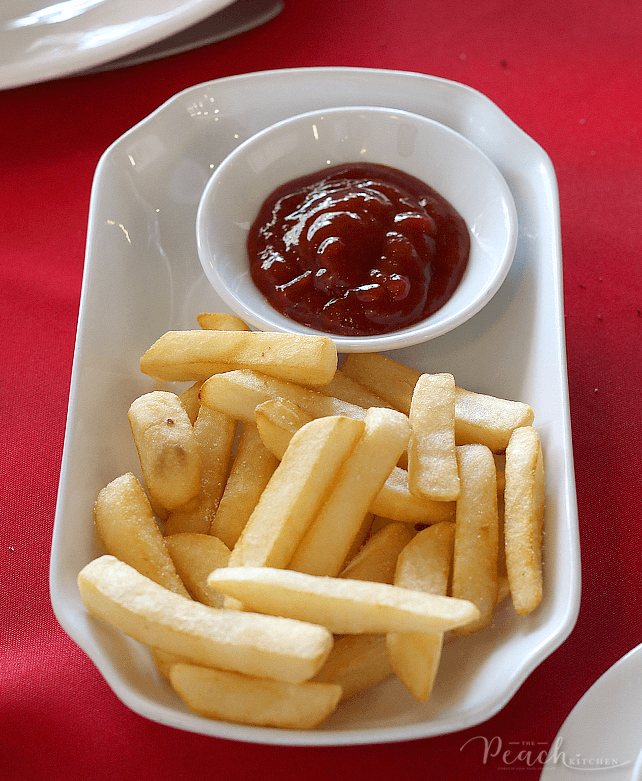 French fries was not on the menu but the waiter offered us some seeing that we had Twinkle with us.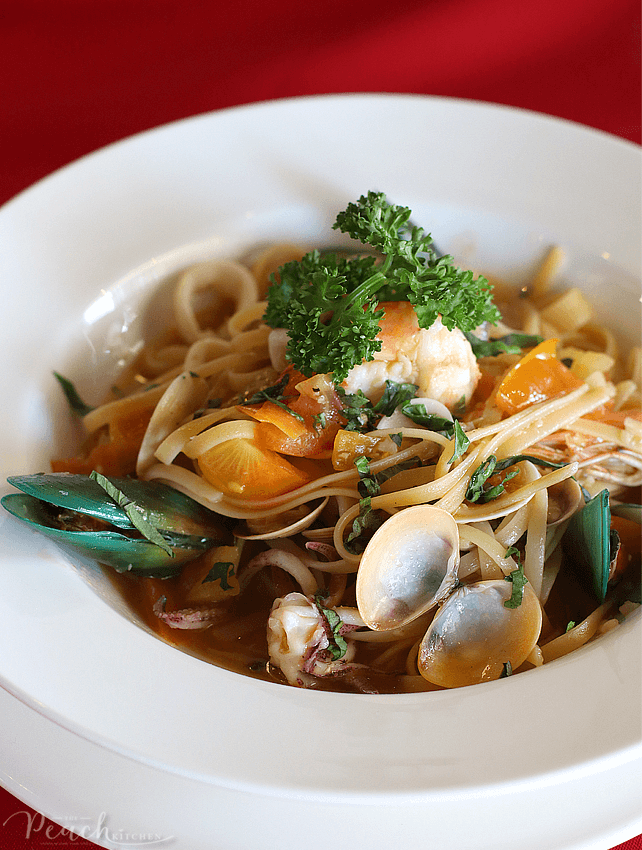 What came as a nice surprise was the Marinara (₱420). I was expecting the usual pasta marinara with thick canned or bottled tomato sauce but Trifoglio Ristorante's version uses fresh tomatoes. It's kinda like a cross between tomato and oil based too — with a variety of seafood mixed into it — clam, shrimp,mussel, squid and fish. Oh I love it! I'm gonna do a version of this at home..LOL! (Gaya-gaya puto maya lang…)
Being the cheese lover that we are, we also ordered the Quattro Formaggi e Tartufo (₱550), just like what the name says, this is a four cheese pasta with truffle. It's creamy, cheesy, and the truffle is so fragrant.
To cap off our Italian meal is, of course, an Italian favorite dessert — Tiramisu (₱350). We had it to share and I loved each coffee and creamy bite of this cake.
We looked like a satisfied bunch, don't we? Every carb is worth it..LELz…
We also met the owner of Trifoglio Ristorante and her son. They were personally overseeing the operation of the restaurant and they were very warm, accommodating, and friendly.
Trifoglio Ristorante is located at the Fora Mall, Tagaytay.