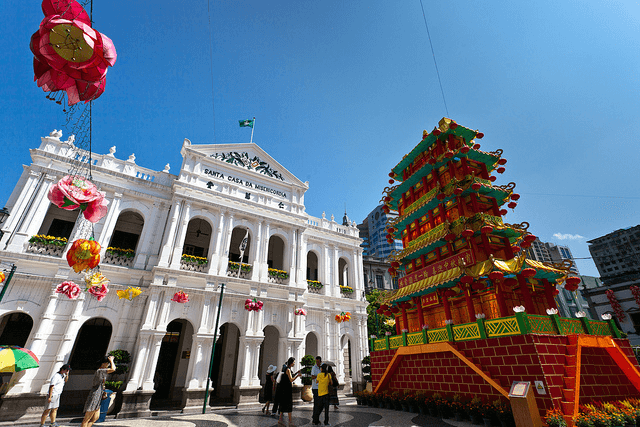 Photo by Dennis Wong, Creative Commons 2.0 License
From 1557 to 1999, Macau was under Portugal's ruling. During this period, the cultures of the two collided to become the unique city that is today's Macau. The fusion of Euro-Asian identities can be found in many aspects of the city, including its customs, architecture and food.
Let me take you on a journey celebrating the best of Portuguese and Chinese food fusion:
Tai Lei Lok Kei
Source: mitsueki
Located in Taipa Village, this local restaurant is famous for its Pork Chop Bun – a traditional Macanese food. As simple as it sounds, this piece of pork scallop in a bun will please all the meat-eaters. Soft, chewy and crunchy, it is incredible how such a tiny sandwich can taste so good. The bun can also be supplemented with a slice of cheese, ham or bacon. For your first time, I would recommend choosing the original recipe to get the full experience of this tasty simple meal.
WongChi Kei
WongChi Kei sums up Macau in a nutshell: when East meets West. Outside, the restaurant is a yellow European building greeting passengers with impressive Greek columns. When you get in, you will find yourself in a very traditional Chinese setting, with dark wood front and mosaic windows. A typical Macau dish served here is the shrimp roe noodle. The plate is composed of thin noodles, shrimp roes and melting dumplings. We had this for dinner after a day of exploring and it was the perfect way to end our day.
Robuchon du Dome
The wealthy reputation of Macau is well-represented when you visit the newly-built part of the city. In these tall and shiny buildings, you might meet famous people, watch unforgettable light shows and enjoy delicious meals.
Peanut Butter and I went on a date at three-star Michelin restaurant, Robuchon du Dome, in the famous Grand Lisboa Hotel and Casino. Among the many dishes we tried, we ate Macau's traditional mashed potatoes. It might sound plain for such a fancy restaurant, but I honestly never had such rich and velvety mashed potatoes in my life. Basically, it was a 2-to-1 ratio of potatoes to butter, made with potatoes cooked with skins on (apparently for extra flavor) and French butter. A cloud in my mouth!
Margaret's Café and Nata
In a very European setting, this café will bring the softest and creamiest pastries ever: the egg tarts. Legend has it that the pastry was first introduced to Macau by a British cafe-owner, Andrew Stow, some 200 years ago. Originally a Portuguese recipe, in Macau these delicacies are made of caramelized sweet egg custard in a basket of fluffy pastry. Enjoy it for breakfast, snack or dessert, you will never regret having one (two or five!).
Gelatina Mok Yi Kei
Gelatina Mok Yi Kei is a traditional shop that will offer you the traditional sweet treats of Macau. Among those, Serradura is a layered dessert of sweet biscuits, condensed milk and vanilla. I would consider this more like a snack than an actual dessert and worth trying, especially if you want to eat while exploring the city. Purple Skye and Periwinkle Moone loved it so much that they asked me to learn the recipe to make it at home.
If you like fusion food, you will love the Chinese-Portuguese mix of Macau!f you like fusion food, you will love the Chinese-Portuguese mix of Macau, and if you love casinos you will for sure love to check the biggest casinos in the world and learn which 3 of them are in Macau too. Let me know if you end up there, I would love share travel tips with you!