In an effort to go back to healthy eating and in order to lose the weight I gained back, peanubuttter♥ and I tried a diet delivery service. I wanted low carb and plant-based so I searched online and found KetoVegetarianPH.
I got their BASIC Package which consisted of 3 meals and no snack for ₱2,795 for 5 days. here was a delivery charge of ₱400 amounting to a total of ₱3, 195. I paid through BDO and they delivered the meals the night before. They kinda delivered late in Caloocan. Next day's meal would arrive at around 9-10pm.
Here's what my five meals looked like: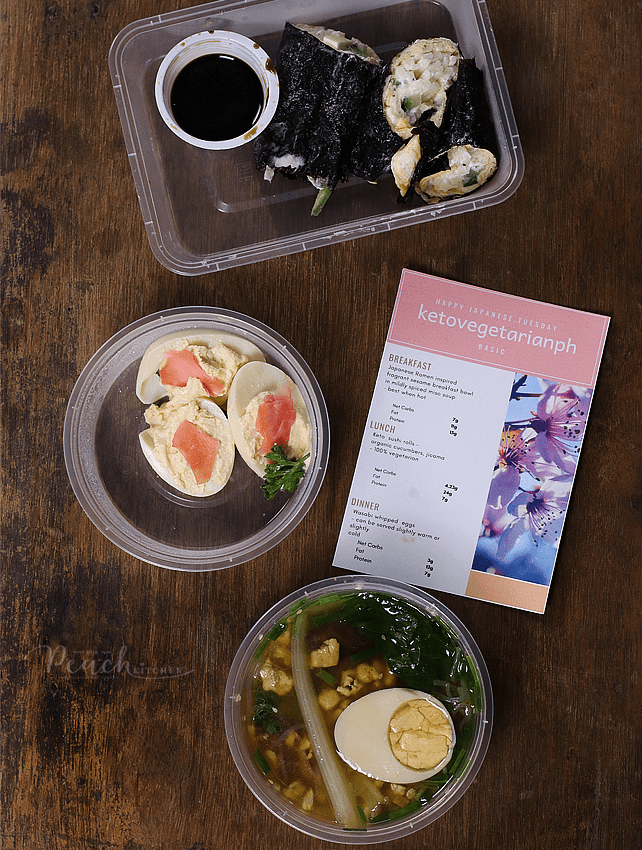 TUESDAY – Breakfast: Japanese Ramen Inspired fragrant sesame breakfast bowl in mildly spiced miso soup; Lunch: Keto Sushi Rolls – organic cucumbers, jicama; Dinner: Wasabi Whipped Eggs
There was a typhoon that weekend, so my meal started on a tuesday. Breakfast was like a ramen but they noodles were shirataki noodles. Lunch was sushi rolls made with eggs, cucumbers, jicama, and mayo. Dinner was a lot like deviled eggs, only it tasted japanese. I was thinking I had mainly eggs on my first day. All were delicious, well, I didn't know if that was the hunger talking but I did like it. Of course, I found the servings bitin being used to eating a lot more.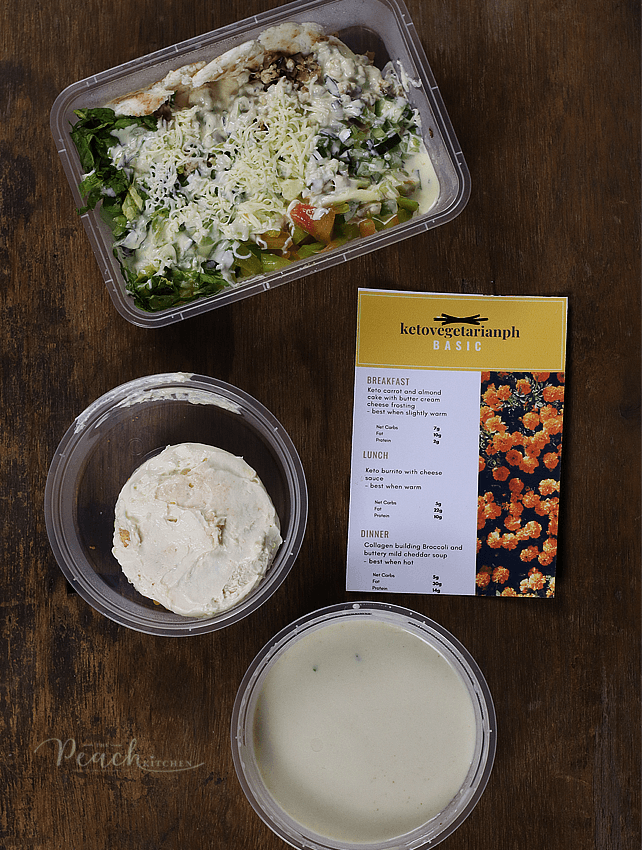 WEDNESDAY – Breakfast: Keto carrot and almond cake with butter cream cheese frosting; Lunch: Keto Burrito with Cheese Sauce; Dinner: Collagen Building Broccoli and buttery mild cheddar soup
Second day breakfast was good because it was cake with cream cheese frosting. And while I was envious of peanutbutter♥'s second day breakfast, I was happy with the fact that I am eating dessert. Lunch was good too and it tasted like a real burrito sans the rice. Dinner was thick soup and even if I wasn't able to taste the broccoli in it, I find it creamy good.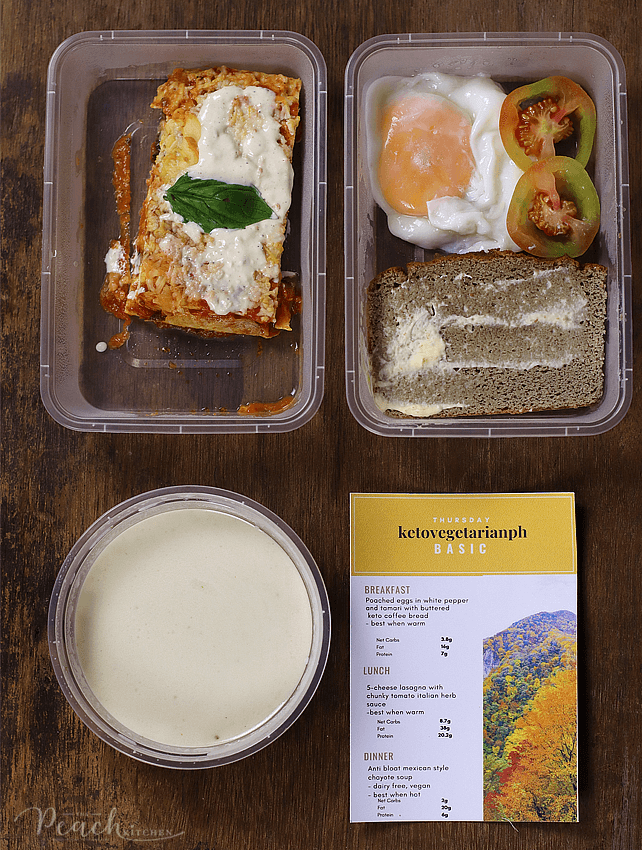 THURSDAY – Breakfast: Poached Egg in white pepper and tamari with buttered keto coffee bread; Lunch: 5-Cheese Lasagna with Chunky tomato Italian Herb sauce; Dinner: Anti-Bloat Mexican Style Chayote Soup
By my third day, I felt that I wasn't bloated anymore. Breakfast was nice, I like eggs and coffee and butter. Lunch was also good, tthe lasagna was made with eggs. I would have liked it more if it was made with eggplant. (which reminds me, I want some eggplant lasagna this week.). Dinner was again a thick and creamy soup.
FRIDAY – Breakfast: KetovegetarianPH Chocolate Cream Cake; Lunch: Mozzarella Pizza Frittata; Dinner: Keto Cheesy Slaw
Breakfast was chocolatey cake. Lunch was egg and pizza combo –a pizza fritatta. and Dinner was a coleslaw made with squeezed out cucumber and tofu bits.
SATURDAY – Breakfast: Keto Mud Pie cheesecake; Lunch: Bac'Un Lettuce Tomato Sandwich; Dinner: KetovegetarianPH bestselling truffle cream pasta
My last day had some good meals.Breakfast was keto cheesecake – YUM! Lunch was a veggie BLT sandwich, and dinner was a truffle cream pasta made with shirataki noodles.
When I weighed myself at the end of the week, I  found out that I lost four pounds — in one week. I'm guessing this was because I didn't have carbs or sugar and I ate a little amount of food.
What I liked about this experience:
Convenience – I didn't have to cook food, it was already prepared, I only have to heat and eat.
I didn't have to think of what to eat everyday — it was liberating, I must admit.
Some of the food were really good.
I don't care much for the macros of the food but the menu card came with it. So if you care about those things, then you'll probably love ketovegetarianph
The owner of ketovegetarianph is very nice. She even texted and asked how I've been doing while on their diet.
What I didn't like about this experience:
It was pricey at ₱3, 195 for five days.
I would have loved meals with lots of vegetables. I was actually counting on meals composed of salads and roasted veggies. Well, because it was named ketovegetarianph
 The meals were delivered late at night.
The meals had super little servings especially those for dinner.
I didn't order anymore the following week. I figured that while it is so convenient, ordering from a diet delivery service isn't for me. I'll just go back to cooking my own meals even if it meant more work.