A healthy diet is essential when it comes to overall well-being. Consuming the right things improves not just physical, but also mental health. Eating healthfully can improve quality of life and — with the right knowledge — almost everyone can benefit from it. This is why many people are turning to mostly plant-based diets — one of the most common being the pescatarian diet.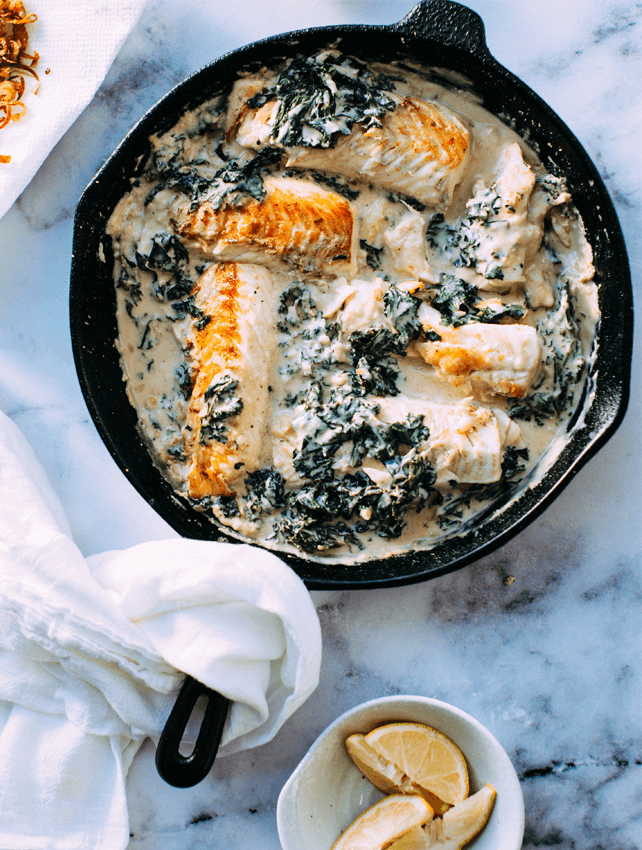 What is a pescatarian diet?
Pescatarian is also referred to as "pesco-vegetarian," which derives from the Italian word "pesce" meaning fish, plus the word vegetarian. Pescatarians do not eat meat, and their varied diet includes mainly fish and vegetables.
The pescatarian diet plan also includes whole grains, legumes, nuts, and seafood. However, pescatarians also eat dairy and eggs.
A pescatarian diet is many times categorized as vegetarian. As being a diet mostly comprised of plant-based foods, it can prevent diseases such as diabetes, obesity, and heart disease — among others.
Perhaps you're just starting out on your pescatarian journey, or maybe you've been a pescatarian for years but are looking for something new to cook. Check out these delicious budget-friendly recipes that you may want to try out next time you're in the kitchen:
Pescatarian Recipes That Won't Break The Bank
Baked Tilapia with Parmesan Crust
Tilapia fish is inexpensive and has a delicious taste. Baking it with parmesan as a crust can make it more savory and flavorful. Try this recipe — it offers around 517 calories per serving and has about 90% of daily recommended protein! In addition, it also contains calcium and vitamin C.
Ingredients:
two tilapia fillets
100g finely grated vegetarian parmesan
½ cup of finely chopped parsley
40g breadcrumbs
½ tsp black pepper
1.5 tsp paprika
one lemon, cut into wedges
3 tbsp olive oil
Procedure:
Preheat the oven to 400 Fahrenheit. Meanwhile, prepare the ingredients. Mix the parmesan, paprika, black pepper, and parsley in a bowl. Then, spread flat on a baking tray. Marinate the tilapia fillet with lemon and olive oil, then dip the fillet into the parmesan mixture. Make sure that the parmesan mixture covers the entire fillet. When the oven reaches the recommended temperature, add the fillet. Cook it for 20 minutes. Once the crust of the fillet turns into a golden-brown color, it is ready for a tasty meal.
Omelet with Tuna and Basil
Spice up your breakfast with omelet, tuna, and basil. Tuna contains omega-3 fatty acids that can reduce cholesterol in the arteries — which is healthy for the heart. Likewise, basil contains antioxidant and antibacterial properties that can help prevent diseases such as cancer. Also, it is an anti-inflammatory herb. Moreover, this recipe is easy and fast to prepare and cook — and won't drain the bank.
Ingredients:
two whole eggs
one can of tuna
a handful of basil finely chopped
a handful of spring onions chopped
3 tbsp of vegetable oil
a pinch of salt
a dash of black pepper
Procedure:
Beat the two eggs in a bowl. Meanwhile, drain the tuna and place it in the egg mixture together with the basil, spring onions, salt, and pepper. Heat the frying pan and add the vegetable oil. Once heated, pour the egg and tuna mixture.  Flip half of the mix once it turns golden brown and then wait until the other side is cooked. Once done, place the omelet on a dish and savor its unique taste.
 Teriyaki Stir Fry
If you want to eat a flavorful bunch of vegetable, try this Teriyaki Stir Fry, that only takes less than 20 minutes to cook! It is full of nutrients and very appealing to look at with its colorful combination of vegetables. While its full of ingredients, it is within the limit of your budget too.
Ingredients:
one broccoli head, cuts into florets
two celery stalks, chopped
45g of green beans
3 medium-sized carrots, chopped lengthwise
½ green chili pepper, finely chopped
1.2 red bell pepper, roughly chopped
1/2 onion, finely chopped
50g mushroom, finely sliced
a handful of cashew nuts
1 tbsp sesame oil
a thumb of ginger, finely chopped
two cloves of garlic, finely chopped
20g of sesame seeds
4 tbsp teriyaki sauce
1 tbsp soy sauce
juice of ½ a lime
Procedure:
Heat the wok with sesame oil. Then, add the onions, garlic, ginger, and chili when the oil is hot. Cook them for 3 minutes, then, throw in the vegetables —  including the cashew nuts and mushrooms. Stir fry them for 7 to 8 minutes or until the vegetables are softened, and the mushrooms are cooked. Then, add the teriyaki sauce, lime, and soy sauce. Sprinkle the sesame seeds and cook for another minute. Serve it with a bowl of rice.
Pescatarian meals will balance your diet and your budget. Savor their rich tastes and experience the range of physical and mental benefits they offer. What are you waiting for? Try cooking any of these pescatarian recipes and share them with your friends and family.