This Spaghetti and Eyeballs Meatballs has just the right amount of creepy and a comfort food .. a healthy lunch too…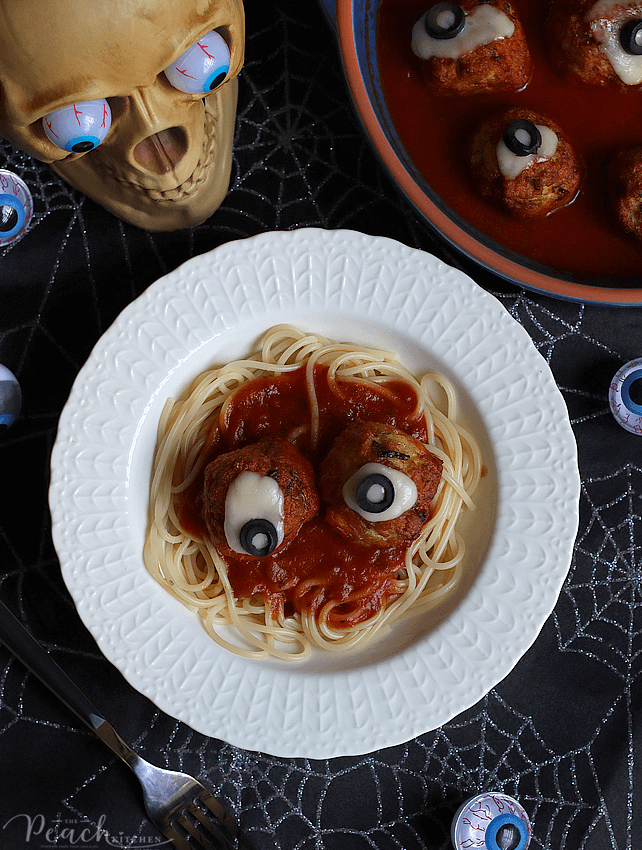 I have no idea how it happened but it's the last week of October, guys. That means it's only a matter of days before Halloween happens. Parties are gonna be left and right, are you dressing up? The kids, well, one is gonna be Elsa and Anna and the older one, Ykaie wants to be as gory as she can get.
So today for lunch, I think it's only right that I prepared Spaghetti and Eyeballs…
It looks creepy enough to keep the Halloween vibe going but as creepy as it looks, it's actually a healthy dish. 'Cause these, my friends, are chicken meatballs. I'm not letting go of the usual porky balls… but for now, we'll be sticking with our friendly white meat. After all, I don't want my peanutbutter♥'s cholesterol going sky high.
Ykaie told me she thought her meal is looking at her. So I told her to just stare back at it and then eat it… LOL!
If you're looking for a super easy and healthy dish to prepare for your upcoming Halloween party then THIS is it. You can use bottled spaghetti or marinara sauce and just make the meatballs. I'm sure your guests will be thrilled.
Print
Spaghetti and Eyeballs Meatballs
Spaghetti, cooked according to package directions
bottled spaghetti sauce or homemade marinara sauce
grated parmesan cheese
sliced black olives and cheese for garnish, I used mozzarella
For the Chicken Meatballs Eyeballs
500g

ground chicken

1

white onion, finely chopped

2

garlic cloves, minced

2 tbsp

dried or fresh parsley

1 tsp

dried or powdered oregano

1

egg

3/4 cup

breadcrumbs

1/2 tsp

salt and pepper
oil for frying
Instructions
Make the Chicken Meatballs: In a large bowl, mix all of the ingredients together by hand except the oil. Form them into 11/2 inch balls and set them on a plate.
Heat a large non-stick frying pan with about 2 tbsp of olive oil and fry the meatballs in two batches until golden on all sides.
Preheat the oven to 350°.
Place your meatballs in a baking pan and pour over your marinara sauce. Bake for an additional 5 minutes to let your meatballs cook through.
Remove baking pan from the oven and place a 1/2 inch piece of cheese on top of the eyeball and a slice of black olive to resemble an eyeball. Put it back in the oven for about 30 secs. just to melt the cheese.
Top over your spaghetti or rice or make into a sandwich.
Don't forget to sprinkle with grated parmesan cheese before serving
♥ If you make this recipe, be sure to snap a photo and tag @thepeachkitchen on Instagram (OR hashtag it #thepeachkitchen). I'd love to see what you cook!