Simmered in rich, buttery sauce, these Butter Chicken Meatballs will surely satisfy your Indian cravings and will have you mopping the dish for every last drop of that creamy tomato gravy.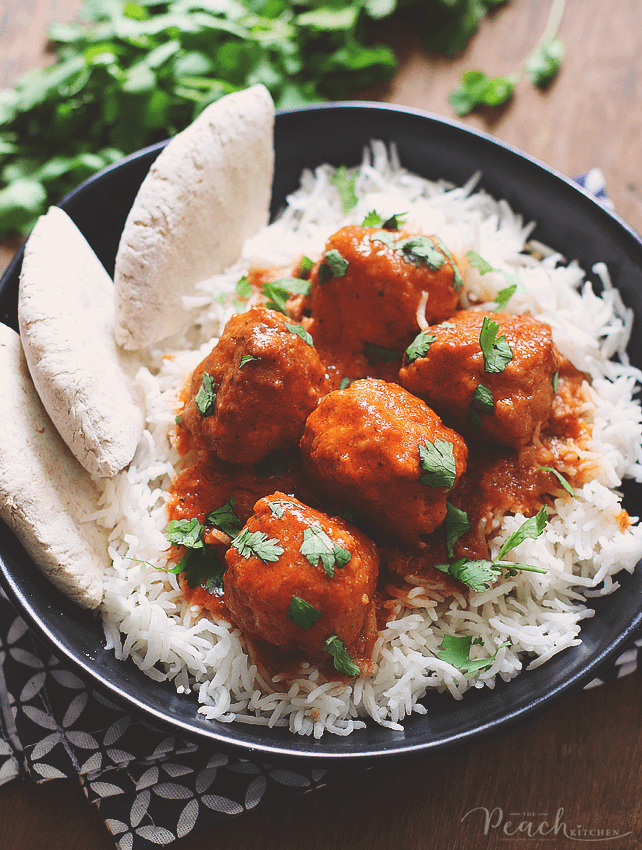 You probably won't believe how much Butter Chicken goes through the dinner table in this household each month. Indian food has become a favorite in this family. There's an occasional Chicken Tikka Masala but Butter Chicken is my daughter's number one choice. Well, I'm not complaining because I've come to love this dish as well.
I've tried cooking it old school where I used different kinds of spices. But most of the time I use ready mix spice pastes or mixes. Hey, it makes a busy mom's life easier in serving delicious food for the family — everybody's happy. I love Asian Home Gourmet brand but I often try others just to see if it tastes the same. For this 30 Minute Butter Chicken Meatballs, I used Shan. It's sold at our current favorite Indian tambayan and it was in the shelf everytime we eat there. It was calling me to try it and so, I finally gave in.
Why chicken meatballs instead of the usual chicken thigh fillet or chicken breast fillet, you might ask. Well, I actually have ground chicken in the fridge that needs cooking. I figured this would make for a new butter chicken dish instead of the usual. Turns out to be a win-win. I discovered a new way of cooking one of the recipe in our weekly menu rotation and I get to use what needs using. AND I discovered a new found love for meatballs.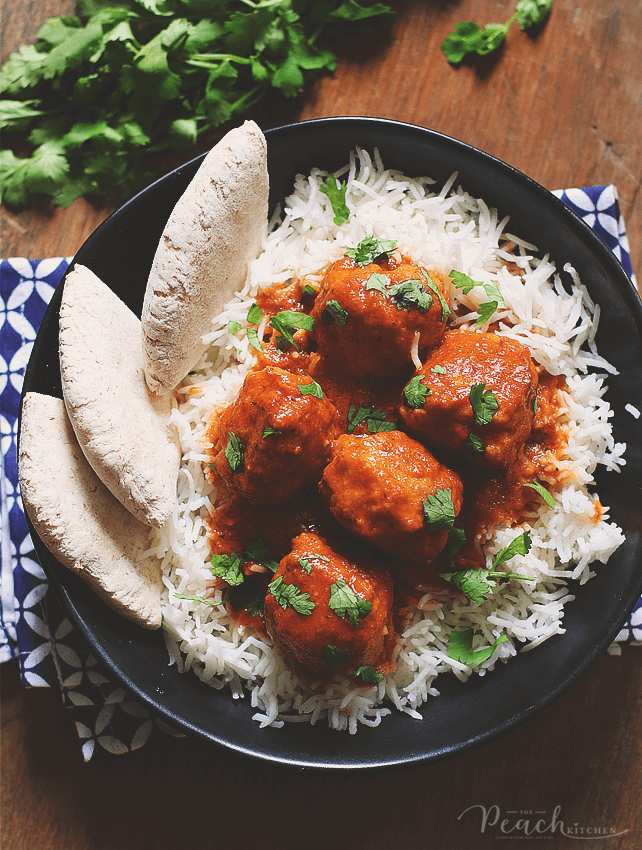 You see, I am never fond of meatballs but ever since I started using ground chicken in my cooking, I began appreciating it. I don't know why– maybe I love chicken more than pork or beef? Well, that leaves me with more experimentation, right?
For now, let's talk about THIS.
Everything starts by making the chicken meatballs: ground chicken + egg +japanese breadcrumbs + salt and pepper. Mixed it well by hand and then formed it into balls. I fried it in olive oil but you can also bake them if you want a healthier version. The thing with frying is that I can never get them to form perfect balls but hey, they still look good, right?
It's easy to make the sauce because there's really no measuring involved. I just sautéed the onions in the leftover oil in the pan. Then I added the crushed tomato and the Shan Butter Chicken Mix, followed by the meatballs, cream and butter. A bit of simmering and.. TADAH! It's done. That's one thing I love about cooking with meatballs, there's less simmering done because it's easier to cook.
You'll love this dish as much as I love it. I promise.
OTHER RECIPES YOU MIGHT LOVE…
Print
Butter Chicken Meatballs
Chicken Meatballs
500g

ground chicken

1

egg

1/2 cup

japanese breadcrumbs

1/4 tsp

salt

1/4 tsp

pepper

2 tbsp

olive oil
other ingredients
1

white onion, chopped

2 cups

crushed tomato or (tomato puree)
your favorite butter chicken mix, I used Shan (or you can use this recipe)

1 cup

all purpose cream

2 tbsp

butter

1/2 cup

chopped cilantro for garnish
basmati rice and pita bread or naan for serving
Instructions
Make the chicken meatballs: Combine all the ingredients, except olive oil in a bowl and mix well. Form into 1½ inch balls and set them on a plate.
Heat a large non-stick frying pan with about 2 tbsp of olive oil and fry the meatballs in two batches until golden on all sides. You also have the option to bake the meatballs into a 350° oven until brown if you want to keep it healthy. Set the meatballs aside.
In the same pan, sauté the onions until translucent. Pour in the crushed tomato and the butter chicken mix spice paste. Mix well.
Add the chicken meatballs and simmer for 15 minutes. Pour in cream and simmer for another 5 minutes. Add the butter and give it a quick stir.
Serve over basmati rice and naan, sprinkled with lots of chopped cilantro.
♥ If you make this recipe, be sure to snap a photo and tag @thepeachkitchen on Instagram (OR hashtag it #thepeachkitchen). I'd love to see what you cook!