Easy Arroz Valenciana made delectable with chicken, chorizo de bilbao, coconut milk, raisins, and hardboiled egg….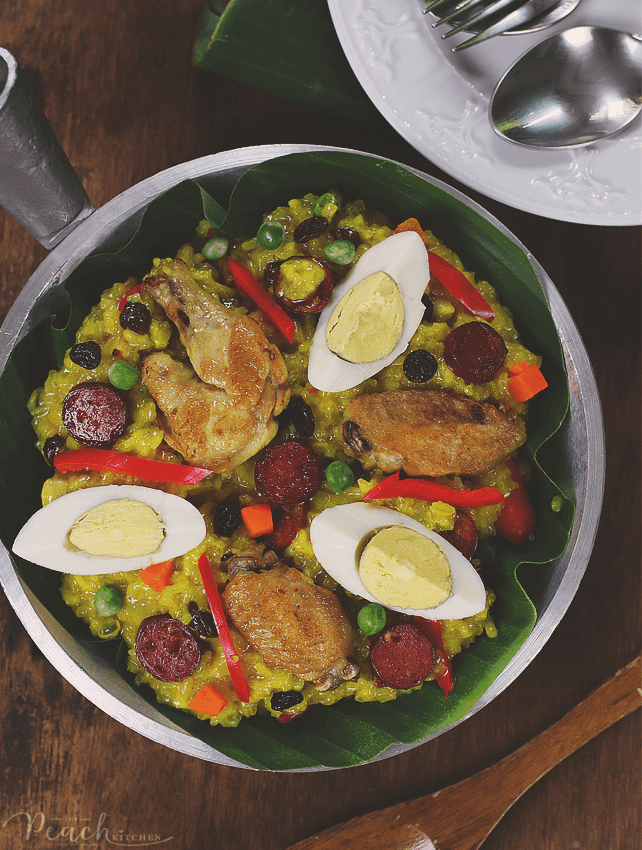 Arroz Valenciana is such a festive looking dish — almost like a Christmas lantern (parol) because it's filled with a variety of colors. Maybe that's why this is often served during Christmas. I know it's a traditional meal for some families but for ours, it isn't . That's why this dish is not something I grew up eating. I often see it in restaurants and thought about cooking it at home but I never made the attempt because I always end up being intimidated by it.
But this Christmas season, I'm having a change of heart and I'm all about trying out those I haven't tried before. YOLO, right? And besides, it will make a great addition to our Noche Buena table come Christmas Eve.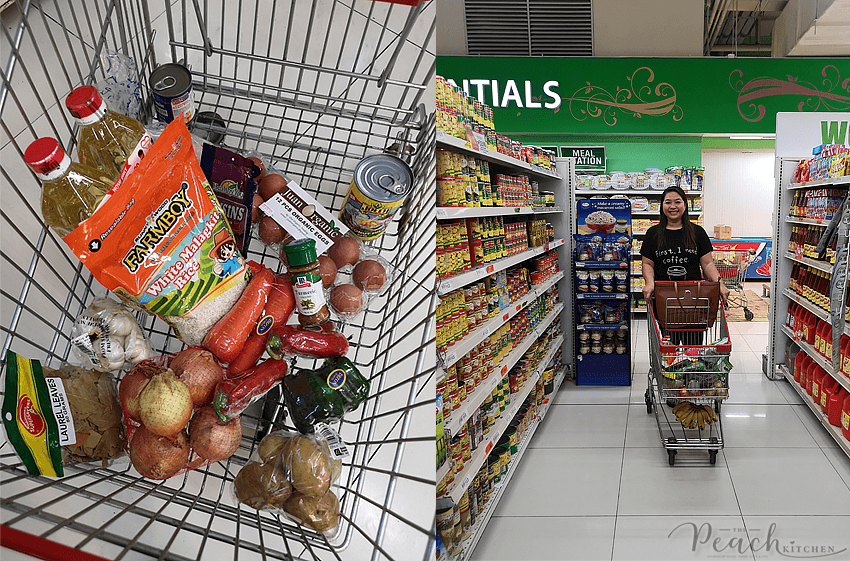 So off I went to the nearest grocery to shop for ingredients — Robinsons Town Mall in Malabon…
You know what I found out after shopping? Robinsons Town Malabon is accepting payments through PayMaya! That means I can do cashless Christmas shopping. No need to fumble inside my bag for my wallet or my card.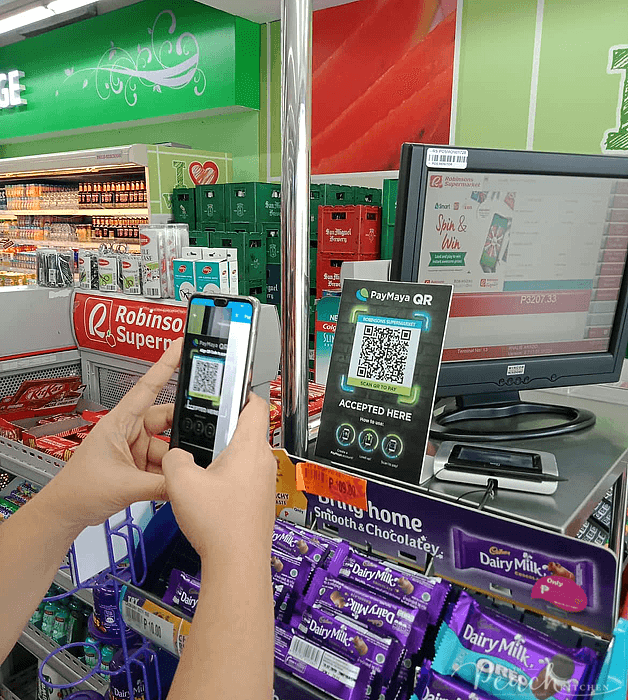 I just scan to pay! It's so convenient!
And just like that, my Arroz Valenciana ingredients and other grocery items were paid. I paid an exact amount of ₱3,2077.33 — no more, no less. No need to accept change nor for the cashier to give me change.
Na-excite ako kasi sobrang dali lang to pay with PayMaya! I think I want all my transactions to be like that.
To those of you who are not yet using PayMaya but is curious how to start. Here's how:
• Download from App Store or Google Play
• Register with your name, email and mobile number
• Create a password
• Receive a verification SMS
• Enter verification number
• Click VIEW CARD button
• Input your address and birthday
• Receive a confirmation that your account has been activated
What can you do with PayMaya?
• Send money to friends or family
• Shop online or in-store using your PayMaya virtual or physical card
• Purchase telco load, gaming pins, or prepaid cable TV credits at the in-app shop
• Pay your bills or government contributions
• Pay using PayMaya QR at partner merchants
What's more exciting is that today, Ykaie and I bought a gift for her monito and I paid through PayMaya. I was surprised a few minutes later that I got a 100% cashback of what I paid.
I found out there's a cash back promo pala up to December 31, 2018.  I think they always have a cashback promo from time to time — kind of a reward for using the app.
Anyway, let's go back to this Arroz Valenciana. What I did was fry the chorizo de bilbao slices in heated oil and set it aside for later. Then I sautéed the onions and the garlic until the onions become translucent. Then I added the chicken wings. I fried it for about two minutes until the skin browns before adding in the glutinous rice and the turmeric powder. I stirred the glutinous rice in the cooked chicken for about a minute — Sankutsa yata ang tawag dito diba? — so the wonderful flavors will marry. Then I added the coconut milk and the water with dissolved chicken cube, and the fish sauce.
I brought this to a boil and reduced the heat to simmer. I let it simmer for about 10-20 minutes before adding in the bell pepper, raisins, carrots, peas, and chorizo slices. (I left a few slices for garnish on top later.) I let it cook for 15-20 minutes more until the glutinous rice is fully cooked and all the liquid has been absorbed. It was transfered to a serving kawali and garnished with hardboiled egg slices and chorizo de bilbao.
It's my first time to cook  this dish and all I can say is that there's no need to be intimidated. It's pretty easy but I need to adjust the coconut milk and the water because it came out to soft. I also need to keep my self from stirring it too often. I got scared that I might stick to the pot and burn. But tastewise, I'd say I did pretty good!
Have you tried cooking Arroz Valenciana? Share naman your version!
Also don't forget to try PayMaya ha!
Print
Arroz Valenciana
2 tbsp

canola oil (or olive oil)

1

chorizo de bilbao, sliced

1

white onion, chopped

4

cloves garlic, minced

6

pcs chicken wings cut at the joints to make 12

2 cups

glutinous rice, washed

1 tbsp

Turmeric powder

2

pcs bay leaf

2 cups

coconut milk

2

chicken stock or

1

chicken cube dissolved in 2 cups water

2 tbsp

fish sauce

2

pcs red bell pepper, sliced into strips

1/2 cup

raisins

3/4 cup

frozen carrots and peas

2

eggs, hard-boiled and sliced
Instructions
Heat oil in a pot or in a wok. Fry chorizo de bilbao slices until cooked and set aside.
On the same pot, sauté onions and garlic until it becomes translucent.
Add the chicken wings and cook until brown.
Pour in the glutinous rice and turmeric powder. Stir it until it incorporates with the chicken wings.
Add the coconut milk, chicken stock, and bay leaf. Season with fish sauce and pepper.
Bring to a boil and cover. Reduce heat to a simmer and let it cook for 20 minutes, add bell pepper, frozen peas and carrots, chorizo de bilbao, and raisins.
Let it cook for about 10-20 minutes until glutinous rice is already done and there's no more liquid.
Transfer to your serving dish. Garnish with hardboiled egg slices and chorizo de bilbao slicces.
Serve and enjoy.
♥ If you make this recipe, kindly snap a photo and tag @thepeachkitchen on Instagram (OR hashtag it #thepeachkitchen). I'd love to see what you cook!