This is what's on our table yesterday because it was Father's Day! peanutbutter♥ loves shrimp and seafood and he loves pasta so I just had to make him one of specialties – Shrimp Scampi Spaghetti!
Oh and there's a Father's Day contest at San Remo Philippines page called Shapes of Fatherhood, this doubles up as my entry. I know maraming pasta shapes which you can pair with Shrimp Scampi but I chose spaghetti because you can never go wrong with spaghetti. It's a classic… just like peanutbutter♥. He is not the most patient but he is very loving and thoughtful. He is strict with the kids but his heart melts like marshmallows whenever he is with them. Most of all, he never fails to show his love for us.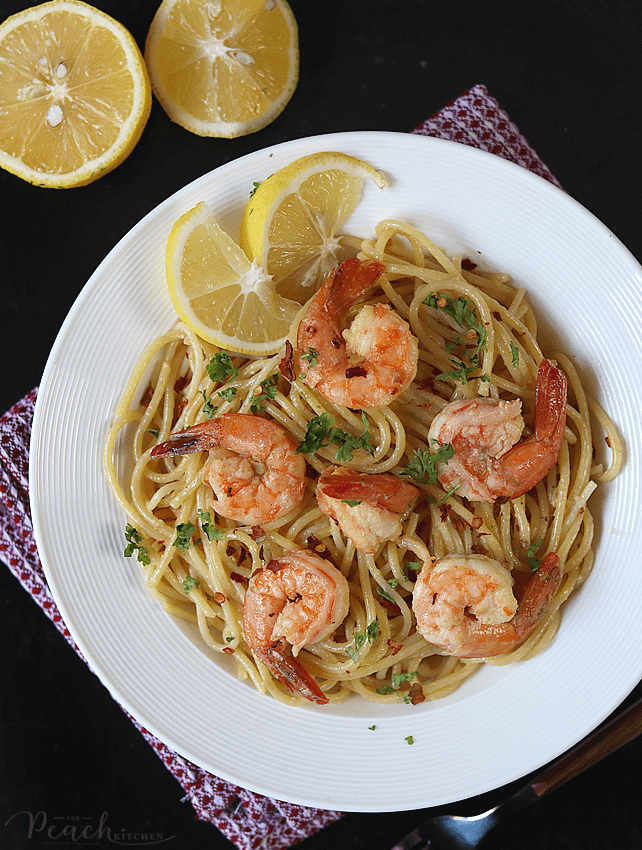 Back to this Shrimp Scampi Spaghetti. This is also something you can never go wrong with. It's a bit pricey if you consider how much a kilo of shrimp is these days but panalo talaga especially if you serve it on special occasions. It's very easy to cook too and has minimal ingredients. All you have to do is cook the garlic in butter and olive oil and then cook the shrimp in there. Then you take out the shrimp and add the lemon juice and lemon zest and bring into a simmer. If you want it to be a bit more saucey, you can add about 1/4 cup of pasta water. Then add back the shrimp and the cooked spaghetti. Make sure you mix it well so the pasta gets coated with the sauce.
NOTE:
You may or may not add chili flakes. It's delicious with a little spicy kick pero if there are kids who are going to eat this with you, better not add it. Sprinkle na lang on your plate.
If the sauce turned out to be too sour or "lemony" for you, just add a tablespoon or two of butter and it will be perfect!
OTHER PASTA RECIPES YOU MIGHT LOVE…
Print
Shrimp Scampi Spaghetti
650g

Shrimp, shelled and deveined

450g

spaghetti

6 tbsp

butter

5 tbsp

olive oil

8

cloves garlic, chopped
the juice of two lemons
zest of

one

lemons
salt and pepper to taste
red pepper flakes (optional)
chopped parsley
Instructions
Boil a large pot of salty water for spaghetti
Cook spaghetti according to package directions.
While water is boiling/spaghetti is cooking, heat up butter and olive oil.
Add garlic and cook for 2 minutes or until butter and oil mixture is infused with the flavors of garlic.
Add shrimp to the skillet and cook on both sides until pink about 2-3 minutes
Remove the shrimp from the skillet and keep it warm
Add lemon juice and lemon zest and bring to boil.
Return shrimp to skillet. You can add pasta water if you want to create more sauce.
Add the cooked spaghetti, and sprinkle chopped parsley.
Stir everything together and season with salt to taste.
You can add red pepper flakes to make it a bit spicy.
Serve with a lemon wedge as garnish
♥ If you make this recipe, kindly snap a photo and tag @thepeachkitchen on Instagram (OR hashtag it #thepeachkitchen). I'd love to see what you cook!