Let's admit it, Rice is Life! Diba mga mommies?? Specially here in the Philippines where rice is the main staple and a part of every meal. (May unli-rice pa nga sa mga restaurants, diba?). Breakfast, lunch, dinner — all these won't be complete without rice. But of course, rice has to be cooked perfectly — para masarap ang kain. So I'm gonna share with you this rice cooker that guarantees perfectly cooked fluffy rice each and every time…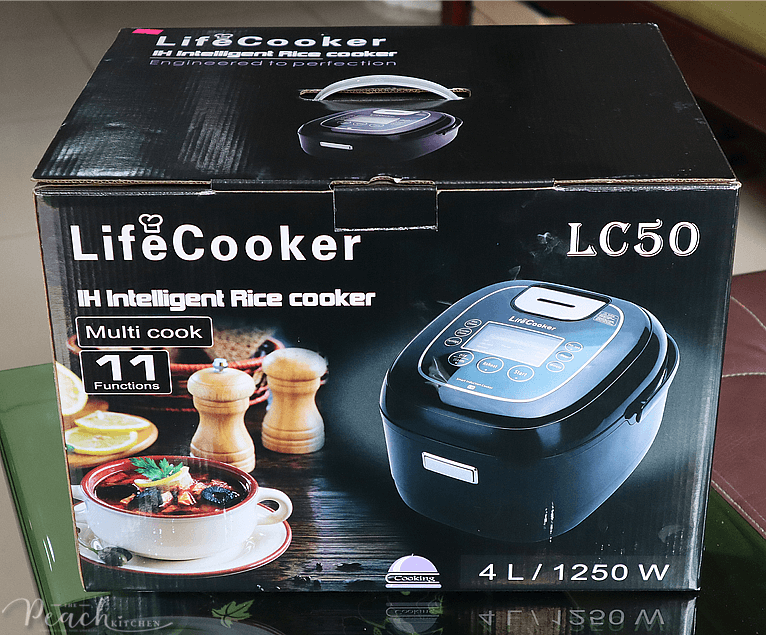 I was sent this LifeCooker LC50 Induction Heating Rice Cooker a couple of weeks ago but because life is hectic these days, I got to open and try it just recently.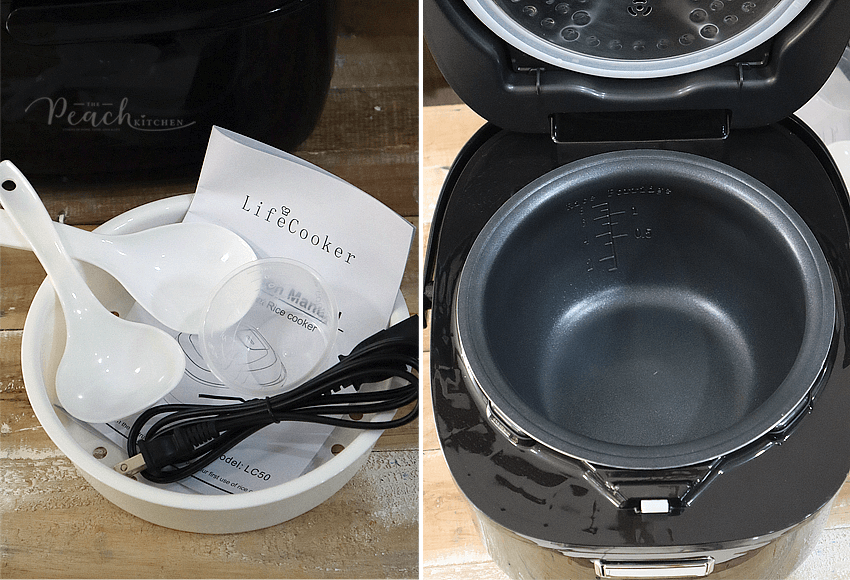 These are the things you'll find inside when you open the box.
Inclusions are:
Measuring Cup
Steamer Tray
Rice Spoon
Soup Spoon
Cord
Capacity: 4 Liters, 8 Cups
Power: 220 Volts, 60Hz, 1250 Watts
Combined IH & Inner Pot Technology: IH Double Coil Heating & Multi-Layer Non Stick 2.0mm Thick Inner Pot
I like that it has a sophisticated design, a large digital display, and is Jet Black in color, (di dumihin tingnan)
IT has 5 Rice Functions: Fast, Little Hard, Standard, Little Soft, Pot Rice
And 5 Additional Settings: Porridge, Steam, Soup, Cake, Clean
Our rice cooker is still okay but I gave LifeCooker a try the other day and cooked our rice for lunch. Setting was standard.
The result?? Tadah! Plump, fluffy rice that doesn't stick to the pot…
LifeCooker LC50 uses Japan Induction Heating Technology to cook the perfect rice. You'll end up with perfectly cooked rice each and everytime.
WHAT I LOVE ABOUT LIFECOOKER?
It cooks rice perfectly and pot is thick and non-stick.
It has a keep warm function which when turned on longer won't burn the rice.
It's easy to clean. It has a removable steam vent and a detachable inner lid
It has a 24-Hour Preset Timer (Adjustable Hour & Minutes)
You can get the LifeCooker for only ★₱4,999★.
And is now available at the following stores:
Rustan's Gateway
Address: Araneta Center Cubao, Quezon City
Phone Number: 9312245
Rustan's Solenad
Address: Solenad, Sta. Rosa, Laguna
Rustan's Cebu
Address: Bohol Avenue Cebu City
Phone Number: 2315641
Fair N Square Binondo
Address: 350 Yuchengco St. Binondo
Phone Number: 2410904
www.lazada.com.ph
Just search for "LifeCooker"
www.shopee.ph
Just search for "LifeCooker"
I've teamed up with LifeCooker and I'll be giving away two of these so make sure you're following me on my Facebook Page: The Peach Kitchen and on Instagram: @thepeachkitchen
To know more about LifeCooker, follow them on facebook: https://www.facebook.com/lifecookerph/
RELATED POSTS…