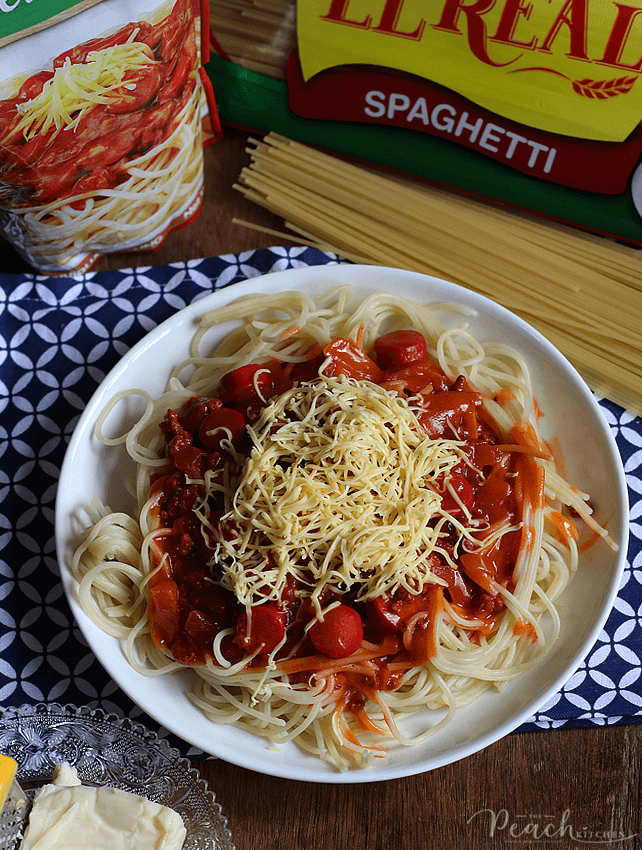 One of the many "foodie goodies" I got last Christmas was three Yakap Sarap packs of El Real Sweet Style Spaghetti Sauce and El Real Spaghetti. It was perfect because we love Pinoy Spaghetti in this household and it is actually included in our menu rotation. But since I have a kind heart (kind heart daw o), I shared the two other packs to my relatives. That leaves me with one pack to cook and make my family happy with.
So before going low carb to lose all the holiday weight we gained, I think it is just right that we eat pasta at the beginning of the January.
This Pinoy Spaghetti was the easiest to prepare since I used a ready mix sauce that's already seasoned. All I did was cook the pasta, hotdog slices, and sauté the beef before adding the sauce. Just a little simmer and voila! It's done.
It's super easy to make but since I found the sauce too sweet for my taste I had to adjust the seasoning to make it a bit more salty.
But overall, we really enjoyed eating El Real Spaghetti. Nothing beats Pinoy Spaghetti talaga…
Print
Trying Out El Real Sweet Style Spaghetti
1

pack of El Real Spaghetti

1

large pouch of El Real Sweet Style Spaghetti Sauce

5

pieces hotdog, sliced

2 tbsp

cooking oil

3

cloves garlic, minced

1

large white onion, chopped

250g

ground beef

1/2 cup

water
cheddar cheese, grated
salt and pepper to taste
Instructions
Cook El Real Spaghetti according to package directions. Set aside.
Fry sliced hotdogs for around 2 minutes, the set aside.
Heat oil in a small sauce pan. Sauté onions and garlic until onion becomes translucent.
Add ground beef and sauté with onion until brownish.
Pour in water and let beef simmer for a minute.
Pour in El Real Sweet Style Spaghetti Sauce.
Mix well and add hot dog.
Bring to boil and let it simmer for 5 minutes. Taste and season with salt and peper, if needed, before turning off heat.
Put spaghetti noodles on a plate. Pour sauce on top of spaghetti then top with grated cheese.
♥ If you make this recipe, kindly snap a photo and tag @thepeachkitchen on Instagram (OR hashtag it #thepeachkitchen). I'd love to see what you cook!