This Pineapple Cauliflower Fried Rice is a low carb, gluten free version of its Thai counterpart, replacing rice with cauliflower…
I've had my fair share of amazing Pineapple Fried Rice and this week I had a craving for it. Since we are trying to low carb it, I made Pineapple Cauliflower Fried Rice. I replaced rice with cauliflower thereby getting in more vegetables in our diet.
We are approaching the last week of March and taking in all the Summer heat we could take. We have three getaways with the family this season and I am excited because the first one is coming up on the second week of April. I am a bit disappointed though because it's the end of the first quarter and I don't think I've worked on my One Word for The Year  and my #TheBetterMeProject.
It's become extremely difficult to go back to healthy eating for me since peanutbutter♥ started working at home. I know I have to be firm and do that LCIF I was planning last January.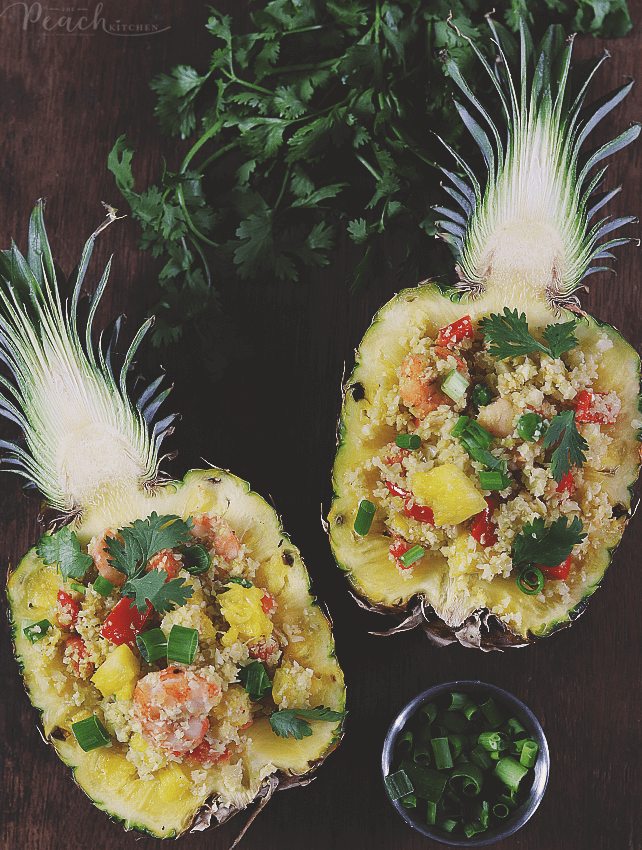 I'm taking baby steps and I'm starting to cook a few low carb dishes for the family.
This Pineapple Caulifower Fried Rice has all the flavors of the traditional Thai Pineapple Fried Rice except the rice. The riced cauliflower was sautéed in olive oil with onions, garlic, red bell pepper, shrimp, fresh pineapple, curry powder, and fish sauce.
The fresh pineapple used for the fried rice was carved from the peel and the peel was used as a bowl. It looks more appetizing, doesn't it?
I'm sharing a little secret with you.. aside from craving Pineapple Fried Rice, another reason I'm making this is because we are gearing up for another Pineapple-themed party on our first Summer lakwatsa!
Any suggestion for pineapple-themed dishes?
Print
Pineapple Cauliflower Fried Rice
1 tbsp

olive oil

4

cloves garlic, minced

1

small white onion chopped

1/2 cup

shrimp, peeled and deveined

3

–

4

cups cauliflower rice

1/2 cup

frozen peas and carrots

1

large red bell pepper, diced

1/2 cup

diced fresh pineapple (from the pineapple I used as bowls)

1 tsp

curry powder (or more)

1 tsp

fish sauce (or more)

1/2 cup

chopped cilantro

1/2 cup

chopped spring onions
Instructions
Heat olive oil in a non-stick skillet and sauté onions and garlic until it becomes translucent.
Add the shrimp and continue cooking until shrimp turns orange.
Add the cauliflower rice, red bell pepper, and frozen peas and carrots.Mix well and cook until done.
Add the pineapples and mix well.
Season with fish sauce and curry powder. Stir and taste. Add more, if preferred.
Scoop out in a plate or the hollowed out pineapple and garnish with chopped cilantro and spring onion before serving.
Enjoy!
♥ If you make this recipe, kindly snap a photo and tag @thepeachkitchen on Instagram (OR hashtag it #thepeachkitchen). I'd love to see what you cook!