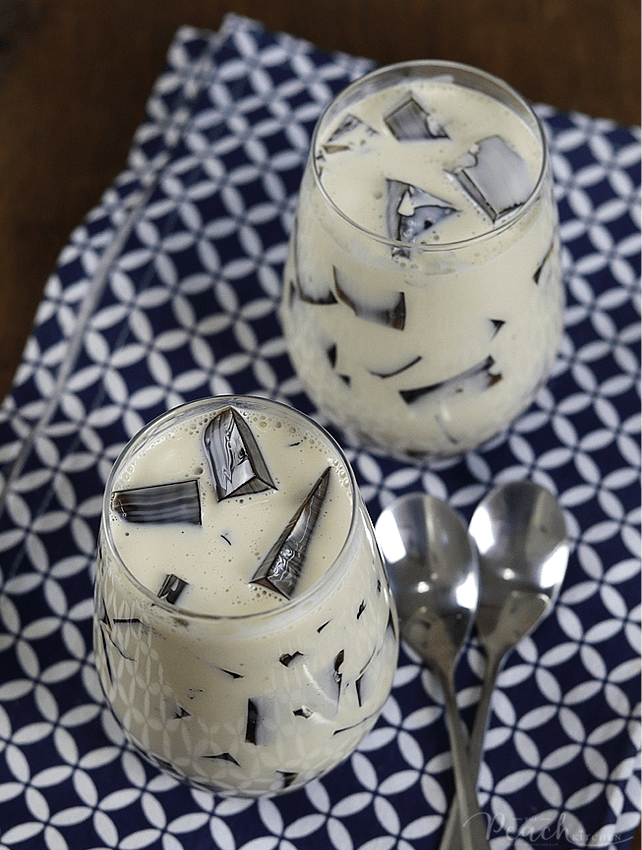 I love coffee as much as I love the oxygen that surrounds us. Ganern. So nung mauso ang Coffee Jelly, I started making them by the tub full and consuming them after every meal. Grabe! Sometimes, I use the heat as an excuse to eat this instead of just drinking my usual cup of joe. Good thing this is one of the easiest desserts to make a low carb sugar-free version of.
So I made Low Carb, Sugar Free Coffee Jelly the other day.  Actually, I've been making them since April, di ko lang nakukwento…LELs.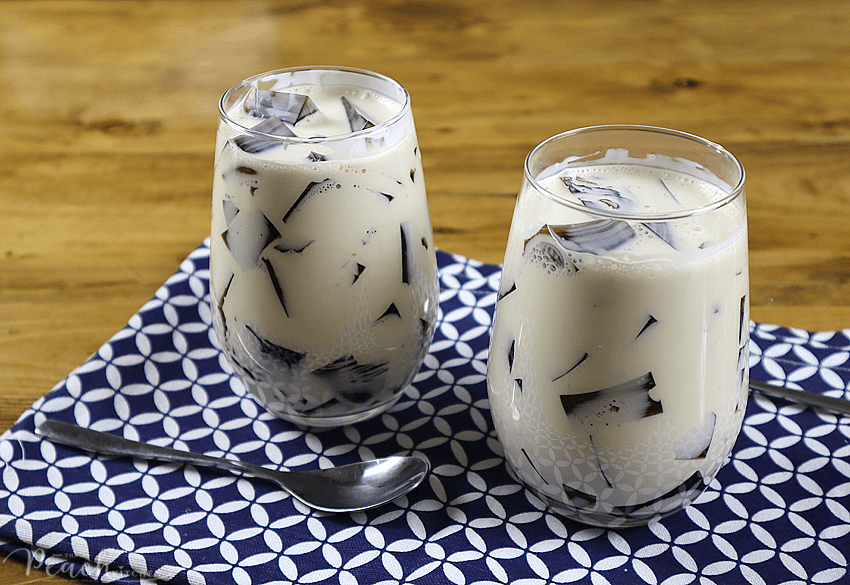 To make this low carb and sugar-free, I ommitted the evaporated milk and condensed milk and replaced it with almond milk and an alternative sweetener (Equal Gold). And instead of using gulaman or agar-agar, I used gelatine. If you're on a strict low carb diet that aims to consume only 20g of carbs per day, Knox or Ferna Gelatine is a great low carb gelatin brand to use instead of the usual gulaman or agar-agar powder. If not, then any would do.
Just make the gelatin according to package direction, substituting brewed coffee for half of the water. If you are using instant coffee, you can add 1 teaspoon of instant coffee per cup of water required. When your coffee jelly is set, just cut them into cubes and combine it with the rest of the ingredients: all purpose cream, almond milk, and sweetener. Chill and it's ready to serve.
OTHER RECIPES YOU MIGHT LOVE…
Low Carb, Sugar Free Coffe Jelly
Ingredients
2 10g sachet of gelatin, I used Ferna Gelatine
1 cup hot water + 3 cups brewed coffee
OR 4 cups water + 4 tsp instant coffee
1 tbsp vanilla extract
2 cups all-purpose cream
1 cup almond milk
2 tbsp (or more) alternative sweetener, I used Equal Gold
Directions
Make the Coffee Jelly: Dissolve gelatine into 1 cup of hot water. This may not get completely dissolved. Pour over 3 cups brewed coffee and continue stirring until all the gelatin is dissloved and no visible powder is left.
Add the vanilla extract and stir well.
Refrigerate to set. It's better to refrigerate it overnight.
Cut the jelly into cubes and transfer to a large bowl. Add all purpose cream, almond milk, and sweetener.
Mix well but be extra careful to avoid crushing the coffee jelly cubes.
Transfer to a container and chill. This is best served super cold but not frozen.
Enjoy after a meal.
Notes
The nutrition information provided are only estimates based on an online nutritional calculator. I am not a certified nutritionist. Please consult a professional nutritionist or doctor for accurate information and any dietary restrictions and concerns you may have.
Nutrition Facts
Serving size 1 cup
Servings per container 8
Amount per serving
Calories 228

Calories from Fat 198

% Daily Value*
Total Fat 22g
34%
Saturated Fat 16g
80%
Trans Fat g
Cholesterol 66mg
22%
Sodium 8mg
1%
Total Carbohydrate 2g
1%
Dietary Fiber 1g
4%
Sugars 1g
Protein 2g
* Percent Daily Values are based on a 2,000 calorie diet. Your daily values may be higher or lower depending on your calorie needs.
♥ If you make this recipe, kindly snap a photo and tag @thepeachkitchen on Instagram (OR hashtag it #thepeachkitchen). I'd love to see what you cook!