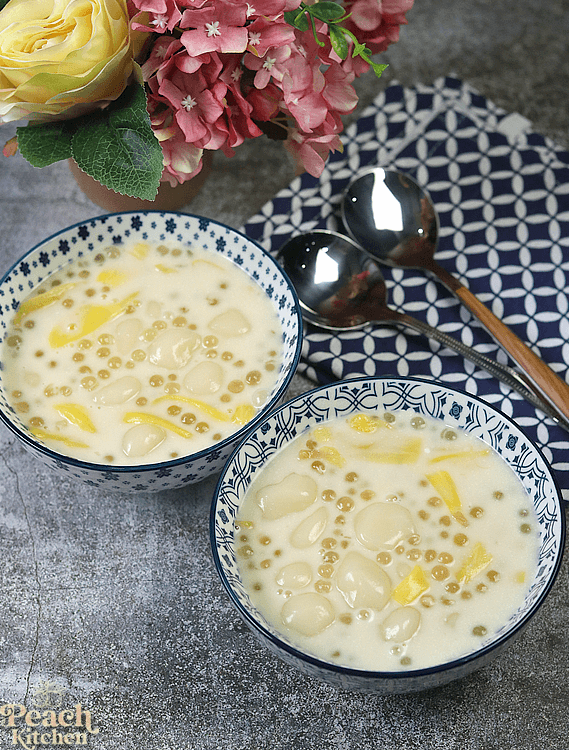 Let's embark on a culinary journey and explore the heartwarming flavors of Ginataang Bilo-Bilo. This beloved Filipino dessert is cherished for its delightful combination of sticky rice balls, various fruits, and root crops cooked in luscious coconut milk. Get ready to indulge in its unique blend of flavors and textures that will surely bring joy to your taste buds.
For this version though, our ingredients are only Bilo-bilo (sticky rice balls), langka (jackfruit), and sago. You might be wondering why — that's because that's the only ingredients the kids eat! I used to cook Ginataang Halo-Halo – that is Ginataang Bilo-Bilo complete with yellow sweet potato, taro, purple sweet potato, and saba banana. But the kids — especially Ykaie— only picks the bilo-bilo and the soup. At the end, the only ones left in the pot are dried up root crops. Kaya naman, ganito na lang ang niluluto ng Mommy Peach nyo forever and always, para walang leftovers.
WATCH GINATAANG BILO-BILO RECIPE VIDEO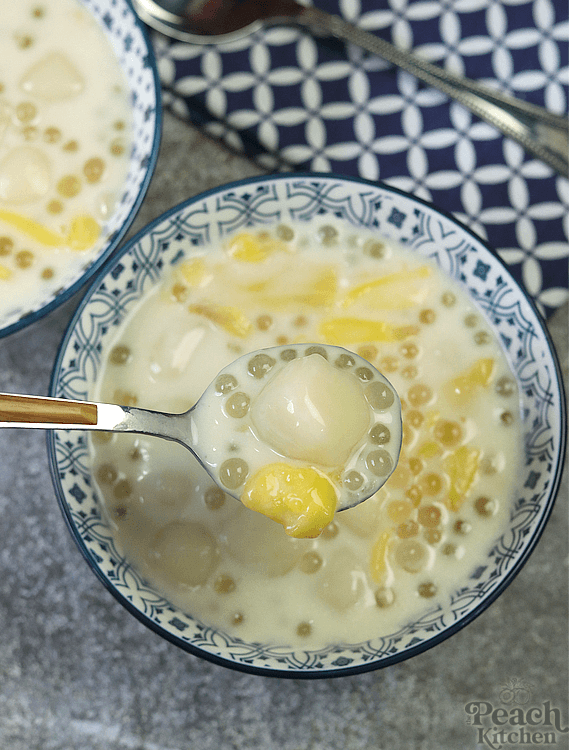 Serving Suggestions
Ginataang Bilo-Bilo is best savored when served warm, enveloping you in a comforting embrace. Simply ladle the dessert into bowls and serve it as is, or if you prefer a refreshing twist, serve it chilled for a cool sensation.My nanay likes this cold — I don't because the bilo-bilo hardens.
But no matter how you choose to enjoy it, this delightful dessert is perfect for any occasion or as a sweet treat whenever you crave a taste of something special.
Variations to Explore
Feel free to personalize this recipe and make it uniquely yours. Embrace your culinary creativity by experimenting with different fruits and root crops, such as white sweet potato, ube, or even ube bilo-bilo. For added texture, you can also add fillings inside the bilo-bilo like ube halaya or yema. The possibilities are endless, so embark on a culinary adventure and craft a Ginataang Bilo-Bilo that truly reflects your tastes and preferences.
May the creamy goodness of Ginataang Bilo-Bilo bring joy to your taste buds and warm your heart. This classic Filipino dessert is a testament to the rich culinary heritage of the Philippines. So, gather your ingredients, embrace the spirit of adventure, and embark on a delightful cooking experience. Happy cooking, and enjoy every spoonful of this delectable treat!
Print
Ginataang Bilo-Bilo
2 cups

glutinous rice flour​

3/4 cup

water (or more to mix with glutinous flour)​

2 cups

water​

1

can Jolly Cococnut Milk (400ml)​

1

can Jolly Cococnut Milk (165ml)​

1/2 cup

sugar​

1.5 cups

langka strips​

2 cups

sago​
Instructions
In a large bowl, combine glutinous rice flour  and 3/4 cup water until it turns into a pliable dough. If the dough is too sticky, add more flour and if too crumbly, add a little bit more water. 
Scoop about 1 tsp of dough into your hands and shape it into a ball. Cover with a cloth and set aside.
In a pot, boil 2 cups of water and add the coconut milk and sugar. Stir until sugar is dissolved.
Add the langka strips.
Bring to a boil, then add the bilo-bilo one by one to prevent it from sticking together into a clump.
When it floats, then its already cooked and you can add the sago.
Mix well and bring to a boil.. and it's done.
Super easy, right? Enjoy it warm or chilled.