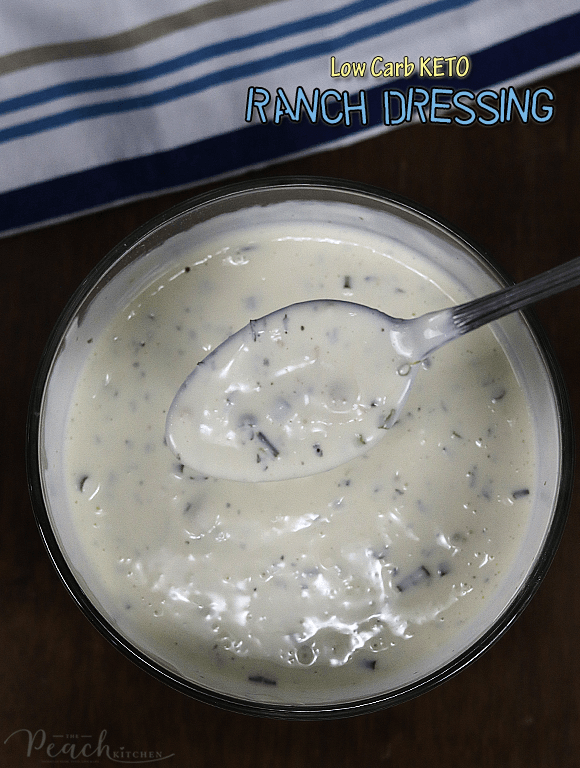 I love quick and easy one-kind-of-dip-and-dressings and my usual go to is made of sour cream. (I can't believe, I haven't blogged about it, though). I am kinda getting tired of its taste and my tastebuds is looking for a little bit of variety.  And because we are on a low carb diet since the beginning of January, I thought I'd try making a Low Carb Keto Ranch Dressing which can do the job of being a salad dressing, a burger sauce, and a buffalo wings dip.
WATCH THE VIDEO HERE:
To make this Low Carb Keto Ranch Dressing, I just combined mayo, sour cream, lemon juice, dried parsley, fresh spring onion, garlic powder, onion powder, salt, pepper and almond milk.
Notes in making this dressing/dip:
You may use both dried and fresh parsley and spring onion to make this.
You may add more almond milk if you prefer a thinner dressing or substitute heavy cream if you want a thicker, creamier one.
Make sure to put this in the fridge for at least one (1) hour before using to let the flavor marinate.
This will keep fresh for at least 8 days in fridge.
WHERE CAN YOU USE THIS DRESSING?
This is a versatile dressing/dip. You can use this for salads, as veggie dip, chips dip, burger sauce, dip for french fries, or buffalo wings dip.

Low Carb KETO Ranch Dressing
Ingredients
1 cup Mayonnaise
½ cup Sour cream
juice of half a lemon
2 tsp dried parsley (you can also use fresh)
2 tbsp chopped spring onion (you can also use dried)
1 tsp Garlic powder
1 tsp Onion powder
½ tsp salt
¼ tsp freshly ground black pepper
¼ cup Unsweetened almond milk (add more for thinner dressing)
Directions
Just combine all the ingredients in a medium bowl and mix well.
Put in the refrigerator for at least 1 hour before using.
Use as salad dressing, dip, burger sauce, or buffalo wings dip.
Notes
The nutrition information provided are only estimates based on an online nutritional calculator. I am not a certified nutritionist. Please consult a professional nutritionist or doctor for accurate information and any dietary restrictions and concerns you may have. </br>
Nutrition Facts
Serving size 1 oz
Servings per container 14
Amount per serving
Calories 85

Calories from Fat 63

% Daily Value*
Total Fat 7g
11%
Saturated Fat 2g
10%
Trans Fat g
Cholesterol 8mg
3%
Sodium 209mg
9%
Total Carbohydrate 4g
2%
Dietary Fiber g
0%
Sugars 1g
Protein 1g
* Percent Daily Values are based on a 2,000 calorie diet. Your daily values may be higher or lower depending on your calorie needs.
♥ If you make this recipe, kindly snap a photo and tag @thepeachkitchen on Instagram (OR hashtag it #thepeachkitchen). I'd love to see what you cook!