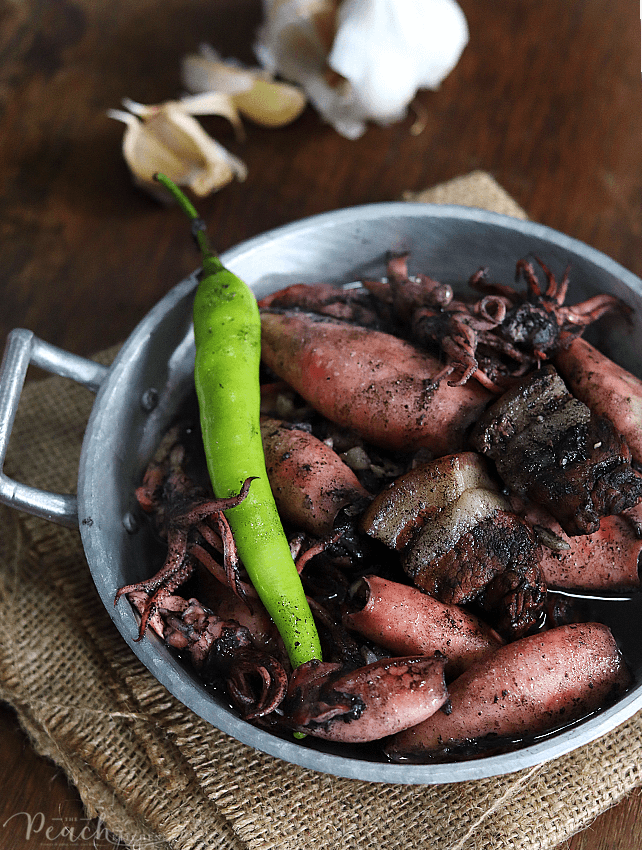 Kung baga sa Pag-ibig, Adobong Pusit is my first love!
Ito yung ulam na kapag naamoy ko ng niluluto, lumulukso ang puso ko.
At kapag nakahain na? Ay sus! kilig na kilig ako.
LOL! Kidding aside, this is the first ulam I fell in love with as a child and would often request for my nanay to cook. When we cook Adobong Pusit, it is never without pork belly. I know pork belly makes it doubly delicious because of the fat and all but another reason we put pork belly is for extenders! Yes, para dumami. We were meat vendors back then and we have plenty of meat to cook. Plus we all know how expensive squid can get, right? It costs around ₱400 to ₱450 per kilo. And that kilo of squid would immediately shrink to .. about, 500g when cooked. So ang konti na.. para dumami sya in a delicious way, dinadagdagan namin ng pork belly….
WATCH VIDEO HERE:
/br
Jeskelerd, pag ganito siguradong tataob ang rice cooker!
Kayo mga mamsh, anong first love nyong ulam?
OTHER SQUID RECIPES YOU MIGHT LOVE…
Print
Adobong Pusit With Pork Belly
1

kg fresh squid

300g

pork belly,cut into chunks

1/2 cup

vinegar

1 cup

water

1

whole garlic

3 tbsp

cooking oil

1 tbsp

sugar (or sweetener, if not using sugar)

1 tbsp

patis
green chili
Instructions
Remove ink sacs from squid, put in a small bowl, and set aside.
Pull out head, innards and transparent ribs to clean the squid. Clean the head by pulling out the teeth. Wash with water and drain.
Put the pork belly chunks and squid in a pot.
Add 1 cup water in your inc sac bowl, squeeze ink sacs in water and pour it in your pot.
Add the vinegar, cover, and heat in the stove. Bring to a boil and simmer until squids are pink. Turn off heat as soon as squid is cooked.
Drain and reserve the liquid for later.
In a deep pan, sauté garlic in heated oil until a bit brown. Add pork and fry until a little brown.
Add squid and continue to stir fry for a few seconds.Then pour the mixture it was boiled in.
Simmer for 2 minutes. Remove the squid and simmer pork belly for 25 minutes or until tender.
Add the squid back. Season with sugar and patis.
Stir and turn off heat.. Serve with steamed rice or cauli rice
♥ If you make this recipe, kindly snap a photo and tag @thepeachkitchen on Instagram (OR hashtag it #thepeachkitchen). I'd love to see what you cook!