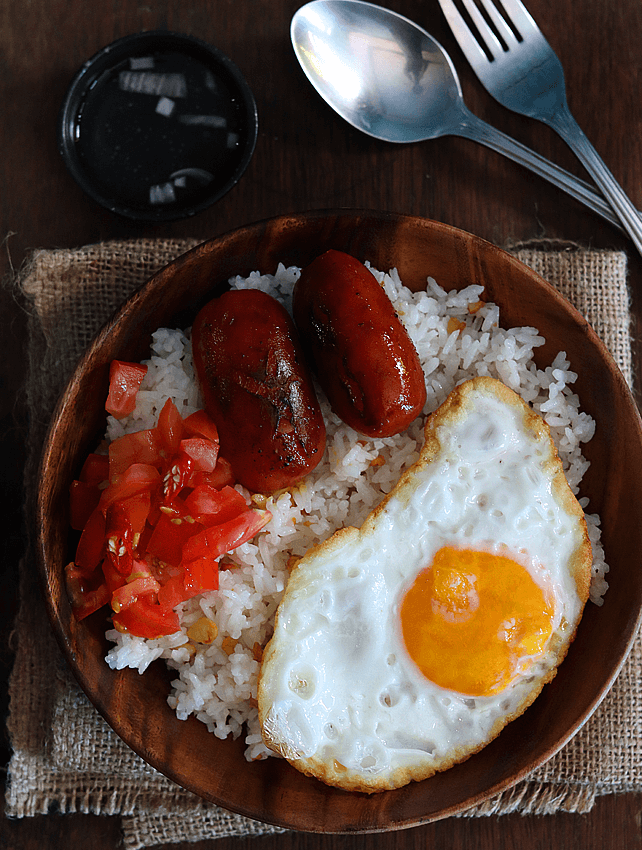 #PHLockdown Day 17
After the delicious food from Deli In The City and finally having a cooking day off, I am finally back in the kitchen. Cooking really relieves stress for me and if only I can stay in the kitchen and cook forever, that's what I'm gonna do. The past couple of weeks has become very stressful — listening to news and reading social media updates about Covid 19 and the government. I think I'm gonna lay off it for a while and let my mind breathe a little.
Since having an ECQ (Enhanced Community Quarantine), I've come to rely on the food we have stocked at home. And as much as possible, we try to ration and use every little thing wisely. I came upon a "Tipid Tip" last week, Ang sabi "Tanghali na raw gumising para isang kanina na lang" (Wake up late so you'll end up eating just one meal) LOL!
And that's what we did, we woke up late and had LONGSILOG for brunch.
To my non-Filipino friends, SILOG is a term that has been coined from the Filipino breakfast staple SInangag (garlic fried rice) and itLOG (egg). Another syllable is prefixed in it, usually the first syllable of another viand/dish that comes with the garlic fried rice and egg. In this case, it's LONG from LONGganisa, our local version of sausage. Hence, LongSiLog.
This is Chicken Longganisa and I didn't make it from scratch. I just bought it from our suki in Hulo Market. I love it because even if it's made of chicken, it's fatty — which make sit very tasty–, garlicky, and a bit sweet. Just how I love longganisa.
And of course, it is paired with Sinangag or Garlic Rice. Below is the recipe for my favorite garlic rice. I like it with lots of garlic (at pag sinangag ang usapan, parang gusto ko kumain ng isang bandehado.)
How are you holding up, mga inay?
OTHER SILOG RECIPES YOU MIGHT LOVE…
Garlic Fried Rice
Ingredients
5 cups of cooked rice
8 cloves garlic, minced
2 tbsp oil
2 tbsp fish sauce
Directions
Heat oil in a pan.
Sauté garlic for 30 seconds or until oil is infused with the flavor of garlic.
Add Rice.
Toss frequently for 2-4 minutes to prevent it from sticking to the pan.
Add fish sauce and mix well.
Enjoy with Tocino, longanisa, or beef tapa and fried egg
♥ If you make this recipe, be sure to snap a photo and tag @thepeachkitchen on Instagram (OR hashtag it #thepeachkitchen). I'd love to see what you cook!