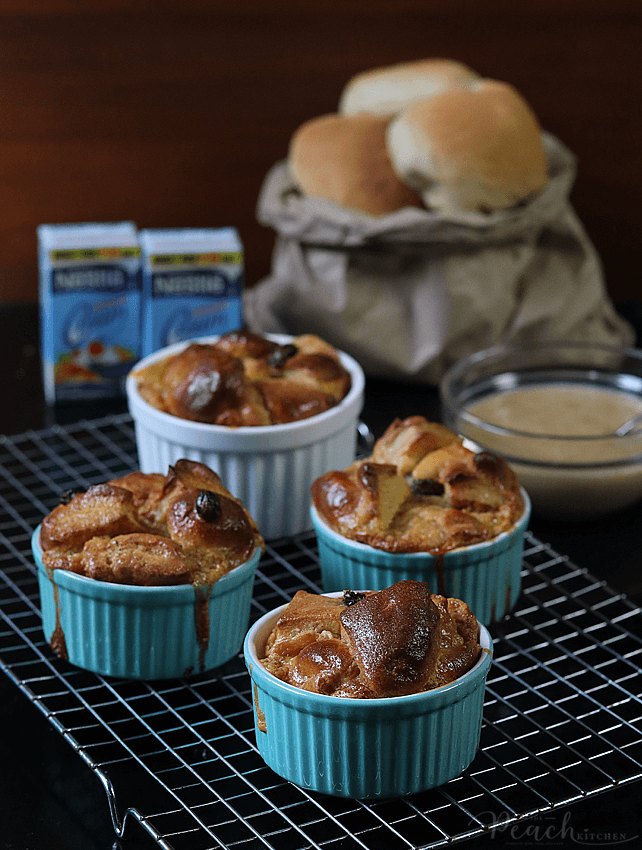 Bread Pudding is one of our household staples when I was a child because that's what happens to bread when it becomes stale or too old to eat. Instead of throwing it out and letting it go to waste, my nanay or my aunt turns them into bread pudding. I used to not like it and I thought I didn't like bread pudding. Turns out, I just didn't like the way it was prepared — a bit bland and with too much raisins.
Ngayon na usong-uso ang different flavors of pandesal, I thought of making my own Creamy Pandesal Bread Pudding. Syempre, sali ako sa pandesal trend that's happening right now.
I adapted this recipe from www.createwithcream.ph.
I used Nestle All Purpose Cream and it made my pandesal bread pudding creamy and more delicious! Lalo na the sauce — rich!
O lika na, merienda na tayo. Sagot mo ang kape ha…
OTHER RECIPES YOU MIGHT LOVE…
Print
Creamy Pandesal Bread Pudding
for the bread pudding
3

large eggs

1

250 ml pack Nestle All Purpose Cream

1/3 cup

sugar

1 tsp

vanilla extract

1/4 cup

melted butter

1/4 cup

raisins

1/4 tsp

cinnamon
a dash of nutmeg

7

large pandesal cut into cubes
for the sauce
1

125ml pack Nestle All Purpose Cream

1/4 tsp

cornstarch

1/2 tsp

cinnamon

1 tbsp

butter

1/2 tsp

vanilla extract

1/4 cup

milk
Instructions
Combine eggs, NESTLÉ ALL PURPOSE CREAM, sugar, vanilla powder, and melted butter in a bowl. Mix well. Add raisins, cinnamon powder, and nutmeg. Whisk and then add cubed pandesal. Let bread sit in the mixture for at least 40 minutes. I let it sit overnight so that it'll absorb all the flavorful liquid.
Brush the bottom of 4-5 ramekins with softened butter. Transfer soaked bread to the ramekins and bake for 30 minutes or until the top is golden brown.
Cook the Vanilla Sauce: In a saucepan, combine NESTLÉ ALL PURPOSE CREAM , cornstarch, sugar, cinnamon, butter, vanilla powder, rum and milk. Bring to a boil and simmer to slightly thicken. Drizzle on top of bread pudding before serving.
♥ If you make this recipe, kindly snap a photo and tag @thepeachkitchen on Instagram (OR hashtag it #thepeachkitchen). I'd love to see what you cook!